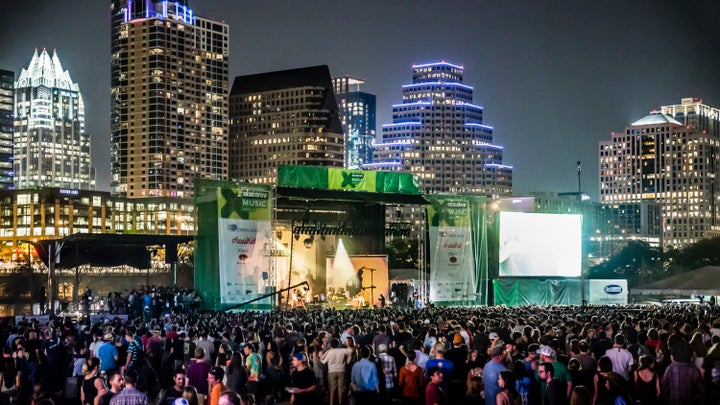 UPDATE: SXSW has responded to the public outcry about this policy, which is a positive development, but their response falls short. They need to clearly state that they will remove the clause from their contract in years to come, and not enforce it for bands already scheduled this year. Read our statement on their response in Rolling Stone.
As artists and part of the musical community of SXSW, we're outraged to learn that the festival has been threatening artists who are not U.S. citizens with targeted immigration enforcement and deportation for playing at unofficial showcases. In light of recent attacks on immigrant communities, this practice is particularly chilling. We are calling on SXSW to immediately drop this clause from their contract, and cease any collusion with immigration officials that puts performers in danger.
Austin, TX is a sanctuary city and these actions by SXSW show a disrespect for municipal policy. SXSW is a well-respected institution and has a responsibility to show leadership by refusing to collaborate with the government's campaign of fear and hate toward non-citizens. This is a growing open letter with concrete demands that SXSW needs to take.
WE the artists who make SXSW possible demand the following:
SXSW must rescind the portion of their contract that states that if they found out that an artist is playing an unofficial showcase they will "notify the appropriate U.S. Immigration authorities of the above actions," and "accepting and performing at any non-sanctioned events may result in immediate deportation, revoked passport, and denied entry by US Customs Border Patrol at US points of entry."
SXSW must publicly apologize to the community for their attempt to collaborate with Immigration and Customs Enforcement.
SXSW must affirm that it is a welcoming space for all artists, including immigrants and international performers, and commit to protecting the rights of all performers.
"SXSW has directly contributed to growing gentrification in our city. SXSW is responsible for the ongoing destruction of families homes and businesses. Locals here who play music and directly contribute to the economy can no longer live here due to stagnant wages and rising rental costs. We are one of the largest growing cities but all of our PoC are getting forced out because this ongoing culture is unsustainable. ICE is targeting hardworking people in Austin so this comes as a slap in the face to everyone that lives here when we are already vulnerable and the administration wants to make an example of us because we are a sanctuary city." ― Milo Royal, a musician and worker in Austin
"We are white U.S. citizens using that privilege to engage with you, SXSW to reconsider colluding with ICE and thus, the Trump's regime racist agenda. Please change your language and actively support and protect immigrant and non-white artists." ― Priests, Sister Polygon Records
"I realize that this language has been in your agreement for many years (though that doesn't mean it was ever right). This year, you have put on a showcase featuring artists from countries listed in the Muslim ban. The language in your artist agreements should reflect your support of these artists rather than besiege them. Please do the right thing and adjust your language to appropriately reflect the current political climate." ― Joe Steinhardt, Don Giovanni Records
"Music knows no borders. SXSW bullying bands who have members that are not U.S. citizens is chilling, and frankly racist. It undermines artists' basic rights to free speech, and sends the wrong message at a time when immigrant communities are facing an all out assault from the U.S. government." ― Evan Greer
"Seriously, SXSW this is ridiculous. I'm urging fellow artists to not play there until this is fixed." ― Immortal Technique
"SXSW should support, not eliminate the voices of the marginalized. Stop collaborating with federal forces removing those who need to be heard most urgently." ― The Kominas
"The core message of Anti-Flag is very simple. Empathy. Regardless of color, of skin, gender, economic status, and especially where someone is born. This message is the reason we named our band as such. What SXSW is doing is not just unreasonable, it's directly playing into the fear mongering and xenophobia coming out of the White House." ― Anti-Flag
"SXSW hosts a festival that has some potential benefits for artists. While it is a great time to get your music and possibly message out, there is a huge cost to artists. Many of us have to play underpaid shows in hopes that it can give our careers a boost in the future. If we had responsible arts and culture funding and support, we would not have to play SXSW in order to secure a financially viable future as touring musicians. So many of the artists playing the festival are addressing and confronting the very power structures that SXSW is perpetuating through their threats towards international musicians. We demand an end to their threats and a public apology for their anti-immigrant and therefore racist stated policy. Cities, counties, and states have all been urged to cease collaboration with ICE, we demand the same of music festivals." ― Victoria Ruiz and Joey L DeFrancesco, Downtown Boys
Allison Crutchfield and the Fizz
Patrick Ferguson (drummer in Mike Mills, Powder Room, more)
Hank Wood and the Hammerheads
Miriam Hakim and Roger Medina of Giant Kitty
Casey (from Mitski and Bully)
Steven Renderos (Center for Media Justice)
Rashad Robinson (Color of Change)
Popular in the Community