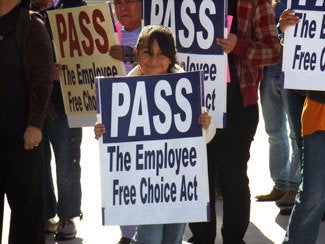 To: The American Labor Movement
The conflict between UNITE HERE and Workers United/SEIU must end. All of the workers affected by this dispute deserve nothing less.
After months of negotiations and mediation with no real progress, a few weeks ago we put forward a comprehensive proposal that provides a clear path to resolution. The proposal respects each union's organizing jurisdiction, provides a fair division of assets, and resolves representational issues for contested units. The offer to UNITE HERE included approximately $50 million from Workers United, in an effort to ensure UNITE HERE's viability -- a sum almost three times what HERE entered the merger with. We expressed a willingness to submit any outstanding issues to binding arbitration, and -- as a show of good faith - we unilaterally stood down.
This fight is causing real pain for working families whose union dues are being used to wage an internecine battle, rather than fighting for gains in the most difficult economic times our nation has seen in more than 50 years.
We urge all who care about the Labor Movement to join us in saying that this fight must end, and in calling on both sides to end this dispute by agreeing to a binding arbitration process.
John Wilhelm would like people to believe that this fight was in some way initiated by SEIU, but nothing could be further from the truth. SEIU did not cause the divorce within UNITE HERE. Rather, the discord between the different parts of the union in culture and strategic ideas made the merger untenable practically from day one.
Contrary to Wilhelm's claims, SEIU has a long history of supporting the leaders and members of both unions that comprised UNITE HERE.
In the aftermath of the tragic events of 9/11, workers from HERE saw their livelihood threatened by the collapse of the hotels and casinos' business. SEIU stepped in and gave HERE $2 million to keep their finances afloat and to make certain that the workers were able to keep their homes and put food on the table. SEIU has also assisted HERE in organizing drives on numerous occasions and even transferred 10,000 members to HERE who were employed in the hospitality industry.
Despite all of that, HERE was nearly broke when it merged with UNITE in 2005. From a financial perspective, the merger worked very well for the former HERE. Although the hospitality industry represents a rich organizing opportunity, HERE was unable to develop much organizing activity due to the lack of resources. Not only was the International Union in trouble, scores of locals were in financial distress. By contrast, in the 5 years since the merger, UNITE HERE spent well over $150 million on organizing in the hospitality industry. Also, many HERE locals were rescued by UNITE's better-financed joint boards. The sad fact is that despite spending tens of millions of dollars, the post-merger organizing results were weaker than pre-merger and once healthy joint boards were now saddled with a host of financial issues as the growth in membership that the merger promised never materialized.
By December 2008, John Wilhelm and his supporters launched an open, clearly unconstitutional attack on the former UNITE. They attacked former UNITE joint boards trying to trustee them and threaten them with financial ruin. And they destroyed the authority delegated to the two presidents, John Wilhelm and Bruce Raynor, jointly. The joint presidential power was key to protecting each side of the merger against unfair domination by the other; and Wilhelm tried to read this essential protection right out of the constitution. Only after this naked power grab by Wilhelm did the former UNITE forces begin to consider leaving UNITE HERE.
Petitions in support of disaffiliation from UNITE HERE were signed by nearly 100,000 workers and votes were held in hundreds of locals across North America to break away.
Those workers voted to create a new union called Workers United at a founding convention in March. The leaders of Workers United ultimately decided to affiliate with SEIU because they felt it was in the best interest of their members to stand with a union that is strong and with whom many workers share employers.
The leaders of the former UNITE and the former HERE engaged in mediation for over a year to try to resolve their differences. SEIU joined the latest round of negotiations only after Workers United had affiliated with SEIU.
Over the past several weeks, Workers United, SEIU and UNITE HERE have been attempting to resolve our differences through mediation overseen by UFCW President Joe Hansen. President Hansen has put forth a proposal that we think provides a framework for a settlement.
We have made it very clear that we are prepared to engage in further settlement discussion to narrow our differences and to submit outstanding issues to binding arbitration.
Precious time has been wasted on this dispute. This is a critical moment in our labor movement and in our nation's history. For this reason, we are calling on John Wilhelm and his UNITE HERE leaders to sit with us and resolve our differences through binding arbitration. We want binding arbitration now. Let's resolve this and get back to the business of working for working families.
We never sought out this fight. We simply want to end it.
We are engaged in no offensive activities against UNITE HERE. Where elections are scheduled or where our members are under attack, we will vociferously defend them. However, while to this point we have stood down, if this isn't resolved by the end of June, we are prepared to respond vigorously to UNITE HERE's recent hostile actions and defend our union. These actions have included: writing to Workers United employers and urging them to escrow dues and deny access to union representatives; leafleting at Workers United workplaces; encouraging workers to leave their union and join UNITE HERE instead; and prompting employers to stop bargaining for first contracts at newly organized workplaces.
For the sake of working families and Labor Movement it is our deep hope that UNITE HERE will end these actions and join us in ending this civil war. Achieving an agreement that will bring an end to this dispute must supersede any of differences that have created this current situation. We remain committed to achieving a resolution so both unions can focus all efforts on enforcing contracts, engaging in political action and organizing workers.
Let's end this now. Let's get back to fighting for economic and social justice to improve the lives of union members and working families.
We renew our call to John Wilhelm to agree to submit any and all outstanding issues to arbitration. We urge all who care about the Labor Movement to join us in this call for binding arbitration on all outstanding issues so this conflict can cease.
Andy Stern
President SEIU
Bruce Raynor
President Workers United
Edgar Romney
Secretary-Treasurer
Workers United



Popular in the Community