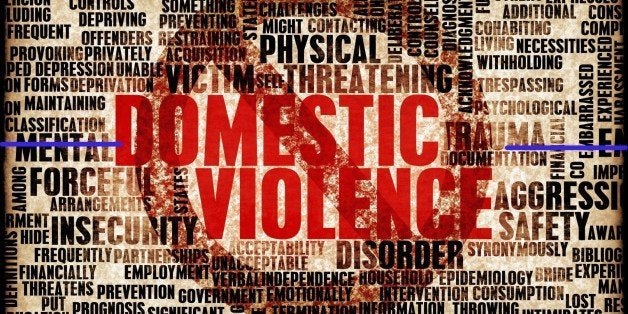 Carolina Panthers defensive end Frank Alexander received a 10-game suspension for marijuana use.
Lane Johnson, right tackle for the Philadelphia Eagles, was suspended for 10 games for performance enhancing drugs.
Patriots Quarterback Tom Brady missed four games this season for his alleged participation in Deflategate.
But Josh Brown, kicker for the New York Giants, received a one-game suspension following his arrest last year on fourth degree domestic violence assault charges. The police report the NFL received on the matter included statements from his now ex-wife Molly describing being abused by Brown on more than 20 occasions. What's more, these claims have now been substantiated by Giants co-owner John Mara's own statement that he was aware of Brown's abusive actions towards his wife because Brown had openly confessed to them.
We clearly remember when the NFL in 2014 -- in response to the damning Ray Rice video that showed the former Ravens player knocking out fiancée Janay Palmer in an Atlantic City elevator -- rushed to put in place a strict Personal Conduct Policy that called for a 6-game suspension for domestic violence offenses. At the time, the new policy was hailed as a way for the league to demonstrate "zero tolerance" towards spousal and partner abuse. But now, two years after Ray Rice, it feels like we are right back at square one with the NFL's lack of leadership in addressing domestic violence within its ranks.
Ironically, explosive new evidence in the Brown case became public this week, right in the middle of October's Domestic Violence Awareness Month. This month is dedicated to spreading education and information about domestic abuse prevention, and talking about real solutions to the grim statistics that 1 in 4 women will become a victim of abuse or assault during her lifetime. These women are not just numbers. Victims of domestic violence have names, histories, and families...including Molly Brown, Janay Palmer, and here in New Jersey, local women like Tamara Siedle, who was shot to death by her ex-husband last year in full view of one of their children.
Mr. Goodell, you are at yet another crossroads with domestic violence. You could be the key pivot point that makes the difference to millions of lives. You have the opportunity to employ the considerable resources and the honorable players of the NFL to model good behavior to football's legions of fans. Are you up for the challenge?
In the first instance, it is time to act in a way that treats victims and survivors of domestic violence as worthy of something more than a minimal slap on the wrist handed out to their abuser. Are you in need of solutions? Because we've got some....

Help your players be better men. Make domestic violence prevention education and awareness a mandated part of a player's contractual obligations. When you sign a player, part of what you need to be committed to is helping players manage and cope with their emotions in such a high stakes profession. Do your NFL players know how to recognize the power and control patterns that can emerge in abusive relationships long before the first hit or shove? Do they know how to reach out for help? Do they understand the long-term consequences for children who witness their parents' abusive relationship?
Ask for help from experts. There needs to be greater transparency about how your domestic violence investigations are conducted. We encourage you to work with domestic violence charities and family law attorneys who handle domestic violence cases every day as part of their practice. The NFL's corporate and contract lawyers may simply not be as intimately acquainted with this area of the law, and this can hinder investigations.
Address aberrant behavior, so it does not happen again. In follow up to any allegation or charge of domestic violence, mandatory counseling is a must. As your Personal Conduct Policy currently reads, the player charged with domestic violence is offered counseling. That's not good enough. Working through their issues with a help of a therapist is often the best -- and only -- way for an abuser to change.

Own the situation and help the victims. Likewise, counseling services need to be offered free of charge to the victim(s) and affected family members, including children.
Show Women Matter Not Balls. Your Personal Conduct Policy states that any domestic violence offense will result in "a suspension without pay of six games for a first offense..." So why was Josh Brown only suspended for one? Because the next part of the policy is a loophole that allows "...consideration given to mitigating factors." Let's be clear: If anyone abuses a woman, there are no mitigating factors. Ever. Including that language implies there can be situations when a victim doesn't deserve full protection...or even that a victim somehow partly deserved the abuse! This is outrageous. You need to provide clearer policy language on the 6-game suspension rule so that we can truly see where you stand on this issue.
Eliminate "Locker Room" talk. How do your players speak about women and their partners? Is it honorable and respectful? Is this where a culture change needs to begin?
Be role models and a voice for change. Facilitate change in the community by encouraging players to speak out against domestic violence and become leading voices for change in this arena. For a role model, look no further then Baltimore Ravens wide receiver Steve Smith Sr., who is a true leader in the fight to end domestic violence, spurred into action by his mother, who is a survivor of domestic abuse. Smith wore purple cleats this past Sunday in solidarity with Domestic Violence Awareness and shared information about DV prevention on his social media channels. Champion this man and help others join his cause.
As news continues to trickle out about Josh Brown, it appears that he may be pulled from the NFL roster. Difficult decisions will need to be made. But what about the next Josh Brown, and the one after that? Until real change happens, this is tragically a story that could continue to repeat itself. And, like the tragic case of Tamara Seidle, the next time the victim may not survive.
If you have ever watched the movie Coach Carter, then you know it depicts the true story of Richmond High School basketball coach Ken Carter, portrayed by Samuel L. Jackson. Carter made headlines in 1999 for benching his undefeated high school basketball team due to poor academic results and on his insistence that they become honorable young men. Mr. Goodell, the NFL desperately needs a Coach Carter in its ranks. Sure, Carter's expertise is basketball, but we still have a strong feeling that he would know exactly how to get the NFL to finally score a touchdown for victims of domestic violence everywhere.
Sincerely,
Bari Z. Weinberger
Bari Z. Weinberger, Esq. is a certified Matrimonial Law attorney in New Jersey. She has received an "AV Preeminent®" Martindale-Hubbell Peer Review Rating based on the exemplary work in the field of family and matrimonial law, and is the recipient of countless awards and recognitions. Ms. Weinberger is the Associate Author of the New Jersey Family Law Practice, 15th Ed., a 5-volume treatise utilized by virtually every family law judge and practitioner in the State of New Jersey. A strong advocate for the rights of domestic violence victims, she has written A Guide for Domestic Violence Victims in New Jersey, which she has made available as a free download for charities and those affected by abuse.
Related
Popular in the Community