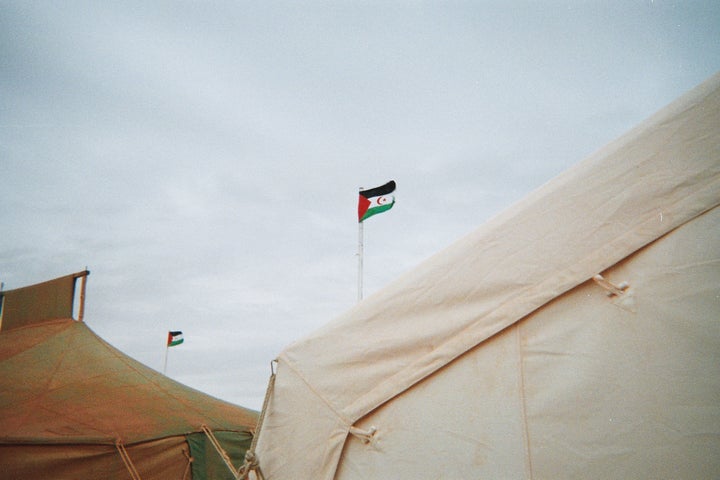 On behalf of Saharawi civil society organizations – both in the refugee camps and occupied territory – as well as international activist groups and NGOs, we are writing to you in your capacity as President of the UN Security Council, to place on record our strong belief that the status quo in Western Sahara is unacceptable.
We urge the Security Council to live up to its mandate and act to move forward the UN political process toward an acceptable solution that would allow for the Saharawi people to exercise their right to self-determination, in accordance with the UN Charter and numerous resolutions of the UN Security Council and General Assembly. For over forty years now, the people of Western Sahara remain divided between life in unforgiving desert refugee camps or under a brutal Moroccan occupation where they are deprived of basic rights and opportunities. Generations have endured this uprooted existence, growing up and growing old in a limbo perpetuated by global apathy.
Too often, the diplomatic system has treated the conflict in Western Sahara as a problem to be managed, not solved. Time creeps steadily on for the Saharawi people while the empty words of diplomats echo in the halls of the UN. The latest crisis at the UN, which occurred after Morocco ordered the expulsion of peacekeeping staff from the UN Mission for the Referendum in Western Sahara (MINURSO), is a smokescreen that is being used to move further away from a serious discussion about the ultimate solution to the conflict.
The UN's direct and stated commitment to hold a self-determination referendum under measures put in place 25 years ago following the agreement between the Frente POLISARIO and Morocco – as endorsed by the Security Council – must be realised. The MINURSO peacekeeping mission, established to organize the referendum, must be restored to full functionality from its current depleted state. But that is not an end in itself – Security Council members shouldn't fool themselves into thinking that this is progress. It is emblematic of the longstanding diplomatic failure on Western Sahara that merely staving off manufactured crises is considered a success while the fundamental dynamics of the conflict remain unchanged.
Direct negotiations between the Frente POLISARIO – the legitimate and internationally recognized representative of the Saharawi people – and Morocco are the only way for real progress to take place. The current stalemate has been allowed to continue for too long. The UN Security Council controls the process and bears responsibility for ensuring that it remains constructive and viable.
Accordingly, we call on the Council to adopt a more urgent and proactive approach in pursuit of a solution to the conflict in Western Sahara during its meeting of 26 July 2016, including by taking steps to:
Ensure that MINURSO returns to full functionality and is allowed to continue to do its original and ongoing work, in accordance with long established principles and practices of UN peacekeeping, including the establishment of a human rights monitoring mechanism.

Outline a process for direct, intensive, high-level and time-bound talks, without preconditions, between the Frente POLISARIO and Morocco, in order to ensure a timely resolution of the conflict.
The basic principles at stake are simple and fundamental. The right to self-determination is enshrined in the UN Charter and is the foundation on which MINURSO's mission was built. We, the undersigned, call on you to act with due urgency to support the right of the people of Western Sahara to choose their own political future. This will require political will and bravery by members of the Security Council, but it is no less than the Saharawi people have been promised and deserve.
―――――――――――――――――――――――――――――――――――
Mark Williams MP, Chair, All Party Parliamentary Group on Western Sahara
John Gurr, Coordinator, Western Sahara Campaign
Frank Willems, Coordinator, Stichting Zelfbeschikking West-Sahara
Jan Strömdahl, President, The Swedish Western Sahara Committee
Theresa Wolfwood, Convening Chair, Canada's Friends of Western Sahara
Lyn Allison, President, Australia Western Sahara Association
Joanna Allan, Chair, Western Sahara Resource Watch
Beccy Allen, Western Sahara Action Forum
Atabongwoung Gallous , President, Africa Solidarity for Sahrawi
Suzanne Scholte, Chairman, US-Western Sahara Foundation
Erik Hagen, Director, Norwegian Support Committee for Western Sahara
Ado Shaibu, Chairperson, Tanzania Sahrawi Solidarity Committee (TASSC)
John Hilary, Executive Director, War on Want
Pedro Pinto Leite, Secretary, IPJET- International Platform of Jurists for East Timor
Kevin Courtney, Acting General Secretary, National Union of Teachers
Sidi Ahmed, President , Adala UK
Martinoli Emmanuel, Board Member, ARSO, association pour un référendum libre et régulier au Sahara Occidental (Switzerland)
Carlos Villán Durán, Presidente, AEDIDH (Asociacion Espanola Para el Derecho Internacional de los Derechos Humanos)
Axel Goldau, Coordinator, Western Sahara Information Project, Berlin
Berthier Perregaux, Président, Comité suisse de soutien au peuple sahraoui
Elisabeth Bäschlin, President, Unterstützungskomitee für die Sahraouis
José López, Board Member, Asociación Amigos del Pueblo Saharaui, Basel
Danielle Smith, Founding Director, Sandblast
Karin Scheele. President, Österreichisch-Saharauische Gesellschaft
Lahcen Dalil, President, Association for the Monitoring of the Resources and for the Protection of the Environment in Western Sahara (AMRPENWS)
Matyas Benyik, President, Central and Eastern European Alliance for Solidarity
with the Saharawi People (CEE Alliance)
Santiago Jiménez, Coordinador, Observatorio Galego para o Sáhara Occidental de la Universidad de Santiago de Compostela
Marilo Ruiz de Galarreta Gomez, Presidenta, Asociación de Amigos y Amigas de la RASD de Álava Arabako SEADen Lagunen Elkartea
Gabriela Wichser & Richard Geer, Management, terre des hommes schweiz
Ana Andrés Ablanedo, Coordinadora, Soldepaz.Pachakuti
Ismael Almanza, Portavoz, Asamblea por la Paz
Jacinto J. Lara Bonilla, Presidente, Asociación Pro Derechos Humanos de España
Antero Benedito da Silva, Board Member, Amigos Solidariedade do Sahara OccidentaL, Timor-Leste
Pilar Yuste Cabello, Presidenta, Asociación Acercandonos
Paraskevi Maragkou, International Campaign against the Wall of Moroccan Occupation in Western Sahara
Nicole GASNIER, General Secretary, Association des Amis de la République Arabe Sahraouie Démocratique (France)
Régine Villemont, Chairwoman, Association des Amis de la RASD (France)
Thomas Schmidt, Secretary General, European Association of Lawyers for Democracy and World Human Rights (ELDH)
Bert Schouwenburg, International Officer, GMB
Ulli Trebeß, President, Khaima e.V.", Berlin, Germany
Dr. Wolf-Dieter Seiwert,, Vice-Chairman, Centre for European and Oriental Culture" (ZEOK e.V.), Leipzig, Germany
Ulrich Delius, Head of Africa department, Society for Threatened Peoples" (GfbV), Göttingen, Germany
Tanja Brodtmann, President, Freiheit für die Westsahara e.V., Berlin, Germany
José Taboada Valdés , President, CEAS-Sahara (Coordinadora Estatal de Asociaciones Solidarias con el Sahara)
Dolors Claramunt Soriano, President, FASPS-PV (Federació d'Associacions Solidaries amb el Poble Sahrauí del País Valencià).
Angeles Ariza, President, FANDAS (Federación Andaluza de Asociaciones Solidarias con el Sahara
Núria Salamé, President, Federació ACAPS (Federació d'Associacions Catalanes d'Ajuda al Poble Sahrauí)
Catalina Rosselló, President, AAPSIB (Associació d'Amistat amb el Poble Sahrauí de les Illes Balears).
Maite Isla, President, SOGAPS (Solidariedade Galega co Pobo Saharaui).
José Luis Sampedro, President, FEMAS (Federación Madrileña de Asociaciones de Amistad con el Pueblo Saharaui).
Alberto Suárez, President, Asociación Asturiana de Solidaridad con el Pueblo Saharaui.
Jesús Garay, President, Asociación de Amigas y Amigos de la RASD de Álava (Arabako SEADen Lagunen Elkartea).
Seddiki Nafaa, Secretary General, Union of Saharawi Journalists and Writers
Marie Frison, APSO et réseau (Association de Solidarité avec le Peuple Sahraoui en Lorraine)
Iara Lee, Founder, Cultures Of Resistance Network
Related
Popular in the Community