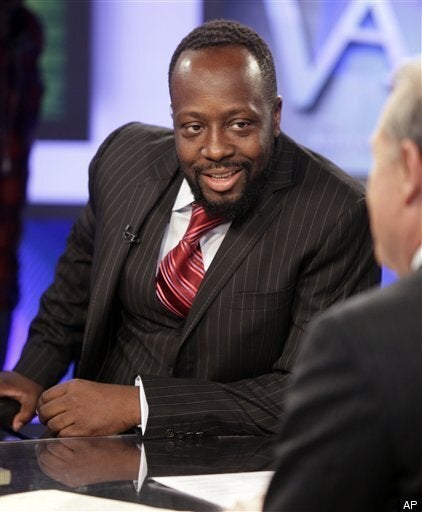 My four-year-old daughter, Angelina, and my wife, Claudinette, are the angels of my life -- and I know this year has been especially trying for them, as my efforts for Haiti have taken so much more of my time since January, when the devastating earthquake nearly destroyed my home country. In fact, my concern for my family was my primary thought as I was being urged by others to seek the presidency of Haiti.
But then I came to realize that I have to make this decision for them, and especially for my daughter, as much as for myself and my country. At age four, my daughter has already seen so much suffering in Haiti, but we've done our best to have her also witness the beauty of the country and the beautiful spirits of its people. I have always believed in the need to parent her by example, to show her that her dad is a man of action and a man of his word. I've told her throughout her life that Haiti's future lies in our hands -- including hers, as one of the young people of the country -- and I want to show her by example what I'm willing to do to make Haiti a better place. I believe that to move Haiti forward, it's going to be necessary to embrace the energy of its people, to unite around a common goal of moving ahead together. Taking all of these factors into consideration over the last few weeks, I have decided to run for president of Haiti.
I'm happy to have my family as my biggest supporters. They've been right there with me, helping with the programs of my NGO, Yele Haiti, over the years. Angelina and Claudinette and I were all in Haiti a few weeks before the earthquake, in fact. We went to Cite Soleil, one of the country's most dangerous neighborhoods, to give toys and backpacks to the kids. The hotel where we had stayed was destroyed by the earthquake, crumbled to the ground. We escaped death by only a few weeks -- my daughter, wife and I would have been under the rubble.
Once, I told Angelina she was going to perform with me on Nickelodeon, and she asked me if she was going to get paid. I asked her, "What are you gonna do with the money?" When she said she needed it to send to the kids of Haiti, I cried tears of joy! And when some people attacked my involvement with Yéle Haiti and tears rolled down my cheeks on Oprah, she said, "Daddy, you are too tough to cry. I've never seen you cry." I said to her, "I'm not crying for myself; I'm crying for the people of Haiti."
Some negative stories continue to be written about me. People might question my motives. Because our daughter is so young, we have shielded her from the negative stories, but when she is a little older, we will talk about those (and there might be many more to come in the next few months -- or years, even, depending on how things go in my campaign to make a brighter future for Angelina and the rest of the youth of Haiti).
I've tried to do the right thing in every part of my life, but especially when it comes to family and to Haiti. Sometimes I've been successful; other times not so much. But for years, I have been trying to help Haiti grow and prosper, and now I think I have the biggest chance I will ever have to make a difference there. I feel my calling is to serve our country in whatever way the people will have me.
I trust that Angelina understands why I feel a responsibility to my countrymen who suffer so much, because I know that my daughter's heart is as beautiful as she is. I hold Haiti and its growth and development dear to my heart; I have pledged to work for my beloved country just as I have pledged to be the best father I can be to my daughter.
My daughter and my wife, my mother, my brothers and sisters, my cousins and the rest of our family are always first in my heart. But Haiti and its people are a very close second. I hope and pray that my baby girl will understand that, and I think she will -- I can tell in her eyes and with the questions she asks that she already understands that to live for yourself is to live selfishly, but to live for others is the best sacrifice that we can make as human beings.
As the Creole saying goes, "L'union fait la force" -- "there is strength in unity." That is something I live by; I get strength from my family, and from all my supporters in Haiti.