It's time to move beyond the stereotypes and stop looking away. It's time to open our eyes.
"If you had three wishes, what would they be?" Mark asks Angela who was living under a bridge in Atlanta. She cautiously responds saying "Good question. I'm not sure." These empty answers are not entirely uncommon.
Johnny, a Vietnam Veteran, sells local newspapers in Nashville to make ends meet. After having his camper van impounded Johnny slept in his wheelchair under a bridge. The video interview below, along with other social media efforts, helped raise the $345 necessary to get his "home" back.
Invisible People, founded by Horvath, is designed to debunk stereotypes and create change. Change in the way people see homelessness and, in turn, support the development of communities to support the homeless. The framework of this movement allows for scalable impact and is fueled entirely by the advocacy of one man who doesn't care how you take action, as long as you do something. Revealing the reality faced by homeless throughout America, Horvath walks streets, works at shelters, and gone into the tunnels below Las Vegas breaking the ice with the homeless by offering them a new pair of socks which often leads to interviewing them for his weblog. He gives them the chance to share their stories with you. Undeniably, the videos shift paradigms. Lives are transformed. Possibilities for the homeless person and each viewer immediately become limitless. These videos capture the raw existence of people that are just like you and I but they don't have a roof over their head. They connect humans of different demographics, circumstances, and goals fostering development of deeper compassion. Compassion bridges divides.
A compilation of stories of thought-leaders in the nonprofit, technology and social media that have been inspired by Horvath's zeal are intermixed with excerpts of interviews of homeless people in Open Our Eyes: Seeing the Invisible People of Homelessness. This book exposes homelessness in a unique light and shares the influence of one man's activism as he hits the streets he once lived on to give a face and voice to the homeless community. Seizing the opportunity within the haunting truth of homelessness once again facing him after a 2008 layoff, Horvath leveraged the few resources he had to help the community he became familiar with while living on Hollywood Blvd. By way of storytelling, Open Our Eyes: Seeing the Invisible People of Homelessness, makes the homeless community accessible to those of us who are otherwise detached. On the rise and largely ignored, Mark's innovative tactics intertwine social media and citizen journalism intently showcasing homelessness to solution-minded. "It's honestly the best book on a very complex subject. It's human and that makes all the difference," remarks Horvath to a comment on Facebook.
Posting interviews online and tweeting about his journey catapults messages into the digital stratosphere which touches, affects, and inspires an audience that may not have sought information on homelessness. Facing a similar challenge of engaging society to take action on issues affecting their community, Brian Center, Executive Director of A Better LA shares, "Mark has inspired me beyond words, with his passion, personal story, vision and commitment, and most of all, with his ability to humanize and connect us to people in need. It is something all of us in the social service world strive to do. Mark has taken this difficult task to a new level and made it look easy."
The launch of We Are Visible, a resource innovated by Mark Horvath to help members of the homeless community use social networks to speak up and be heard, is useful to anyone wanting to learn how to use social media. Beginning with the basics, We Are Visible offers simple how-to videos on starting a Facebook page, creating a Gmail account, setting up a Twitter account, and insights on blogging that are useful for everyone. Who do you know that could benefit from these tools? Share them!
Open Our Eyes is an additional effort to create awareness. A compilation of eye-opening excerpts from 35 of the homeless people Mark has interviewed since 2008, their gritty and unedited stories join the perspectives of many of us in the nonprofit, technology & social media industries on homelessness, how Mark has influenced our lives, and how taking action is changing the world.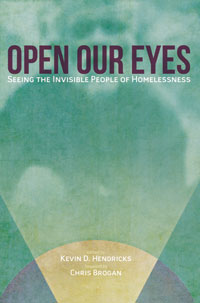 "Through his tireless efforts and innovative use of technology for storytelling, Mark gives a voice to those without, and with such authenticity and volume that you can't help but be inspired," shares Joe Marchese, co-founder of SocialVibe, on the impact Horvath's mission has on him.

Horvath has turned personal despair into possibilities for millions. Challenges do not hinder him. He enjoys the view of detours, leaps over hurdles, and seeks positivity in every juncture life presents. In every trial, the opportunity to grow and do for others is seized. "The work that Mark Horvath is doing opens not only our eyes, but our hearts. He inspires me to not only help homeless people, but to continue to help ME become a better person," remarks Kat Armstrong, a social media addict, community organizer, and tech-savvy ghostwriter.
One person CAN make a difference. Collectively, we have the power to take simple actions of learning more, donating, volunteering, and sharing to bring solutions to homelessness. Moreover, consider how we, as a community, can better optimize the challenges we face to make strides in addressing causes that are dear to us?
One hundred percent of the proceeds from the sale of Open Our Eyes, generously edited by Kevin Hendricks, benefits Invisible People. The book includes contributions from: Chris Brogan, Lee Fox, Heather Meeker, Kari Saratovsky, Stephanie Rudat, Geoff Livingston, Jeff Lilley, Scott Williams, Becky Kanis, Jessica Gottlieb, Brad Abare, Wendy Cohen, Alan Graham, Stefanie Michael, Shannon Moriarty, Chloe Noble, Lisa Truong, Nedra Weinrich, Natalie Profant Komuro, and Jeff Holden.

Calling all HuffPost superfans!
Sign up for membership to become a founding member and help shape HuffPost's next chapter