"Open Photograph, an Image that Whispers"
Photography, like all other forms of art, is an attempt at communication. As artists we make images not to hoard them in a closet but to share our vision of the world with those around us..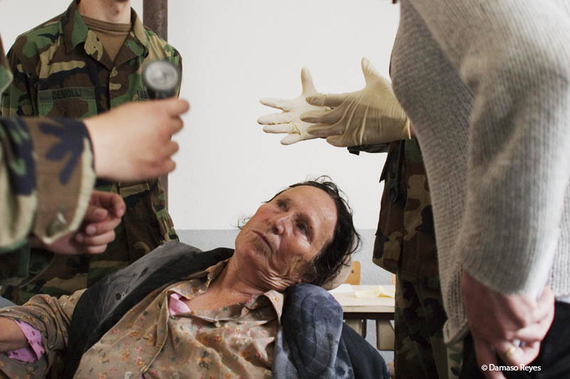 "Limp"
A Kosovar woman is examined at a medical clinic staffed by US Army doctors. Kosovo 2005 © Damaso Reyes
But what form should that communication take? I am an advocate of the "open photograph" an image that whispers but does not shout; a photograph that shares a certain amount of information with the world but through its composition and construction allows the viewer to bring their own point of view and most importantly their own interpretation to the photograph. In that way it can be said that an open photograph is truly a collaboration between the subject and the viewer with the photographer serving as a bridge between the two.
Born and raised in Brooklyn, New York, Damaso Reyes has been a photographer and writer for over fifteen years. His credits include: The New York Times, The Associated Press, The Wall Street Journal, The Miami Herald, The San Francisco Chronicle, and Der Spiegel. Previous assignments and projects have taken him to countries including Rwanda, Iraq, Indonesia, Tanzania and throughout the United States and Europe. Damaso is also the principal photographer of The Europeans, a long term photographic documentary project examining the changes that Europe and its people are experiencing as the European Union expands and continues to integrate. You can see more of his work at www.damaso.com and www.theeuropeans.net
Popular in the Community