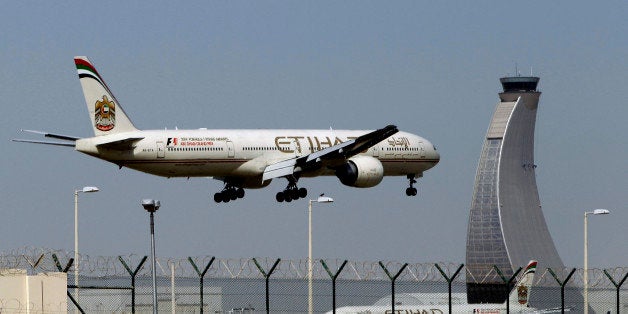 Play by the rules. That's what we're all told from the time that we are children and it's how small businesses manage their bottom line every day. Unfortunately, not everybody does. In America, we welcome open competition, but when foreign companies are breaking the rules as they compete against our companies, that just isn't fair, and Americans shouldn't stand for it.
Right now, a trio of airlines from the Persian Gulf isn't playing by the rules -- the very rules that their own governments agreed to. Government subsidies are not allowed under the Open Skies agreements that both the United Arab Emirates and Qatar signed with the United States, yet those two countries are pumping tens of billions of dollars in subsidies into their state-owned airlines in order to give them an unfair advantage over U.S. airlines.
The government-owned Gulf carriers are using these subsidies -- allegedly some $40 billion worth over the last decade -- to buy up more planes and flood international routes with new flights that are bought and paid for by Gulf government funding.
The results of these unfair business practices by Emirates, Etihad Airways and Qatar Airways are clear. Hardworking Americans who play by the rules will see their livelihoods threatened, and U.S. consumers will be left with fewer options, as the U.S. airlines are forced to cut back on both international and domestic routes.
Already, the violations of these Open Skies agreements are starting to push U.S. airlines off of certain international routes, which jeopardize good-paying U.S. jobs and our economy. For every daily international flight lost to a Gulf carrier, approximately 800 American jobs are put at risk. Pilots, mechanics and small business suppliers all bear the brunt of the foreign-airline rule breaking, and unless this problem is addressed, the economic damage will only worsen.
The bottom line is the Gulf carriers' aren't playing fair. Their subsidies violate our Open Skies agreements and put American jobs and small business owners at risk. That is why we at The Latino Coalition are proud to stand with the U.S. airlines and small business owners around the country in supporting the Partnership for Open & Fair Skies' request that the U.S. government exercise its rights under the Open Skies agreements with Qatar and the UAE and initiate bilateral consultations to address the Gulf subsidies. In the government-to-government talks, the Obama Administration should make one simple request of the Gulf nations and their state-owned airlines: Play by the rules.
Related
Popular in the Community