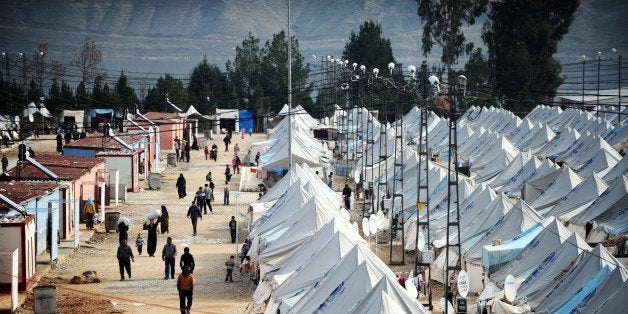 On Wednesday in Kuwait, representatives of the international community met to pledge support in response to the humanitarian needs resulting from the Syria crisis.

The United Nations and its partners are seeking to raise $6.5 billion to assist the 8.5 million Syrians displaced by the war. The donor community needs to respond -- and urgently -- to ensure that lifesaving aid will be provided. Despite the community's generous response to the previous funding appeal, it was only 69 percent funded.

Unfunded percentages on funding charts translate into human tragedies. Unfunded appeals mean that Syrian children continue to miss out on school, creating a lost Syrian generation. Insufficient funds mean that women have to resort to desperate measures -- including giving their daughters into early marriage -- to take care of their families. As refugees struggle to survive the winter and increasingly incur debt, the donor community must provide far more resources.

Financial assistance is not the only way to help. Three years into the crisis, resettlement of vulnerable refugees must be a robust and integral part of the humanitarian response.

More than two million people have left Syria, and another 6.5 million are displaced inside the country. The UN estimates that an average of 127,000 people flee Syria each month in search of refuge. The UN also calculates that Syria has lost 35 years in human development. Its economic foundation and infrastructure are devastated. Rebuilding Syria to accommodate the return of its people will require an immense reconstruction effort. It will be many years before Syrians who want to return home can do so. Many more will never be able to return.

Syrians have been tortured and traumatized. Many have faced unspeakable persecution. The country is becoming increasingly fragmented by the sectarian nature of the conflict. As sectarian lines deepen, concerns mount about the threat of persecution and retaliation in once mixed neighborhoods.

Although refugees maintain a hopeful outlook, they are increasingly pessimistic about the prospect of returning to Syria. They feel stuck, with no way out of a desperate situation. Syrians increasingly incur unsustainable debt in host countries to survive, and their children are missing out on school. For many Syrians, there will be no homes and no familiar neighborhoods to return to, no savings and jobs to rebuild their lives.

Resettlement has traditionally been an integral part of the international response to protracted humanitarian crises, and it must be given higher priority in the Syria response. It is essential to help protect those for whom returning to Syria or resettling permanently in neighboring countries is not viable.

Long-term resettlement will require an internationally coordinated strategy. Countries bordering Syria have been opening their doors for nearly three years and providing safe haven. They deserve enormous praise -- and assistance -- to support their efforts. But they cannot do it alone. Countries outside the region need to help by opening their borders to vulnerable Syrians.

In the short term, the international community must quickly make plans to resettle the 30,000 Syrian refugees proposed by the UN refugee agency. This represents merely 1.27 percent of the refugees who have so far fled Syria. The 20 countries around the world that together have committed to provide refuge to 18,300 vulnerable Syrians should be applauded. But they need to do far more to begin to meet the enormous and growing need. Three years into the civil war, resettlement must be a robust component of a multinational response.

The U.S. has expressed an interest in welcoming Syrian refugees for resettlement in 2014, but unlike other countries, it has not specified how many refugees it will seek to admit. The U.S. must delineate a clear policy. Consistent with its long-standing tradition of providing refuge for those fleeing persecution, the United States should announce its intention to resettle 12,000 Syrian refugees this year to address UNHCR's call to resettle a total of 30,000 and more in future years.
Even if the fighting ends tomorrow, it will be years before Syrians who want to return home will be able to do so. The United States must acknowledge this reality by demonstrating far greater leadership on Syrian resettlement. The United States traditionally resettles the largest number of refugees fleeing persecution in the world. It has led with financial contributions to relieve human suffering in the region, and it must lead as well on resettlement of vulnerable Syrians who will never be able to return home.

The international community should go to Kuwait with checkbooks in hand and pony up to meet the financial needs of displaced Syrians in the region. Financial assistance is one way to help suffering Syrians and relieve the burden on Syria's neighbors. But the United States and other leading members of the international community must also make it clear that their own borders will be open to resettle increasing numbers of Syrian refugees. Lives are at stake. The time for the international community to put in place policies and processes to allow for the large-scale resettlement of Syrian refugees is now.
Sharon Waxman is Vice President of Public Policy and Advocacy for the International Rescue Committee.
Popular in the Community