If the art dealers Daniella Luxembourg and Amalia Dayan were to impart one essential bit of wisdom to aspiring gallerists, it would probably be this: stay flexible.
In 2009, when the two friends opened Luxembourg & Dayan in a Manhattan townhouse, their idea was to produce tough, intelligent shows for an audience deliberately limited to collectors, curators and art world insiders.
During an interview at their current space at 64 East 77th Street, Dayan, a granddaughter of the legendary Israeli Defense Minister, Moshe Dayan, said that she, in particular, having served as a director at Deitch Projects and Gagosian, and co-founding a separate Chelsea gallery five years ago, "had a little bit of a trauma spending so much time with people, and less time thinking about the next show, and looking for works."
"We wanted not to be on a permanent road show," added Luxembourg, speaking via speakerphone, from London.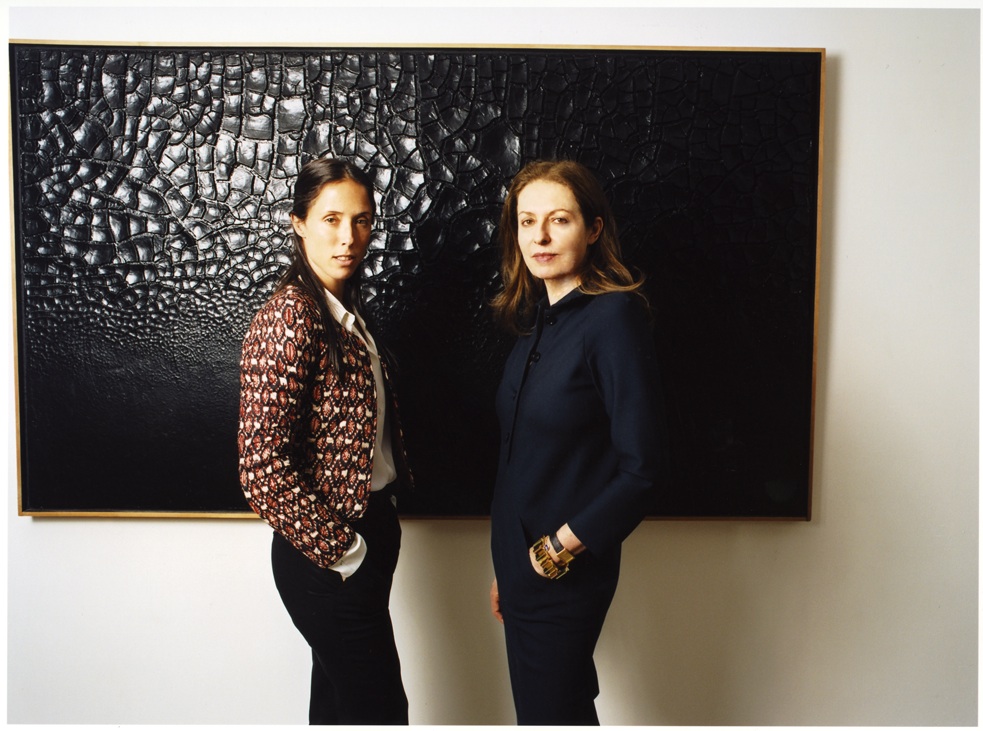 Amalia Dayan, left, and Daniella Luxembourg, right,Luxembourg & Dayan Gallery, New York
in front of: Alberto Burri, Nero Cretto L.A., 1978, Photo credit: Johnny Gembitsky
The duo's inaugural exhibit in their 13-foot wide, four-story gallery space presented works by Marcel Duchamp. It was only seen by a lucky few. Still, Luxembourg, formerly a partner of the international auction house, Phillips de Pury & Luxembourg said that, by limiting viewers to those who made appointments, she and Dayan could focus on what they loved most: digging up difficult-to-find works, brainstorming about possible shows, and speaking with collectors in an environment of relative calm.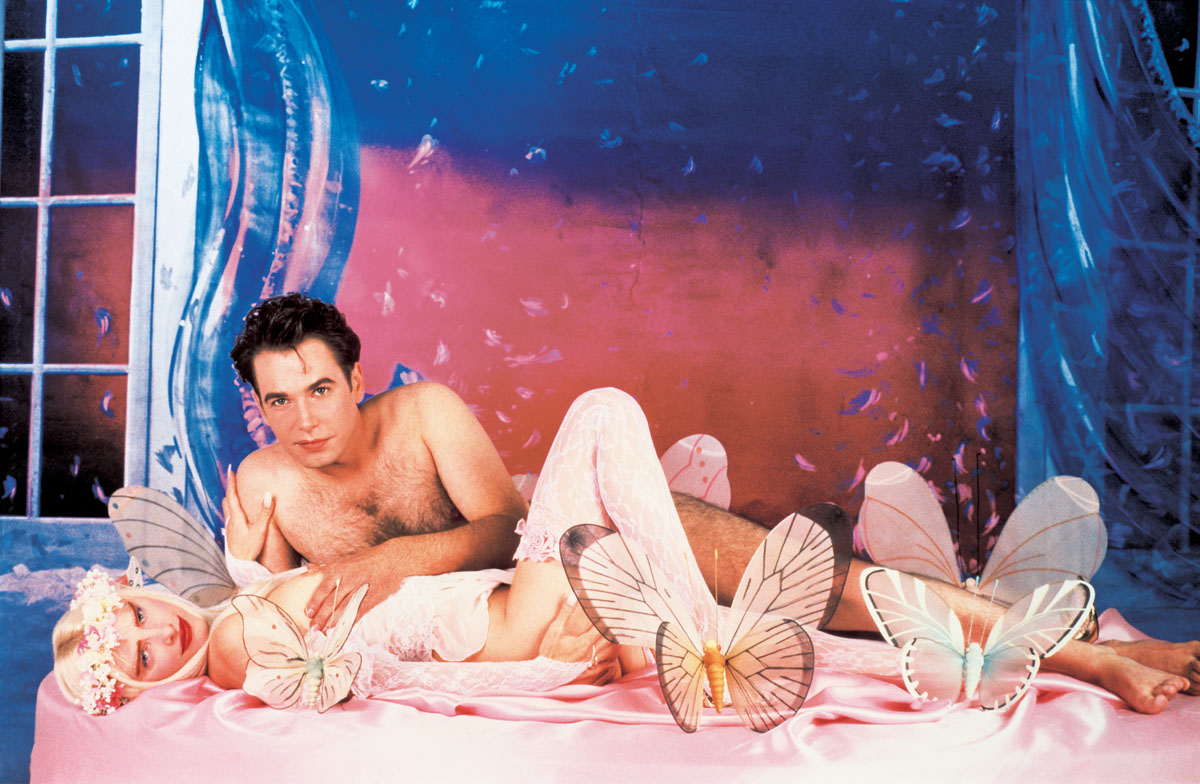 Jeff Koons, Hand on Breast, 1990, Oil inks on canvas,95.8 x 144.1 inches (243.3 x 365.8 cm)

With the arrival of Jeff Koons: Made in Heaven Paintings last fall, however, closed doors no longer provided calm. "The phones were constantly ringing," with appointments and media inquiries, recalled Dayan, adding that "we had to be less rigid, basically." The gallery opened its doors to the public. But they insisted on staying closed on the busiest art viewing day: Saturday.
For their most recent show, Unpainted Paintings, Dayan said, "we have done the thing that we said we would never do, ever. We are now open on Saturdays."
Still Luxembourg and Dayan refuse to make things easy. Unpainted Paintings, a rigorously provocative show on view through May 27, finds three generations of artists, among them Lucio Fontana, Robert Rauschenberg, Andy Warhol, Otto Muehl, Lynda Benglis, Rosemarie Trockel and Steven Parrino, committing defiant acts in the name of making art. By slashing, burning, staining, and even peeing on their works, these renegade artists have attempted to crush the traditional parameters of painting--without even picking up a brush.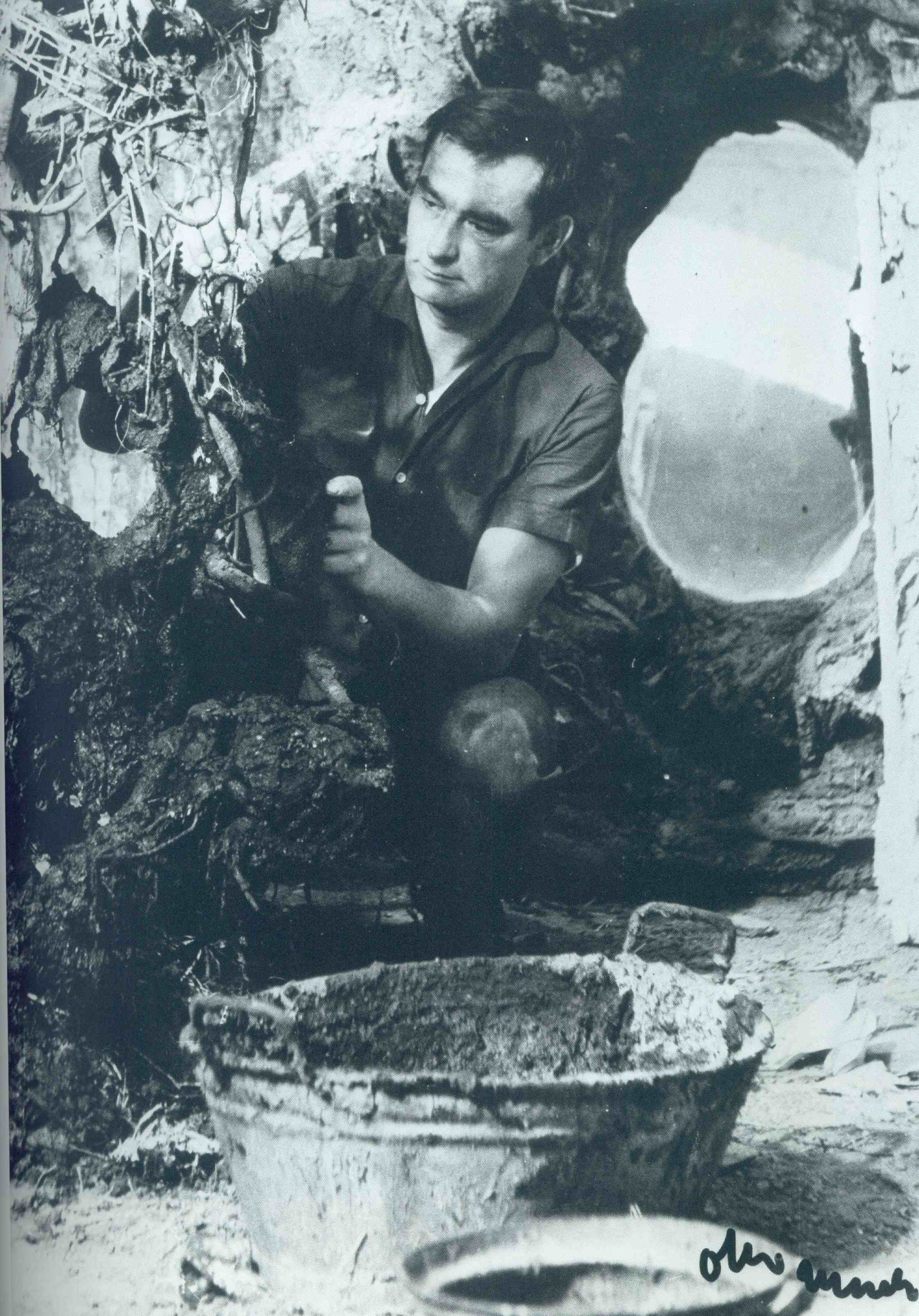 Otto Muehl creating a work from his "material paintings" series, Vienna 1962, Courtesy of Otto Muehl Archives, Paris
Luxembourg and Dayan's gestures and methods are arguably less defiant than those of their favorite artists. But in their own quiet way they are also disrupting tried-and-true models, by keeping their exhibits open for 2-3 months, by not representing artists, by seeking whenever possible, rare, museum quality works, by insisting on their own pleasure, and perhaps most importantly, by remaining flexible.
The reluctant dealers are now expanding. With a second small space on Savile Row, in London, currently under renovation, they plan to present focused shows. "It will be like a viewing room," said Luxembourg.
Acknowledging that this had been their original intention when they first opened in Manhattan, Dayan smiled mischievously. Then she leaned toward the speakerphone. "And what about our struggle, our constant struggle? Will we be open to the public?" she teased her friend.
There was a pause on the line.
"We will start with not," said Luxembourg, cautiously, "and then, probably...we will repeat ourselves."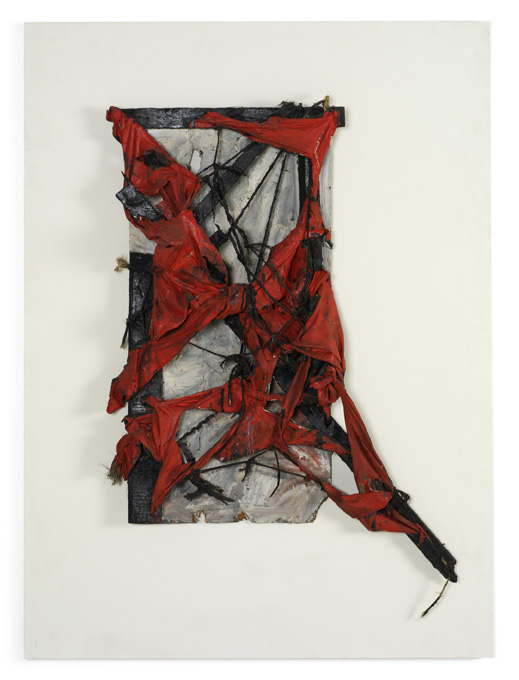 Otto Muehl, Untitled, 1961, Wood, material, paint and cord on cardboard, 44 7/8 x 32 1/4 x 6 3/4 inches, Courtesy Hauser & Wirth, Photo:Barbara Gerny
Otto Muehl, an Austrian artist known for his performances, made a series of very strange paintings called "Actions" in the early 1960's, tearing apart materials, breaking them down, then putting back together. "In the end, the composition is beautiful, and not really random," said Dayan.
Lynda Benglis (below) making a collapsed painting early in her career.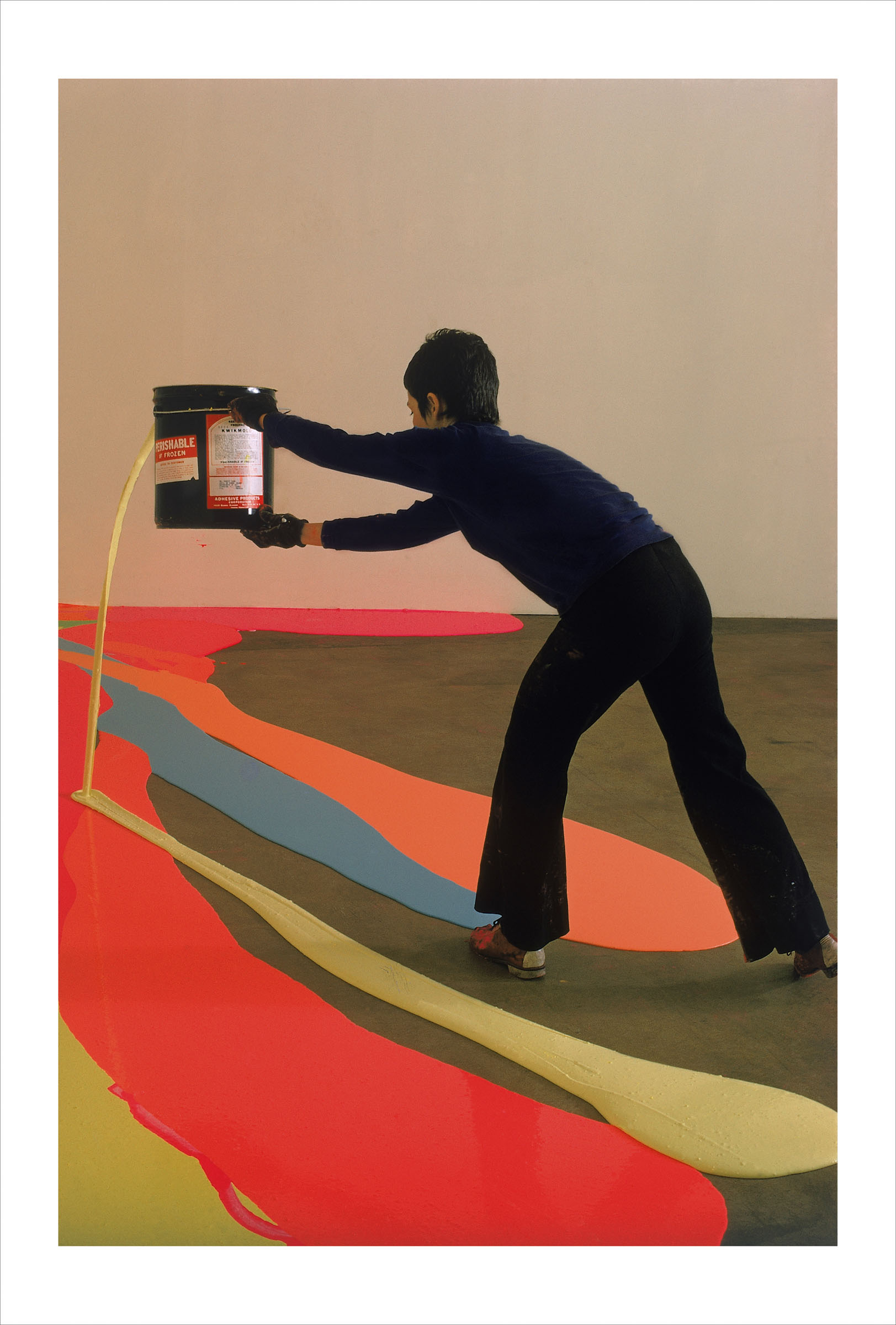 Lynda Benglis, UNTITLED (From the SELF PORTFOLIO), 1970, Portfolio of 9 pigment prints - various dates 1970-76, 34 x 23 inches each, courtesy Cheim & Read, New York.
An example, on view at Luxembourg & Dayan: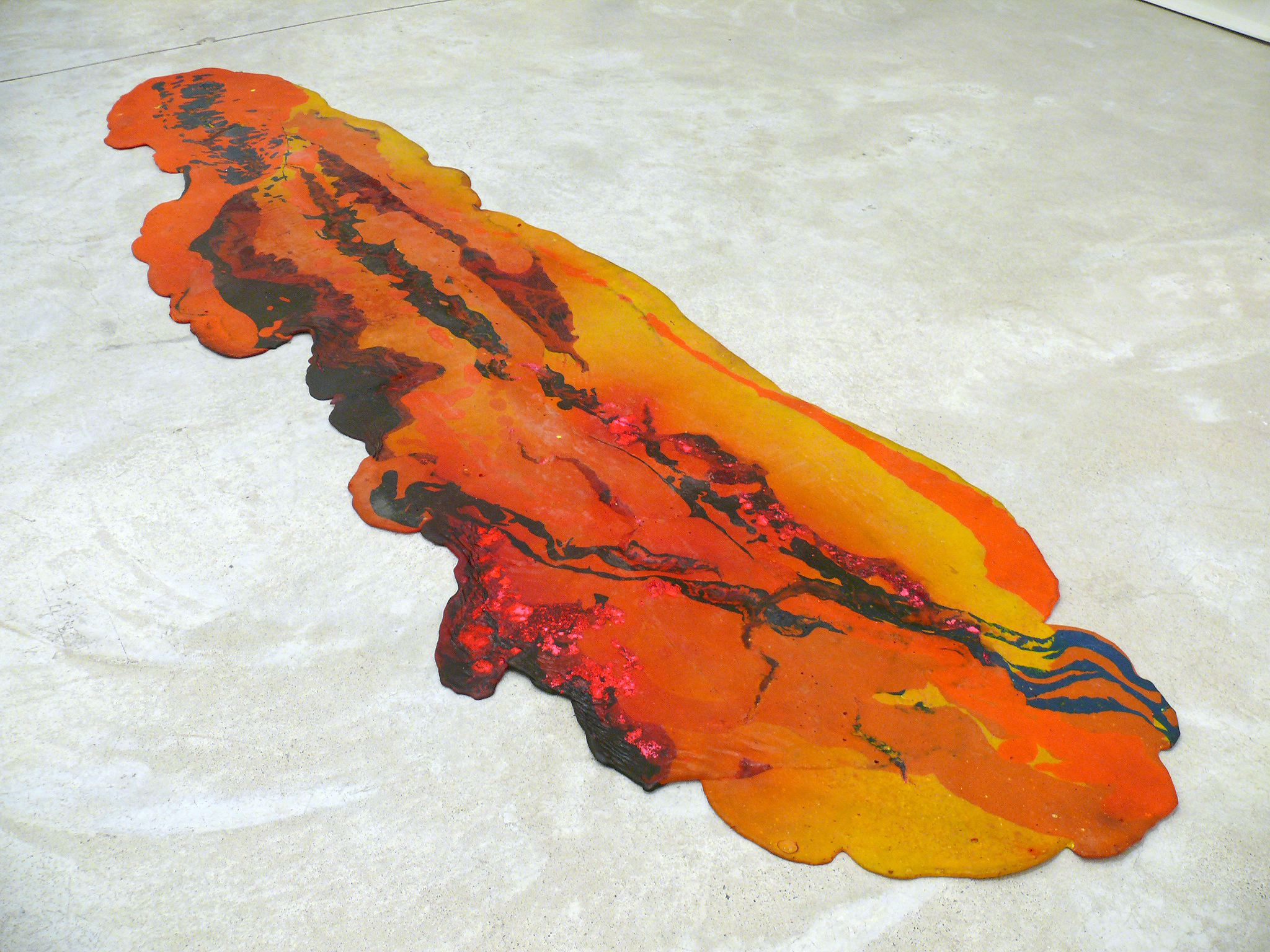 Lynda Benglis, Baby Contraband, 1969, Poured pigmented latex, 1 1/2 x 79 x 20 inches, Courtesy the artist, Luxembourg & Dayan, New York, and Cheim & Read, New York. Photo courtesy Cheim & Read, New York.
Related
Popular in the Community