For the past year and a half, my husband Charlie and I have been saying to each other, "We need to sign up for a Sound Rowers race." Over the course of our respective rowing careers, we've done plenty of races on lakes and rivers, typically ranging from 1,000 meters to four miles in distance. But we'd never attempted the long, open water courses common to Sound Rower events. Just as trail running offers a rugged, wild alternative to road races, open water rowing seemed a new adventure.
For one reason our another, our ambitions to take on a new style of racing fell short month after month. The Sound Rower races always conflicted with a trail run, a sprint regatta, or a weekend getaway. This summer, we decided we'd just have to make an open water event our number one priority. Instead of racing 1,000 meters at the local Green Lake Summer Regatta on August 4, we'd head to the San Juan Islands and attempt the Round Shaw Row.
According to the Sound Rowers website, the Round Shaw Row began in 1978 when a couple of boaters challenged sailors to a circumnavigation of Shaw Island and won. The following year, a dozen kayaks and rowing shells raced the 14 miles around the island, and a tradition was born.
The race today draws a mix of rowers, kayakers, and other boaters of all ages and abilities. Sound Rowers rates the course as a 3, or "open water for long distances; strong currents; rough water expected; participation may be restricted." (A 1 course means protected water and shorter distances, while a 2 is intermediate with open water in parts.)
Upon reading the website description of the race, I wondered whether the conditions could be a bit over my head. "The Round Shaw Race is a world-class 14-mile event that will present a challenge for even the most accomplished open water racer. There is nearly always some rough water and strong tidal currents during the race," the web page read. Currents and chop? Oh boy. However, a number of friends from Lake Washington Rowing Club had taken on the challenge each year, and assured us that we would do great. Though I still felt a bit of trepidation, Charlie had no reservations. We were in.
On Friday morning, Charlie and I strapped a 30-foot-long open water Maas double rowing shell (borrowed from Lake Washington Rowing Club) to the top of his Acura wagon. Unlike a flat water double, the open water boats are broader and heavier, with flip-down self-bailers on the bottom of the boat in case waves crash in. They are built to row in waves, currents, and wakes. All of the rowing shells used in the Round Shaw Row would be open water boats.
With our boat hanging far off both the front and back ends of Charlie's Acura, we drove to my parents' house, which sits on Burrows Bay on the west side of Anacortes. Early the next morning, we made the short drive to the ferry terminal, where we'd catch the boat to Shaw Island. With the additional fee for the long boat, we had to pay a hefty $88 to board the vessel. (A round-trip price, thankfully.)
After a 90-minute ferry ride to Orcas Island and then on to Shaw, we pulled off the ferry and drove the short stretch to Indian Cove. The race began and ended at the county park here. As we gathered our supplies, we saw an eclectic group of boaters doing the same. The fleet we'd race against (which numbered around 30 boats) included open water doubles, open water singles, kayaks, pedal boats, and a rowboat with a stationary seat. The motley crew reminded me a bit of a gathering of ultra-runners: unique, rugged outdoor sorts with a taste for both endurance and adventure. This would be fun.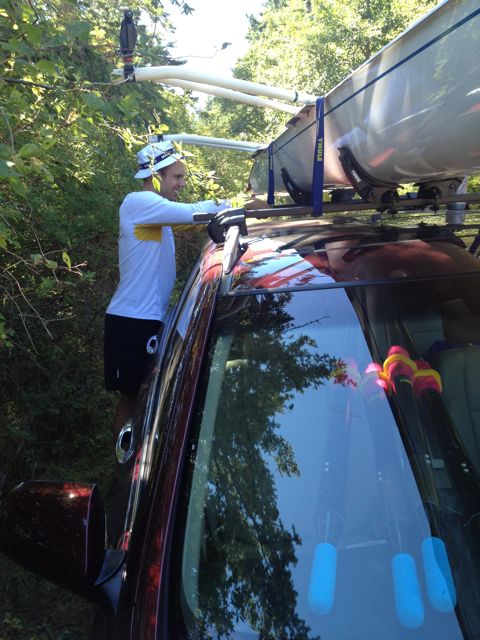 (Charlie works to get the boat off the car)
Round Shaw Row organizers permit boaters to race in either direction around the island. Depending on the tides and currents, either counter clockwise or clockwise can be more beneficial. We learned that one year, two boats decided to venture the opposite way of the larger group, and they ended up finishing a half hour ahead of the rest of the pack. Charlie and I figured we'd follow the veterans. Due to the currents in the San Juan Channel, every single person ended up deciding to go counter-clockwise. As novices, we'd stick with group consensus.
To launch, we carried our boat down to the beach and waded in the water. We wore tight-fitting gloves to prevent blisters, hats to shade us from the sun, and lathered on sunscreen. We each carried two water bottles -- one with water and one with Hammer Perpetuem, a powdered drink mix for energy and fuel. Per race rules, we also carried a whistle and a life jacket for each of us.
All of the boats lined up between the boat launch on shore and a sailboat. With the sound of a horn, we were off! Charlie and I immediately rowed into the lead -- a position we'd hold throughout the race. Since the race began in a sheltered bay, the rowing seemed smooth and easy at first. Winds were calm, the sun lit up the water and surrounding islands, and everything moved effortlessly. I thought, open water rowing is lovely! A bit of a premature thought, for sure.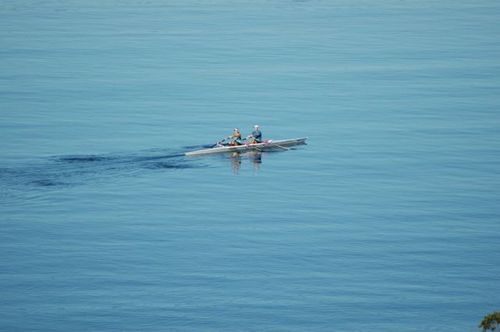 (Charlie and I rowing in the Maas double. Photo actually taken the following day off Anacortes, but it provides a glimpse of the boat in action.)
When we left the bay, the chop began to pick up for the first time. Even on a calm day, this was the Salish Sea, and it would be a far cry from lake rowing. We began to hit our first wakes from powerboats zooming by. Wakes would be a constant obstacle for the rest of the race -- some of them mellow and loping, and others aggressive and sending sprays of water right into the boat.
We hit our first obstacle when we neared the ferry deck on Shaw. All of a sudden, we spied an approaching ferryboat, blowing its horn to all of the boats in the race. For a moment, we wondered whether we should stop and turn, or just keep rowing as hard as we could to escape right in front of it. We ended up doing the latter, racing past the ferry dock before we were mowed over. As the lead boat, we were the only ones who lucked out with this maneuver. The next boats in line were forced to yield to the vessel. Our lead broadened.
For the next hour or so, the race waters changed constantly. We hit eddies and currents that spun our bow wildly. My hands grew weary of gripping the oars and we navigated over chop and waves. I lost my oar entirely on a wave once, making me glad I was rowing a double. (In a single, I might have gone swimming.) San Juan Channel, a long, straight section with a steady stream of power boaters, seemed like one, endless wake. As a fellow rower said, "My fun meter ran out right around there." Exhausted from the constant roll and motion of the boat, I began to wonder why I'd thought open water rowing sounded like a good idea. When one boat wake swamped us, we paused to open the bailers and let the water drain back out.
Since Charlie sat in bow in our boat, he navigated and called steering commands. He proved a calm, level-headed bowman, unflustered by boats, rocks, or other obstacles. While the biggest wakes made me nervous, Charlie didn't mind. Every 20 minutes or so, he'd call for a water/fuel break and drop out to drink. I'd keep rowing, and then when he was done, take my turn. The sports drink and water proved imperative on the hot summer day, especially once we hit 90 minutes into the race. Though we both were growing tired, we still maintained a substantial lead (perhaps 2,000 meters) on the rest of the pack, so I figured we'd easily finish first. I shouldn't have counted on our victory so soon!
As navigator, Charlie needed to decide what sort of line to take with the boat, and whether to steer closer to shore or remain farther out in the channel. He also knew that Shaw Island included a number of bays that we should not be tempted to row into, as a straight course around the island would be more prudent. His strategy worked well... until the very end.
With both of us growing exhausted from rowing through the choppy water, we came up to the final cove. I glanced around, saw the sailboats anchored in there, and said to Charlie, "I think that's the finish line." He replied, "No, there were no houses by the start." We proceeded to have a quick argument over this, in which he convinced me that he was right, and I let him continue to steer us away from the bay.
Alas, the finish line was indeed in that bay. Instead of heading to the end of the race, we rowed around a small island outside of Indian Cove. By the time we were on the other side of the island, Charlie realized his navigation error. We continued around the island and then headed back into the bay, approaching the finish line from the other direction. We crossed the line in roughly two hours.
In the end, we rowed about an extra 20 minutes, relinquishing our large lead and allowing three other boats to come in before us. At the Sound Rowers award ceremony, we received the "Figure Eight Course Award," receiving a book of mind teasers and puzzles as our prize. Somehow, losing the race to a major navigational error seemed quite fitting for the open water newbies. There's something to be said for knowing a course. We agreed that in future long-distance regattas we both should study up a bit more, and be more aware of our surroundings when we begin the race.
Upon finishing the race, I told Charlie that I wasn't sure I'd do an open water race of that league again. Apparently we'd actually hit the race on a very good year as far as conditions go, and past years have been far rougher. Feeling a bit beat up from the waves and wakes, I couldn't imagine wanting to row in higher seas. While I loved the long distance and adventure element of the race, I far preferred the stretches where the water calmed and I didn't need to worry about losing my oar or moving with the waves. Perhaps I'm destined for Class 1 and Class 2 Sound Rower races? Or perhaps I just need a bit more experience in the rough water. The veterans don't seem the least bit fazed by the waves.
We headed back to Anacortes on the ferry that evening, weary from the day's events and happy for a respite from exercise and gripping two oars. But the next morning, when we woke up at my parents' home and gazed out at the glassy waters of Burrows Bay, we looked at each other and at the rowing shell atop our car.
"Let's go for a row?" Charlie asked.
There's a reason I married this guy.