What is stopping me from sliding smoothly downwards the U-curve? Why do I fall into blindly repeating old patterns of behaviour, not seeing situations with fresh eyes, as they really are? Why is downloading so common?
Inner work, self-leadership, being awake - whatever you want to call it - is hard work. We all have to face three enemies, inner voices of resistance: voice of judgement, voice of cynicism, and voice of fear.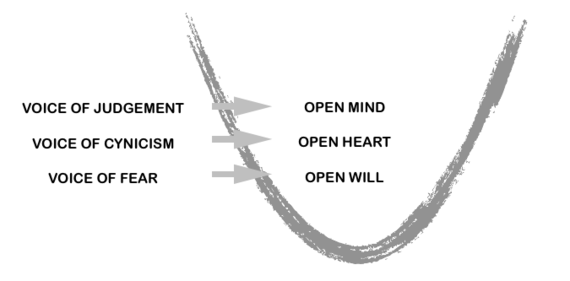 Voice of judgement is blocking my mind from opening. If my mind does not dare to open to new opportunities, to see alternatives and play with them, the deep dive towards my inner core is prohibited and the automated choice "more of the same" becomes the natural path to follow. How often have you heard the phrase "there is no other alternative"? Why is it so difficult to open your mind? You have to leave your comfort zone, enter uncertainty, admit you do not know everything, and face the wall of resistance saying "this is how we have always done it".
Voice of cynicism is blocking my heart from opening. Cynicism distracts me from my feelings, makes empathy impossible, helping others embarrassing, listening difficult. Nothing really inspires and touches your heart, nothing wakes your childlike curiosity. Why is it so hard to open your heart? You have to face your own vulnerability and admit you need others.
Voice of fear is blocking my intuition and will from opening. If my will does not open, it becomes impossible to let go of the old. In this context the old can mean a lot of things; what I possess or what I am. Quite often feeling of fear expresses itself as uncertainty regarding your economical safety, or fear of being rejected, or fear of death. Why is it so difficult to open your will? Letting go of the old has to happen before the new can enter. The new is always uncertain, you do not know how and when it will manifest. It might not manifest at all. It is frightening to to let go of the old and throw yourself on emptiness, but that is the only way to go through the Eye of the Needle and discover something genuinely new.
I hear these voices on a daily basis in my own life and work. Do these voices speak to you as well? What kind of stories are these voices telling? How do you transform your inner stories from inhibitors to enablers? What kind of opening do you want? How do you learn to see things with fresh eyes?
I wish you luck on your Path of Opening! - Pekka
Popular in the Community