Before moving to Belize, 66-year-old Steve Gustat, from Tampa, Florida, hadn't even considered opening a restaurant.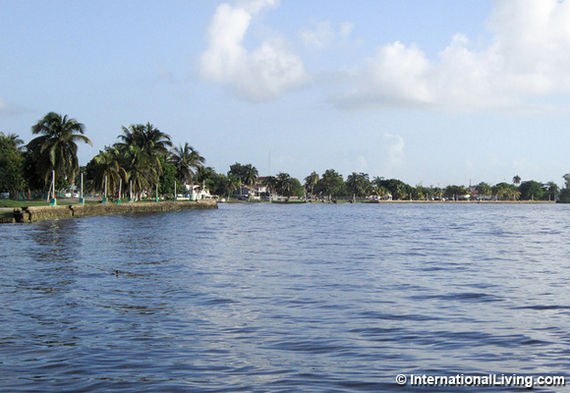 Coastline of Corozal, Belize
"I had no experience in the restaurant business," he says of his decision to open the Blue Iguana, the popular restaurant he now operates with his Belizean partner, Shantel, in Corozal, in northern Belize near the Mexican border. "But that has not been a problem. Business principles are the same in any business."
Initially, Steve lived in Belize as a retiree. But he became restless and began looking for a way to occupy his time... "I've worked since I was 11 years old. I go stir crazy if I'm not working!" he says. Luckily, when he moved to Corozal, he found an opportunity he couldn't resist.
Now Steve spends the better part of his waking hours at the Blue Iguana, overlooking the Bay of Corozal. Here he enjoys a million-dollar view over the glistening green bay and a soothing Caribbean breeze: not the worst lifestyle to wake up to every day.
Corozal Town, a traditional Belizean family town, is a throwback to the 1950s. It is not a trendy tourist spot ... and that's part of its appeal. A growing number of expats are moving to the area because of its affordable lifestyle (here you'll find some of the best-value living in Belize) and friendly local community. "Corozal reminds me of small-town America," says Steve. "Everyone knows everyone here and we all get along."
And it doesn't cost him all that much, either.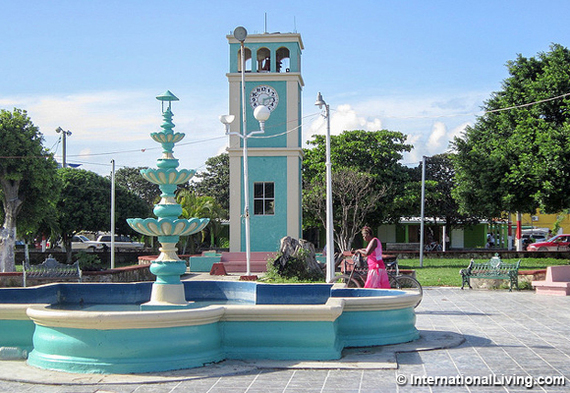 Town Square in Corozal, Belize
"The cost of living here, as compared to the U.S., can be amazing, especially if you are on a fixed income," says Steve. He pays only $250 a month for his two-bedroom apartment, across a small street from the bay. "Our electricity bill, without air conditioning, runs about $65 a month. The water bill is about $20, and cable runs about $50." All told, Steve and Shantel spend less than $1,000 a month (though of course, they eat two meals a day at their restaurant, free of charge).
Steve first visited Belize on his 2009 Christmas break. "I had never been to Central America before and was looking for a place to retire. After two days on the island of Ambergris Caye, I decided to return to Tampa and resign my position." He'd already retired as the chief investigator for the state of Florida, but he had still been teaching criminology at a university in Tampa.
Before visiting Belize, Steve had been considering several European countries for his retirement. But after his trip to Ambergris Caye, he decided to retire in Belize ... and has not regretted this decision since.
"I like living in Belize because of the laidback atmosphere, the expats, and the sea. I like the almost non-stop breeze, the people, and the weather. It's much more pleasant here than in Florida. Even on the hottest days, the constant sea breeze keeps it cool and comfortable."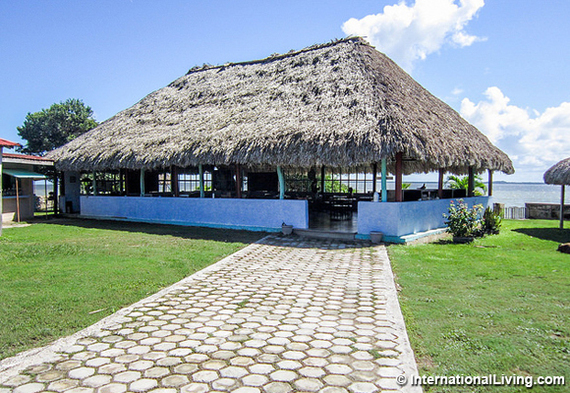 Blue Iguana Restaurant in Corozal, Belize
Steve opened his restaurant and bar with a clear vision: "I wanted the Blue Iguana to become the 'Cheers' of Corozal. A mix of Brits, Canadians, Americans, and Poles drop by regularly. I know them all by name. When new people come in, I introduce them to the other expats."
After living on an island for a few years, he opted for mainland Belize. "I left San Pedro [Ambergris Caye] in 2012. During my time on the island I had met Shantel, a wonderful lady who lived in Corozal, so I decided to move there.
"I began looking for a place to build a home on the bay. As I drove along the coast, I found this beautiful 2,400-square-foot palapa sitting on the bay. I found the owner and decided to take the place in July 2013. This is where the Blue Iguana is now located."
The fact that his Belizean partner is a good cook also helps. "We opened the restaurant on the bay almost three years ago. Shantel quickly became a master cook and still does most of the cooking."
The business became profitable after two years. Steve had some significant up-front expenses to cover, such as upgrading the potholed roads leading to and from the restaurant. By his own admission, he won't get rich anytime soon, but he is pleased with its success.
"The business is doing well and our TripAdvisor number continues to climb. Our clients include locals, expats, and tourists. They come to eat, throw darts, play cards, and shoot pool. Mondays we have Texas hold 'em. Wednesday and Saturday we have darts, and on Sundays the pool players come. Friday night we offer live entertainment, with classic songs from the 60s and 70s."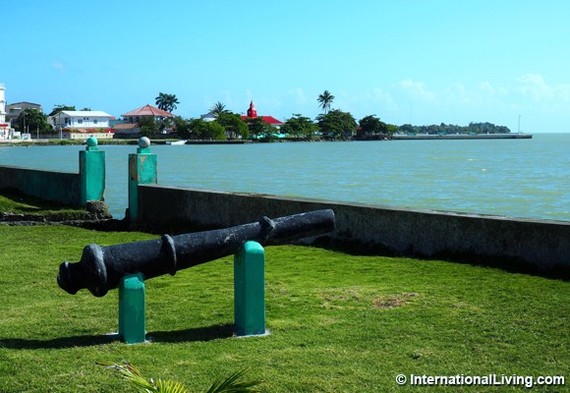 View from South of Corozal, Belize
For potential expat entrepreneurs moving to Belize, Steve has some sage advice. "If you want to start a business in Belize, you must first get a work permit. And you will need to hire Belizeans to work for you."
Steve and Shantel stay busy at the Blue Iguana, which is open six days a week. But they take breaks whenever possible. "We visit with friends and occasionally go to Chetumal, Mexico, to shop and see a movie. Or we take a short trip to places we haven't been before."
Both business and life are satisfying for Steve in Corozal. "I'm pleased with where my life is now. I'm busy, but not stressed. Corozal is a very nice place to be. I have a wonderful woman in my life, who's also a fantastic business partner. And every day, at the Blue Iguana, I look out at Corozal Bay and think, what a wonderful place to have an office..."
This article comes to us courtesy of InternationalLiving.com, the world's leading authority on how to live, work, invest, travel, and retire better overseas.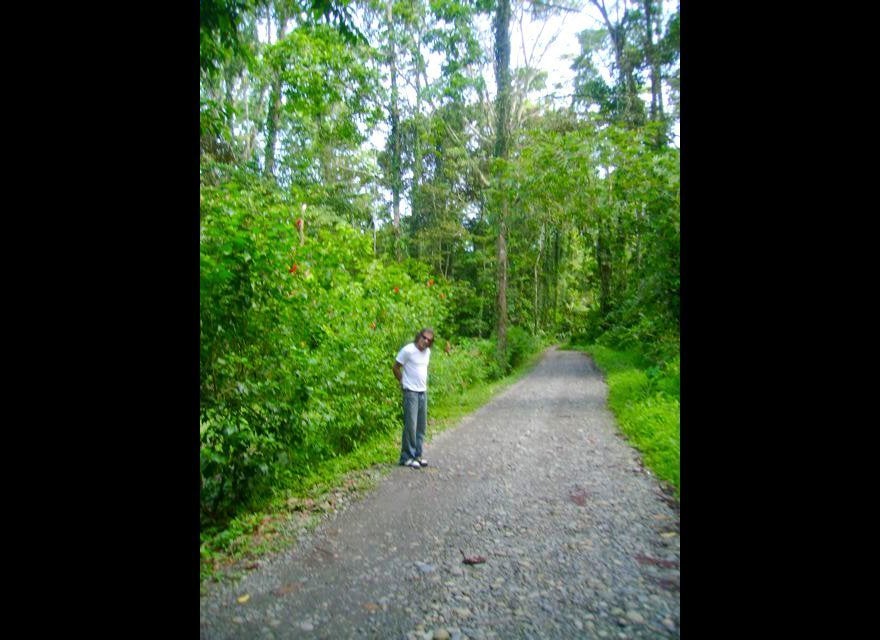 Costa Rican Retirement
Popular in the Community