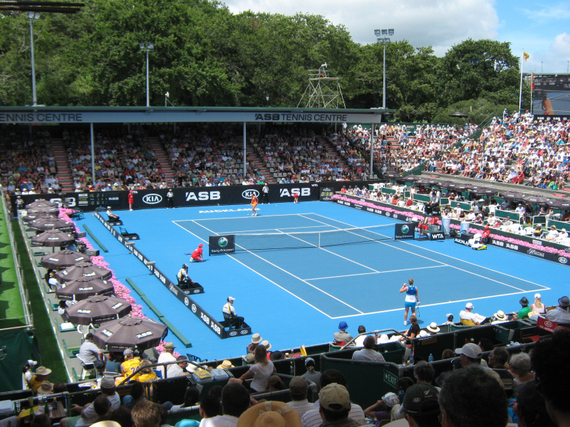 The opening rounds at the ASB Classic in Auckland have delivered nothing if not surprises. The first round saw the two top seeds, Venus Williams and Ana Ivanovic both depart the tournament. The other big star of the line-up in the opening week, former No. 1 Caroline Wozniacki also struggled, going down 3-0 in the opening set against a qualifier before coming back to win 6-4, 6-4. One of the other big stars of the women's event, Francesca Schiavone (the 2010 French Open champion) also went out in the first round. I'm sure that having three former Grand Slam Champions going out in the first round at a WTA 250 event represents some sort of record.
It's probable that this will give the tournament organizer's some headaches. After all, Ivanovic and Williams are two of the biggest star's of the tour, and to have them both go out so early has to be seen as a negative for the tournament. Ivanovic struggled in 2015 and she would have been hoping that a good performance at the Classsic would propel her to a strong 2016. Sadly that is not going to happen, but I would hope that the tournament organizer's will still utilize her star power, and look after her for the rest of her time in NZ. It will be interesting to see some new talent coming through.
Two time Grand Slam Champion, Svetlana Kuznetsova will be playing at the Classic this week, and hopefully, considering the other big name exits, it would be good for the tournament if she were able to make it to the weekend. Her ranking is currently at 25, and she has only shown glimpses of her former playing form, since her 2009 French Open win. Hopefully some of her former strong play can be re-ignited for entertaining the Kiwi tennis fans this week. Too see her, along with Wozniacki make it to the Friday semi-finals would no doubt please the tournament organizer's and fan's.
Naomi Broady, who beat Ivanovic, will be a name to watch. A strong server, with no easily detectable patterns to it. I would expect her to be a contender for the title, especially with the fast conditions on the Auckland courts. The rain they had in Auckland last week has appeared to have blown over, and the conditions we should expect to see at the tennis event's will be hot and humid. This will benefit the younger, fitter player's on the court. This tournament certainly has the air around it of being one where we will see a few upsets. I would not be surprised if we were to see a few more. I will be keeping you updated.
REAL LIFE. REAL NEWS. REAL VOICES.
Help us tell more of the stories that matter from voices that too often remain unheard.