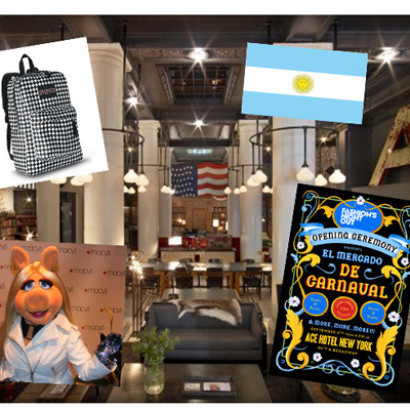 Photos: The Ace Hotel, Muppet Wiki, JanSport, Opening Ceremony
During last year's Fashion's Night Out, Opening Ceremony owners Carol Lim and Humberto Leon celebrated with a giant French flea market located in the The Ace Hotel but this year the duo has decided to outdo themselves with an out-of-the-box soiree.
While other stores have real, live celebrities like members of the Glee club set for appearances, OC's got Miss Piggy on their V.I.P. list. Not so surprising since they have a collaboration with Disney in the works in celebration of the new movie, The Muppets, out this November, but it's the other elements, Argentina and JanSport, that we just can't quite wrap our head around.
Opening Ceremony's partnered with JanSport to host "El Mercado de Carnival de Opening Ceremony." The Argentinean themed event, once again being held at The Ace Hotel, will be modeled after a traditional South American carnival and JanSport personalities will be on hand to sew special Argentine-inspired patches onto Heritage Series backpacks.
Even though we can't figure out what Argentina, Miss Piggy and JanSport have to do with one another, knowing Opening Ceremony it will probably be one of the most-hyped collaborations, and ragers, of the fall season.
Until the FNO madness begins on September 8th, here's a quick video from Opening Ceremony's c'est chic soiree last year.