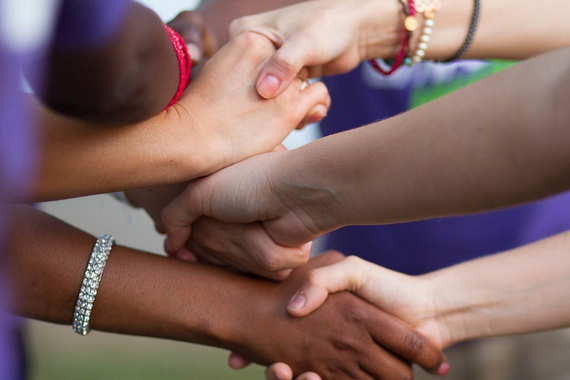 On October 6, 2013, 16 women from Argentina, Brazil, Bulgaria, Egypt, Kenya, Mexico, Nigeria, Pakistan, Papua New Guinea, Peru, Poland, South Africa, Taiwan, Turkmenistan and Uganda gathered to share stories about their time in the United States. These women may have come from all corners of the globe and speak different languages, but one trait unifies them: They all want to create more opportunities for women and girls through sports.
Maria Toorpakai Wazir, the number one squash player in Pakistan had to, "pretend to be a boy so she could play sport[s]," said Fatima Saleem.
And "In Egypt, about eight out of 508 seats in Parliament are women -- fewer than two percent," Hayam Essam explained.
By using sports as a tool for development and leadership, these women are providing their fellow countrywomen with an opportunity to be in charge of their own destiny.
In the United States, we have females athletes like Angela Ruggiero and Julie Foudy -- women that young girls can look up to as female role models in sports. But in countries like Egypt, Peru and Pakistan, women need even more support from mentors and networks to realize their dreams of having the freedom to play sports in their communities.
Now in its second year, the program supports the United States' global commitment of advancing the rights and participation of women and girls around the world. For three weeks, these 16 women worked side-by-side with the American female executives in the sports industry serving as their mentors. The international emerging leaders were selected by the U.S. embassies overseas based on efforts they've already made in their communities, as coaches, athletes and professionals. They came to this program to build on their past work. Now at home, the women have already begun to implement the action plans they developed here, all with the aim of creating additional sports opportunities for underserved women, girls and youth in their communities.
The ultimate goal of the program is for countries worldwide to use sports as a vehicle toward greater opportunity, inclusion and gender equality. This objective builds on growing evidence that girls who play sports are more likely to go to school, increase their earning power and improve their contribution to society.
And as Secretary of State, John Kerry said,
No country can get ahead if it leaves half of its people behind. This is why the United States believes gender equality is critical to our shared goals of prosperity, stability and peace, and why investing in women and girls worldwide is critical to advancing U.S. foreign policy.
The matches are made strategically so that both mentor and emerging leader get the most out of their experience. Take Hayam Essam, the only female serving on the governing basketball committee in Egypt. Hayam worked with the PGA of America's General Counsel Christine Garrity, whose experience in policy and governance helped show Hayam how she can bring more women into the decision making process of sports, and Egyptian society as a whole. Or Madijah Nantanda, the head coach of the Ugandan Women's National Soccer Team, who was matched with Alicia McConnell, the director of training sites and community at the U.S. Olympic Committee. Madijah gained access to Alicia's networks and experience in community collaboration to develop a "Train the Trainer" program so that other women in Uganda can teach soccer to girls throughout the country.
Not only have the 16 women forged connections at the organizations they worked for all over the United States, but they created strong connections among themselves, as well as with alumnae from the Global Sports Mentoring Program.
For Norma Delaney, the global advertising and media lead at New Balance and mentor for this year's program, these connections are the core of what the program tries to achieve. "What started as a program about sports became a program about opening the doors that block women from playing sports," she said.
We must close the opportunity gap and open up avenues of progress for all women and girls. And this new network of female leaders in sports will do that all around the world, one play at a time.
Related