I was happy to go to The Ten premiere and afterparty on Monday night; the movie itself was nerve-wrackingly funny. I didn't think it was possible to break any more movie taboos yet somehow David Wain succeeded. Describing the movie is nearly impossible -- part Borat, part Woody Allen. Winona Ryder seduces a wooden puppet, then plays a parody of herself. The one fault: they condensed so much humor. I was often overwhelmed; I had no time to decide whether to love or hate each gag and bit, or simply let the shock overtake me.
Winona Ryder did the red carpet, had her picture snapped, but I didn't see her in the theater or at the afterparty. Apparently, during Sundance she came to the screening, but couldn't get in because her entourage was too large. Maybe she decided to skip the NY scene. Soon she'll be on the cover of Vogue; I'm happy she's poised for a comeback.
"Why did you want to be naked in the grand finale?" I asked Jack Fisher, president of City Lights and brother of CEO Danny Fisher, after the screening. "I knew I wanted to be apart of a cult classic," he said.
Outside the theater, David Wain was congratulated warmly by Christopher Meloni as they swapped contact info.
At the afterparty in the storied Avalon (get it, Ten Commandments-spoof - party in church?) I was able to talk to David Wein. He had a really pretty girlfriend with him.
Q. How did you feel about it? (had to ask the obligatory question)
A. I'm proud of the movie.
Q. Why this topic and theme?
A. The Ten Commandments are everywhere, in every hotel room and on monuments.
Q. I couldn't tell if you were for or against the Commandments, what did it all mean?
A. If you make or break the commandments, the intention is there.
Q. Why did you end with naked men?
A. I'm glad our brand of humor is gaining acceptance.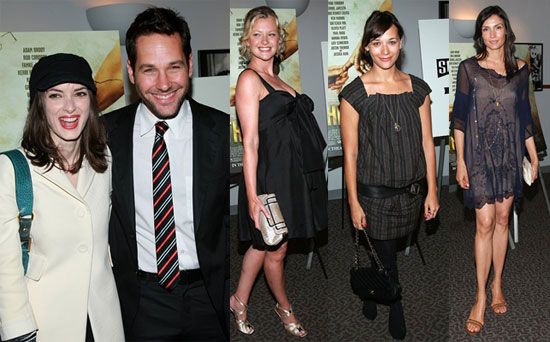 [Image credit from PopSugar]
I met someone that looked distinctly like Justin Theroux or the character he played in the movie -- Jesus - over passed mango shrimp. I asked him if he was, in fact, Jesus. He said "no" with a cockney smile. I didn't know if he was quoting the movie; I moved on to mini-cheeseburgers.
The very funny Kerri Kenney responded to my questions with witty banter. She called the movie a "morality tale and comic romp," professed her love for David Wain and exclaimed "my shoes are too small."
Paul Rudd the narrator of the 10 stories, was dashing and had a fabulous smile.
Q. Were you bothered by the taboo topic?
Q. It looked like you guys were having fun.
A. With friends, how could you not be?
Continuing that theme, Roberto Cannavale felt the movie was "hilarious." I asked why he went naked. "Because they're my friends."
Ken Marino was surrounded by girls and flashing lightbulbs so I couldn't approach; he was simply stunning in a suit. By the time I could interject, the free booze had kicked in and I couldn't think of anything to ask.
Overall the night was cool. Yet Avalon has never been so stayed and I'm still slightly shocked and giddy at seeing such an edgy movie.
For more of Alex Geana's writing, click here.
Popular in the Community