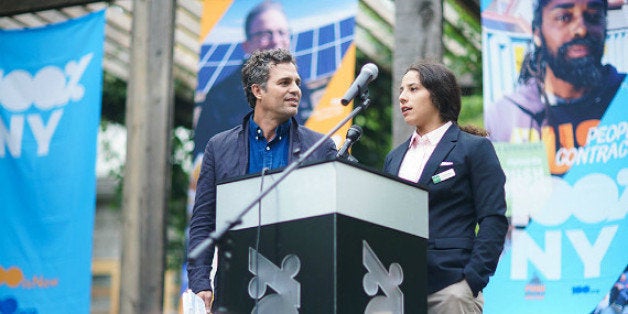 For a long time, everybody thought of solar panels as something only rich people could afford. But when you think about it, the fuel -- sunlight -- is free. So if you can make the equipment affordable and accessible, in theory, solar should be a great option for all kinds of Americans.
Now that theory is turning into reality. The average solar-electric system costs half as much as it did at the beginning of 2010. Solar panels are cropping up everywhere, in cities and on farms, in suburbia and in small towns. And Tuesday was a red-letter day on the solar front, as the White House announced a batch of policies designed to open the door to solar power to all Americans who want it, including renters and middle-class and low-income families.
For the almost half of American families and businesses who rent their homes or don't have enough roof space to install solar panels, the new National Community Solar Partnership will promote shared solar systems. Families living in federally subsidized housing will see the number of clean-energy installations triple. And states, cities, charities and investors have committed more than half a billion dollars to finance solar and efficiency projects in low-income communities, which means the people who need it most start saving money day one. And the places they live get new jobs and cleaner air.
I started the Solutions Project because our country is in desperate need of solutions. In late June, we launched the 100% campaign because we want to make clean, efficient energy affordable and accessible for everyone. We see clean energy as a means, not an end -- a path to individual freedom and the common good. Imagine the freedom of being able to create and control your own energy. Imagine cleaner air and water, lower and less volatile energy prices, and a safer, more secure future for our kids. Clean energy can power something greater for all of us.
It certainly did for Krystal Ruiz, a young boxer from New York's Lower East Side. Working with an organization called GRID Alternatives, a major force in the President's program, she turned away from a life of drugs and trouble to become a leader in bringing solar power to her community. Now she's training others to work in the renewable-energy business (See video about Krystal).
And that represents real career opportunities. There are more solar workers than actors in California, according to Bureau of Labor numbers crunched by the Solar Foundation, which also counted more solar jobs in Texas than there are ranchers. Across the country, there are now more solar workers than there are coal miners.
They have a lot of work to do. Whether it's Apple, Google and Facebook powering server farms with solar and wind power, or Wal-Mart installing panels and turbines at stores and distribution facilities across the country, business is turning to renewable power. The U.S. military is installing solar, wind and geothermal generation on bases at home and overseas. And more and more families are eager to power their lives with clean, efficient energy.
Barriers remain. In many states, outdated regulations make it difficult to finance and install clean-energy systems. Up-front costs can stop people from jumping on the renewable bandwagon, even when they know they will save money in the long run. And there doesn't seem to be a simple way for renters and low-income consumers to join the clean-energy revolution. Until now.
Thanks in part to initiatives like the ones the White House just announced, those barriers are falling. This is a moment to celebrate. And cheer on leaders like our President, Grid Alternatives, Green For All and Vote Solar who are making it happen. Last year, our country added as much solar-power capacity every three weeks as it did in all 52 weeks of 2008. And worldwide, renewable energy's new capacity outstripped coal, oil and gas combined.
The door to a clean-energy future is opening. We aim to kick it wide open so that 100% of people have access to a healthier, more sustainable, better future.
New York-based actor and father Mark Ruffalo co-chairs the 100% campaign, a project of The Solutions Project, on whose board he sits. More information can be found at 100.org.
Related
Popular in the Community