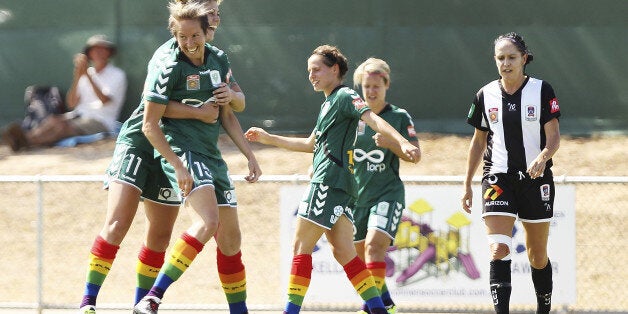 Over the past year, progress toward the increased visibility and acceptance of gay, lesbian, bisexual and transgender athletes has been punctuated by some firsts in the domain of sport. From Jason Collins to Michael Sam to Callan Chythlook-Sisof to the Australian Sports Codes, there seems to be momentum building.
However, the realm of football reminds us that there is still work to be done. With global attention focused on the sport I love, I am cognizant of the fact that there is not one openly gay, bisexual, or transgender player participating in the World Cup. Out of 736 footballers, not one.
After participating in the Principle 6 campaign, I joined the organization Athlete Ally as an Ambassador. I became an Ambassador because I wanted to speak publicly about identifying as a member of the LGBT community, and I wanted to be an active ally in helping to make sports more inclusive. I believe the most powerful aspect of Athlete Ally is that whether you're straight or LGBT, we are all committed to being a part of the movement to end homophobia and transphobia in sport.
In regards to my sexuality, I had never really entertained the idea of 'coming out.' My family and friends knew, which was important to me, but for the outside world, I didn't consider it a newsworthy topic. However, my perspective has shifted as I've realized there exists an opportunity to support people and promote equality through my story. I am inspired by the advocacy of athletes such as fellow Riverina girl and good friend Lauren Jackson, Australian cricketer Alex Blackwell, and of course my incredible partner, Lori Lindsey. Their example has opened me up to the positive impact that is possible when I both speak my truth and take action.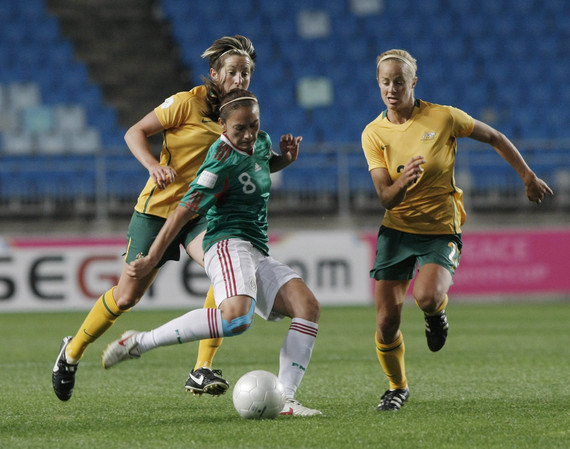 Sally Shipard plays for the Australian women's soccer team at the 2007 FIFA World Cup.
For me, action means using sport as a platform for promoting inclusion, as well as the ongoing development of more concrete initiatives. My football and life experiences have provided me with insight into the challenges faced by young women in sport. My Chasing Leatherdream has been bubbling since I was about 16, and is founded on the belief that all girls and women should be able to engage with sport in a positive and empowering way. Negative experiences, unsupportive environments, and the attractions of new technologies have made it increasingly challenging to keep women engaged in sport. Chasing Leather plans to change that.
Pride Month is an opportunity for me to celebrate becoming an active ally to the LGBT sports movement as we move toward a world that does not yet exist -- one in which homophobia and transphobia no longer pervade the sporting world. To create that future -- a future in which there can be an openly gay player at the World Cup -- it is up to all of us to join and accelerate the movement. Both LGBT and straight athletes must engage and take action.
Although the decision to come out is up to each individual, it has been eye opening for me to be reminded of why it still matters. It has been important for me to recognize that while I have not faced discrimination, there are millions of people throughout the world have and continue to be affected by homophobia and transphobia. As someone fortunate enough to have the opportunity and support to speak out, I am proud to add my voice to the growing chorus of LGBT athletes.
At the same time, I recognize that straight athletes and allies are also critical to progress. Just as I have embraced my responsibility as a gay athlete to make sport more inclusive, I appreciate the straight athletes and non-athletes who continue to speak out as well. And as players and fans increasingly express their support for equality, I hope the football pitch will become a place where all athletes feel free to be who they are. I am proud to be a member of the Athlete Ally team -- a diverse community of athletes and allies striving together to achieve inclusion and equality in sport and beyond.
Calling all HuffPost superfans!
Sign up for membership to become a founding member and help shape HuffPost's next chapter