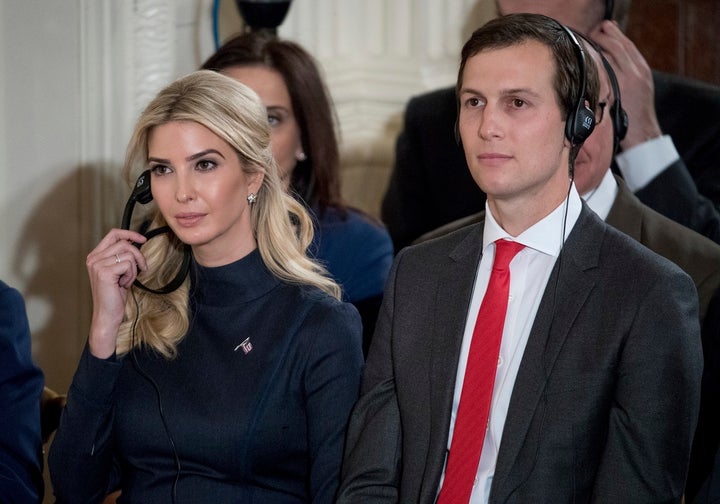 Today, the Center for Responsive Politics is releasing new personal financial data for members of the Trump administration. Collected from reports that executive branch nominees are required to submit to the Office of Government Ethics (OGE), the data gives the public an inside look at the financial interests of what is likely the wealthiest cabinet in modern history. The new data is here, with individual profiles available for each of the hyperlinked names (see Donald Trump or Betsy Devos). Each nominee must disclose assets, income and liabilities along with any positions, agreements or arrangements made with organizations other than the U.S. government. So far, we have compiled and digitized reports for the top agency officials whose filings have been publicly released by OGE.
This effort represents the beginning of our expanded coverage of the executive branch's personal financial data. But there's a big hole: We still await legally required financial disclosures from members of the Executive Office of the President. High-ranking employees have 30 days after taking office to file the reports with White House ethics officials, who then have up to 60 days to review them. The reports are then sent to OGE, which reviews them as well — and has 30 days upon receipt to make them publicly available.
So far, the only concrete evidence of White House officials working to comply with their ethics agreements comes in the form of a periodic transaction report from Trump's senior advisor, Jared Kushner, that was posted late last week.
The filing lists a number of assets that Kushner has divested, the first steps he's taken to adhere to a proposed ethics plan that was first made public in January. That agreement, which a lengthy email communique between Kushner's lawyers and OGE officials (first obtained by MSNBC through a FOIA request) shed further light on, lays out a framework designed to disentangle Kushner from any possible actual conflicts of interest, or the appearance of them. Included in the string of emails are a number of certificates of divestiture (CDs) for Kushner, his wife (Ivanka Trump), and their dependent children.
CDs allow appointees who have been directed to sell assets in order to avoid a conflict of interest to defer paying capital gains tax on them, provided they reinvest the money in "permitted property" — limited government securities or diversified investment funds.
In all, Kushner and his immediate family were granted tax deferrals for 14 separate assets. Kushner has so far sold eight of them, according to the transaction report made public last week, for somewhere between $7.7 million and $36.6 million. That money will likely be reinvested.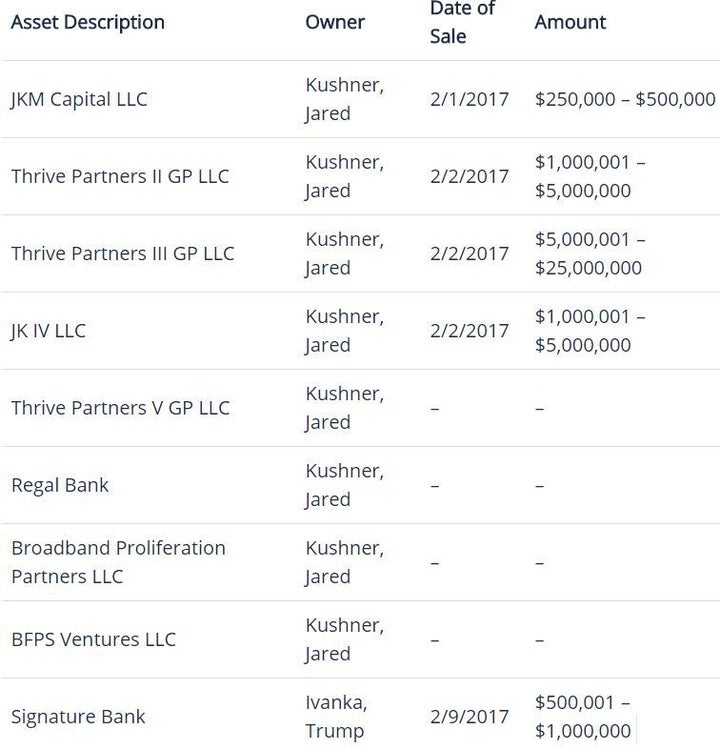 Among the assets sold were 3,754 shares of Signature Bank, a troubled commercial bank with which the Kushner family has a history of doing business. Kushner also sold his stake in a venture capital company owned by his brother that has put seed money into a number projects, including the popular chat software Slack; Oscar, a healthcare insurance company that sold plans on the Obamacare exchange; and — perhaps ironically — OpenGov.com, a software company looking to bolster government transparency.
It's unclear whether Kushner has found a buyer for his remaining stake in his brother's venture capital company, or his interest in Broadband Proliferation Partners — a company that scores the internet connectivity of commercial buildings. And Kushner's family's real estate company is working on a deal to sell much of its interest in its tower at 666 Fifth Avenue in Manhattan to a Chinese insurance company with complicated ties to the government in Beijing. That has stirred controversy; Kushner stands to gain $400 million from the sale.
Filers need only disclose the value of each of their assets and liabilities within a broad range, which makes it impossible to evaluate with any precision their net worth, how deeply they are invested in an asset, or how much they're in hock. Further clouding the picture: The highest disclosure range for reporting assets is "above $50,000,000" (and just $1,000,000 when it comes to a spouse's assets). That means the public can't know the actual value of billions of dollars in private equity, real estate or other holdings owned by the extraordinarily wealthy members of this administration.
Given that Ivanka Trump was given a CD for her holdings in Obsidian, it's logical to think that the president would divest the asset as well. But Trump has claimed that the conflict-of-interest rules don't apply to him, and so far there has been no indication that Trump has followed through on the provisions of the ethics plan laid out by his lawyers in January.
Questions about Ivanka Trump's financial holdings have taken on a new importance in light of the recent announcement that she'll have an expanded role in the administration. As part of that, she'll gain a permanent office in the White House but she will not become a government employee and thus will be exempt from filing a disclosure form. We have a window into her investments through Kushner's report, since OGE requires that a spouse's assets must be disclosed, but spouses are not held to the same disclosure thresholds and requirements.
The certificates of divestiture and Kushner's transaction filing show just the tip of an iceberg of potential conflicts in the Trump White House. Full disclosure forms are necessary to understand the full extent of Kushner's vested financial interests and ethics agreements, along with the information necessary to determine whether he's disentangling himself from conflicts. CRP will continue to post this data as OGE makes available the financial filings of members of the executive branch.