Plush cushions and iridescent blue fabric lined a large tipi as a woman spoke gibberish composed from bits of Vietnamese words, her bare feet dripping with bells. Suddenly Hanne Dieserud grabbed the hem of her skirt and lifted it into the air, hiding her dramatically made-up face behind an expanse of white fabric. She'd quite literally made a screen out of whole cloth, and a video began to roll—a video of a cow chewing cud. If this description leaves you dubious about "Up In the Mountains" a twenty-minute "opera for babies" created in Norway and debuted in the U.S. by San Francisco Opera to sold-out crowds, you are not alone. But there's something more shocking than Dieserud's wide-eyed facial contortions and her co-creator Christina Lindgren's assertion that toddlers have "the right to art." About fifteen little ones, most of whom had been shrieking and crawling across the room for the half hour before the performance began, all sat rapt, perfectly still and unblinking. And they stayed that way for pretty much the whole show.
Okay then, opera for kids it is.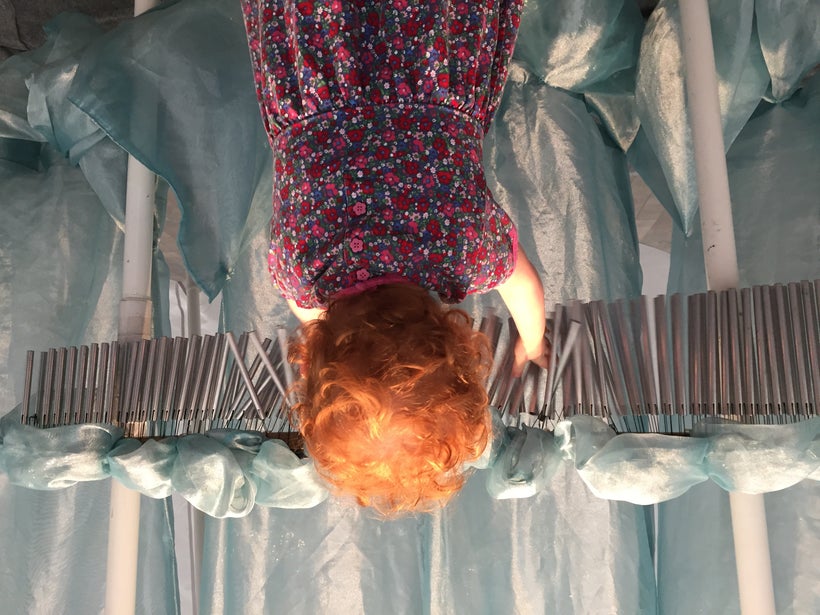 It turns out most major companies put a good deal of thought into welcoming older children to see the real thing inside grand opera houses for a reasonable price. Tickets usually start at around $25 (though Dallas Opera's can be had for $19, Houston Grand Opera's for $15, and Florida Grand Opera's for just $12), and some companies offer standing-room-only tickets ($10 at San Francisco Opera, for example). Others provide special student pricing (like Los Angeles Opera's half-price tickets and Houston's "pay your age" initiative), while some, like Seattle Opera, designate a few performance dates as family-friendly. Dallas's website even includes plotlines and movie-style ratings to help parents decide which shows are suitable.
Many cities can also brag of free shows in public spaces. Though these performances tend to feature young artists, San Francisco's annual "Opera in the Park" brings the big stars outside. Simulcasts offer another way to see headliners in unabridged roles, like Washington National Opera's "Opera in the Outfield" at Nationals Park (it was Aida this September), Los Angeles Opera's broadcast at Santa Monica Pier (Carmen), and the Dallas Opera's October 27 simulcast of La Traviata at Klyde Warren Park. More steps removed, the Metropolitan Opera in New York City projects past performances on the façade of the opera house, and DVD's are available online.
But what about those who aren't quite ready for adult-centered performances? An 8-year-old can read karaoke-esque subtitles, following the plot of a show like La Boheme and remaining mostly quiet for two hours. But a 5-year-old? Even out at a park it would be a stretch to take in a full-length performance. For this reason, The Met in New York City offers two English-language, abridged shows: this year, one of them is Julie Taymor's production of Mozart's The Magic Flute (November 25-December 9), the other Hansel and Gretel (December 18-January 6). Before the December 28 matinee, families can attend an open house featuring behind-the-scenes displays and demonstrations by backstage staff.
Not planning to be in the Big Apple over the holidays? No worries. The following are just some of the companies across the nation offering children's programming for the 2017/18 season:
Washington National Opera at the John F. Kennedy Center for the Performing Arts hosts a family opera performed by members of the Domingo-Cafritz Young Artist Program. This year's show is The Little Prince (December 14-17) with a sensory-friendly matinee on December 16.
The Dallas Opera presents three family performances featuring young artists from area universities or other young opera singers: The Three Little Pigs (November 4 and February 3); Donizetti and Company (October 15 and February 18); and Pépito (November 19 and February 10). Come early for activities and crafts in the lobby before the performances.
Florida Grand Opera will host three Family Days at various locations around Miami and Fort Lauderdale. Among the programs will be abridged versions of Hansel and Gretel and L'Elisir D'Amore, performed by young artists, and behind-the-scenes demonstrations of stage makeup and prop-making at South Miami Dade Cultural Arts Center (January 6), Miramar Cultural Center (April 8), and Pompano Beach Cultural Arts Center (April 14).
Houston Grand Opera's "Opera to Go!" program, recommended for children in grades 2-8, recently presented free, 45-minute family-friendly productions of Hansel and Gretel at the Miller Outdoor Theatre.
Los Angeles Opera puts on Saturday Mornings at the Opera, hour-long interactive performances with creative workshops geared toward the youngest opera fans. This season's shows are Who Wants to Be an Opera Singer? (January 13) and Verdi Opera Tales (May 5). It also hosts Domingo Family Days, performances of shows like Candide (February 11) complete with activities and cast meet-and-greets.
The Lyric Opera of Chicago will host its first-ever Family Day on April 7 that will include demonstrations of operatic stagecraft, access to backstage areas, and a short live performance geared to children ages 5-10. Lyric also produces an annual opera for children and families; this fall it's The Scorpion's Sting.
San Francisco Opera hosts fully interactive family workshops. The All About Turandot workshop, presented in partnership with the Asian Art Museum (December 3) is intended for families with children ages seven and up, while The Magic Flute Adventure (October 29) is suited for the 3-5-year-old set. It also offers the popular CarTUNE Afternoons, showing cartoons filled with classical music, and the ARIA Festival, a day of original student works.
Minnesota Opera presents one opera each year by kids, for kids through its Project Opera program. This season check out The Odyssey (February 9-11). It also hosts opera camps for kids in grades 3-6 and high school.
Seattle Opera's lyrically entitled Family Day Matinee—in the upcoming season, The Barber of Seville (October 22) and Aida (May 13)—includes activities such as costume dress-up. Seattle, too, puts on summer camps for kids starting as young as kindergarten.
Still skeptical? Imagine an older sibling explaining the plot of Rigoletto to her little brother and describing the assassin as "like Voldemort, only he gets paid," or a preschooler asking, "Mommy, how come we can't go to opera every Sunday?" It can happen. After all, though the art form is now often reserved for grownups, it was created five centuries ago from two of children's favorite things: music and storytelling. So suspend disbelief, grab your kid, and give opera a shot. Don't worry, it's usually less cows and cud, and more parent and child together, chewing over beautifully resonant arias.
Gail Cornwall and Jessica Williams both taught English and practiced law prior to becoming stay-at-home mothers and freelance writers in San Francisco. You can find Gail at gailcornwall.com and Jessica at jesslynnwilliams.com.
Calling all HuffPost superfans!
Sign up for membership to become a founding member and help shape HuffPost's next chapter
This post was published on the now-closed HuffPost Contributor platform. Contributors control their own work and posted freely to our site. If you need to flag this entry as abusive,
send us an email
.