Opera can be a little intimidating.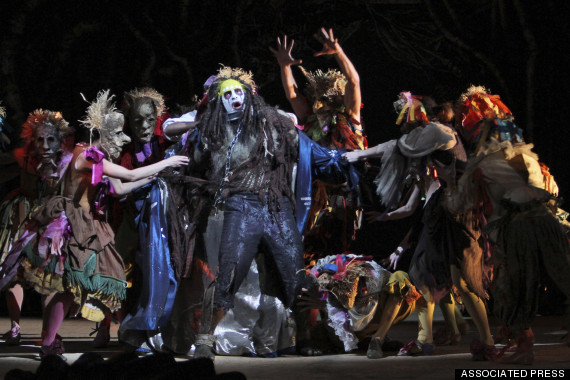 Luca Pisaroni in The Enchanted Island
But underneath the grandeur (and layers of makeup), are poignantly human stories to the tune of beautiful music. Because opera is not a mainstream form of entertainment, it is often regarded as a pretentious one, something untouchable. However, if you give it a fighting chance, you'll find that opera can be enjoyed by classical musicians and complete newcomers alike -- old to young. Here's our guide to making that happen: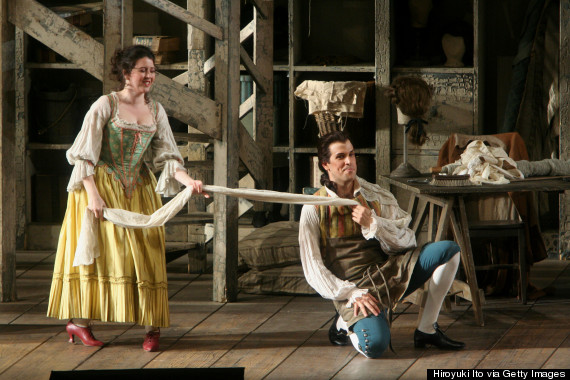 Luca Pisaroni and Lisette Oropesa in The Marriage of Figaro
When deciding on an opera to see, think about what type of movie you like (or, what Netflix would suggest for you). Rom-com fan? Try "Don Pasquale." Psychodrama? "Lucia di Lammermoor." Bawdy humor? "The Marriage of Figaro." More into big explosions and theatrics? You're probably better off with some Wagner. Then there's always the classic ABCs of opera: "Aida," "La Boheme" and "Carmen."
If you want to see an opera live, you have to look into what's being performed at your local house (or movie theater). Then do a little research -- even just the first sentence on a show's Wikipedia page will help -- on an opera's plot and genre. Don't research too far -- you don't want to spoil the ending, do you?
Opera tickets can run expensive, but there are usually cheaper options to be found -- think about it like a Broadway show or a football game. Aside from standing room and top tier seats, look out for rush tickets and programs for students or seniors, as well as special promotions from places like Gilt. Programs vary at different opera houses.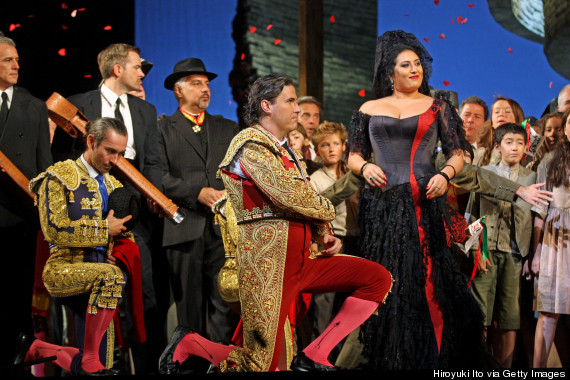 No, men, you do not have to wear a tux. And unless you ladies plan on going to an extravagant ball later -- or you rabidly enjoy dressing up -- there's no reason to whip out a long gown.
For men, slacks (or, if you're in a pinch, a nice pair of jeans) and a button-down shirt will do. Jacket and tie optional. Please don't wear your dirty gym sneakers.
For women, dress pants or a skirt and blouse work, as does a cocktail or work dress. Heels if you feel like it.
If you're into dressing up, have fun with it and use it as an excuse to get creative. If not, don't worry about it. Just wear something generally presentable and you'll be fine. Oh, and probably layer up, you never know what the temperature will be like inside.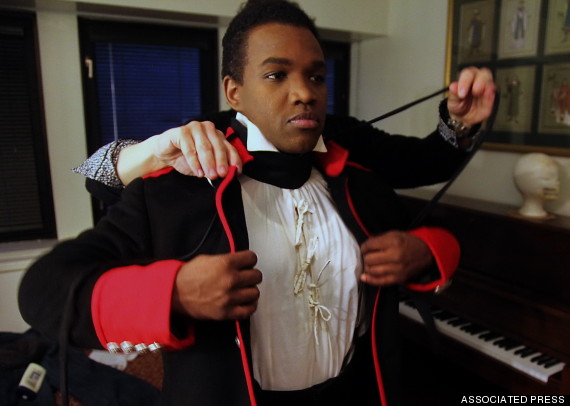 You'll probably want to eat something before you get there -- operas feel extra long when you're hungry. Ditto for getting a coffee and using the restroom before you take your seats.
The ushers are there to help. Don't be embarrassed asking them to direct you to your seats. The ushers will also hand you a playbill. The playbill has information about the singers and conductor, which is usually pretty interesting if only to see all the different countries from which everyone hails. The playbill also includes the synopsis, broken into acts, as well as information on intermission(s). Reading the synopsis will help you understand what's happening in the upcoming act, but if you're the kind of person who doesn't like plot spoilers, tread carefully.
Check about fifty times that your phone is on silent -- or, better yet, off.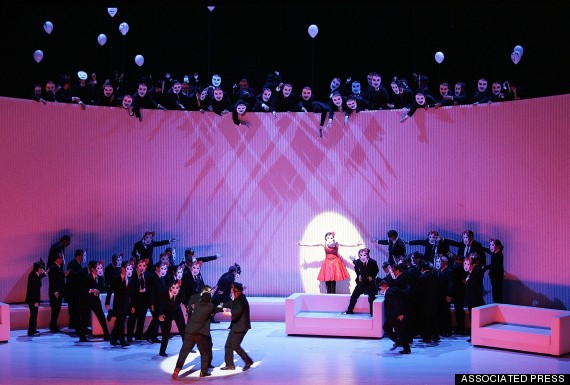 After the lights dim, if the audience starts mysteriously applauding, it's because the conductor is walking out to his or her stand. You should always applaud for the conductor: they're the one running the show, after all.
The right times to applaud can get confusing, especially depending on what you're seeing. The easiest approach is to wait for someone else to start clapping, and then join along. A brief silence after singing doesn't always mean it's applause time.
Yes, most operas are sung in languages that are not English, and even English is hard to understand in operatic form. No, you do not have to know Italian/German/French/etc. to understand what's going on. All opera performances will have some form of subtitles for every line. Sometimes it's a projection to the sides or above the stage, and in other places it's a screen on the seat in front of you. If it is a screen, make sure you hit the appropriate button for your subtitles to show up.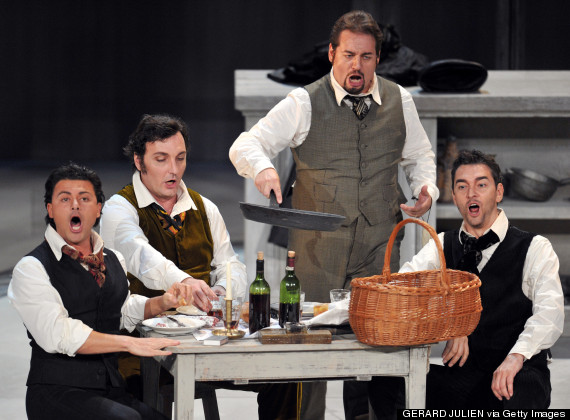 Depending on the length of the opera, there could be an intermission or two. During intermission, get out of your seat and stretch out some. Wander around the opera house. They tend to have art and old opera artifacts and portraits hanging around, which are neat to see.
Stop by the bar and get a drink or snack, if you'd like. And don't be embarrassed if you feel the need for a coffee -- it's better to drink a coffee during intermission than fall asleep during the performance.
There will be some indication -- flickering lights, chimes -- that the show is going to start soon, so head back to your seat.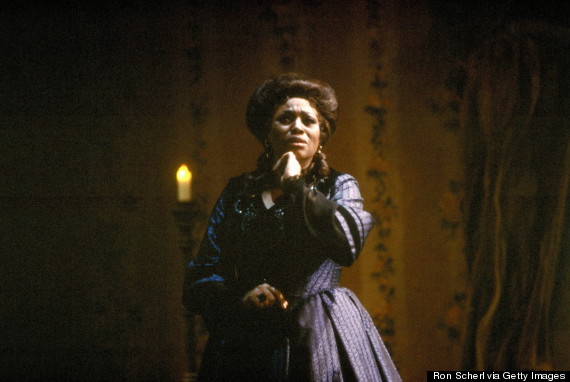 Opera can inspire a lot of emotions. As Kasper Holten, director of opera at the Royal Opera House in London, said, "In one evening, you go through in two and one-half hours what the rest of us spend our whole emotional lives living through." What you see on stage may not look like real life, but it'll feel like it.
Our best recommendation is that if you feel yourself getting swept away, flow with it. Operas can be hysterically funny (even by modern standards), devastating, devastatingly gorgeous (musically or visually), sexy, thrilling, tense, poignant and -- it happens -- boring. If you don't enjoy one opera, that doesn't mean you should completely write all opera off. That would be like saying you didn't like one TV show, so now you're never going to watch TV again.
But if you do get caught up in it all, go on ahead. Cry, laugh, gasp and shout -- we can assure you that you won't be the only one doing so.
Just don't throw tomatoes; we don't do that anymore.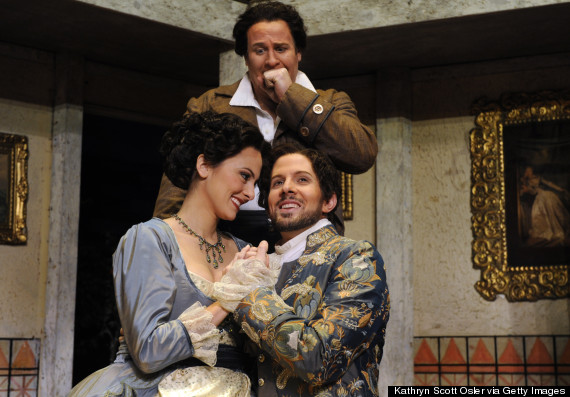 When It's All Sung And Done
If you enjoyed what you saw, keep the momentum moving. Most young opera "aficionados" know so much about the opera thanks to nothing fancier than the internet. Check out videos of a certain aria or a certain singer on YouTube, find the snarkiest review of a show that you can, and get lost in singer gossip. If you have a friend who's super into opera, they would love answering any question you have and talking all about the art form. And of course you can always pick up books on the subject (might we suggest the biography of Maria Callas by Arianna Huffington?).
Related
Before You Go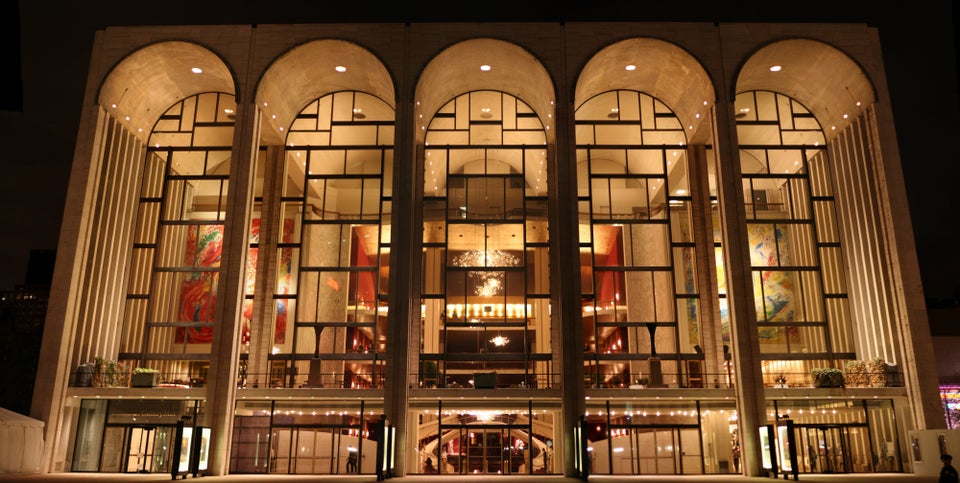 America's Top Opera Companies
Popular in the Community