Man, it has been a rough couple of years for regional opera companies. My husband hosts an opera podcast on which he has had to add a segment called "The Weekly Dirge" where they discuss which opera company has bitten the dust that week. Opera Pacific, Cleveland Opera, San Antonio Opera, to name a few, followed by the shocking and devastating closure of New York City Opera, and now this week, theSan Diego Opera.
The opera people in my circle of friends seem to share the same sentiment: "What the HELL is happening to our art form in this country, and should we be sending the women and children to the lifeboats on this seeming Titanic?" The opera companies I first mentioned leading up to the closure of City Opera all had similar problems in that their donor base was shrinking, costs were rising and their boards felt they could no longer make the companies stay alive. But the San Diego Opera closure has people scratching their heads, because their budget was enormous by most regional opera company standards; they had years of balanced budgets, and even though they had similar problems to the other aforementioned companies, they certainly still seemed to have enough money to make far more expensive seasons than most other companies, even if it meant a drastic reduction in their existing budget. But, according to the General Director of the company, that would be akin to "putting water in the beer," and people would know the difference.
Here's the thing that is baffling. Yes -- opera is an expensive art form, as art forms go. There are many people involved, and the ticket prices don't cover the costs. But it doesn't have to be THAT expensive. You can produce a wonderful, heart stopping, glamorous, gem of an opera for far less than one might think. In fact, there are a lot of truly excellent regional opera companies that operate on budgets of between two and five million dollars for their entire season. And I guarantee you that the productions at some of those companies could rival many of the productions at San Diego Opera in every way. How? Artistic creativity, bold vision, modernity and flexibility. Suggesting that their budgets prevent these institutions from presenting art of the highest quality is just plain insulting.
One of the many reasons I was terribly disheartened by the death of New York City Opera is that I felt New York City needed to have opera produced on a less grand (read: expensive) scale than the Met, but which was equally artistically interesting, in order to prove that opera needn't be at the highest level of expense to further the art form. Luckily the Gotham Chamber Opera is demonstrating this very thing, even though they have only been around for 10 years.
Which brings me to my next point: Closing an opera company is irresponsible. I realize that the people who run any kind of nonprofit company have a myriad of challenges to contend with, and that bankruptcy happens. But closing the doors to a well established nonprofit organization means that if any other organization wishes to rise up and fill the void that is left, they will need years to build up the support and financial backing that is needed to accomplish what the existing company could, even with a drastically reduced budget. I am certain that figuring out how to keep any nonprofit organization afloat in these financially challenging times is seemingly impossible. And yet, it happens.
And I know it happens, because I have sung with a lot of regional opera companies. Yes, some of them don't have enough money and it shows in their product. Many of them are not watered down beer, but rather a brand of sparking wine that you may never have heard of, but which in a blind taste test you could possibly mistake for Veuve Cliquot. Companies who have people at the helm with artistic vision who are willing to take risks that they then balance with more traditional choices. Companies that know how to lure in the artists with the most talent even if they can't pay the highest fees. Companies that involve their entire community -- not just the wealthiest donors.
I recently sang in a production of Agrippina with Opera Omaha. The last time I had sung in a production of Agrippina it had been at the Berlin Staatsoper, which is an a house with a large budget, owing in part to the German system of government funding. And in my humble opinion, the Agrippina produced in Omaha was just as artistically fulfilling as the one in Berlin. It may not have been quite as opulent, and we certainly didn't have as many rehearsals with the orchestra, but the final product was utterly arresting. There was a young, unknown cast who happened to all be supremely talented and effective. And despite the price tag being less than the salary of just one person at San Diego Opera (The General Director was purported to earn over $500,000) an entire brand new production of a Handel opera was produced successfully in Nebraska for the first time since the 1980s, which was both a critical and commercial success, and which maintained, in my opinion, the highest standard of artistic excellence. How did they accomplish this? With a General Director with vision and guts (Roger Weitz) and an artistic team led by an incredibly ingenious, creative and talented director (James Darrah) who not only created a highly visceral, well executed production, but also planned a stunning fundraiser gala for the patrons of the opera company which used video projections, live performances and a beautifully designed and presented space in order to usher patrons into a new era of opera. These choices, and specifically finding people with a bold creative artistic vision, are far more important than an enormous price tag. Opera Omaha has a yearly budget of $3 million.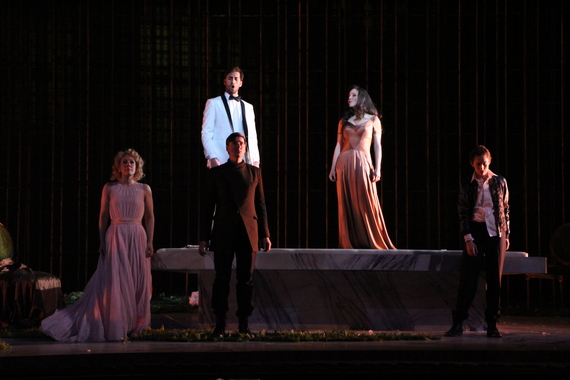 Fort Worth Opera (budget $4.5-5 million) has added a new works initiative to their season of four productions, even though they've had to reconfigure the budget for the next several seasons. Opera Colorado managed to exceed their fundraising goal and ended the year with a surplus. Utah Opera (budget $5 million) is currently presenting a new production of Turandot, known to be one of the most opulent and expensive operas in the repertoire, created by internationally renowned director designer team, Renaud Doucet and Andre Barber. Nashville Opera (budget $2 million) has recently added a fourth production to their existing season in order to present neglected 20th century repertoire, and is responsible for presenting the world premiere of the opera Elmer Gantry in 2007, which went on to be recorded and win a Grammy.
So no, Opera in the United States is not a sinking ship. But it's not something that can exist without constant ingenuity and flexibility. So let me put out this call: Brilliant minds of opera, get thee to San Diego, stat. The community needs you and there's at least a couple million dollar hole with your name on it.
*Opera Omaha photo credit Ben Stanton, pictured: Jaime Rose Guarrine, Nathan Medley, Hadleigh Adams, Peabody Southwell, and moi (Jennifer Rivera).
Related
Popular in the Community