But I'd like to tell you about a one-woman wonder who's the heart and soul of a organization that's making a difference, one well at a time.
There's no question that Joyce Tannian is a powerhouse.
A one time freelance choir and opera singer who worked as an executive assistant at HBO in the last decade, Tannian left the U.S. -- and the corporate world -- to dedicate her life to bringing clean water to one of the most barren and remote parts of Africa.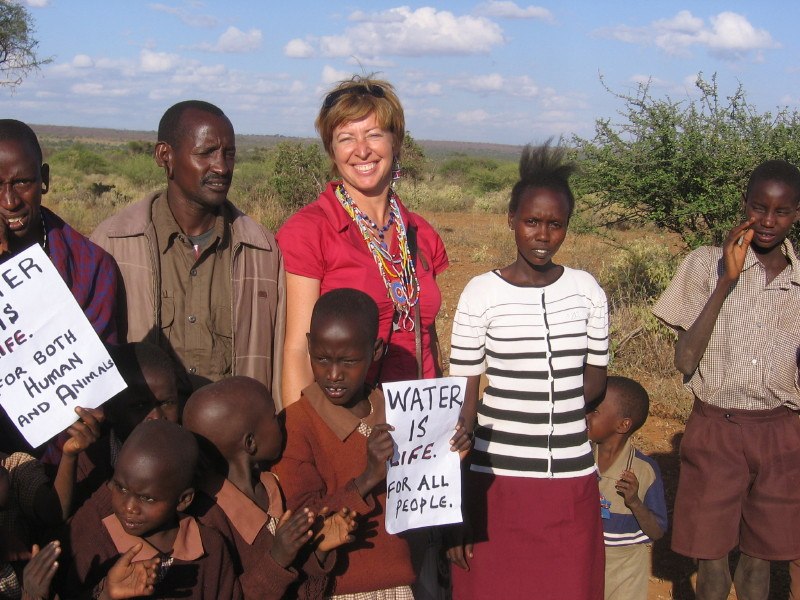 Joyce Tannian with Meshenani children and villagers. Photo courtesy of Joyce Tannian.
While on a charity trip to visit schoolchildren in Kenya in 2005, Tannian was struck by how every aspect of life in the Meshenani Village region (inhabited by the hearty and colorful Maasai tribe) is dominated by the need for and ability to find water. Children are pulled from school so they can spend their days walking to and from water sources -- which often dry up and must be shared with the villagers' only life bread -- their livestock.
The trip so affected Tannian that she decided to move to Kenya and build a well for the Meshenani.
Within a year and a half -- thanks in part to support from several Delaware civic organizations from her hometown of Newark -- Tannian had overseen the building of a water tank and pump in 2007. But that success now seems tiny when compared to her other enormous undertakings.
Sometimes, shallow wells and small water sources just aren't enough. That's where "boreholes" like the ones Tannian and her field team in Kenya dug for the Meshenani (see photos below) and Imisigyio villages come in. While shallow wells -- which sometimes can be built for around $5000 -- work for short-term solutions, deep digs are necessary for sustaining water accessibility. A complete well project can cost upward of $75,000, but the effects are life-altering for the community it serves.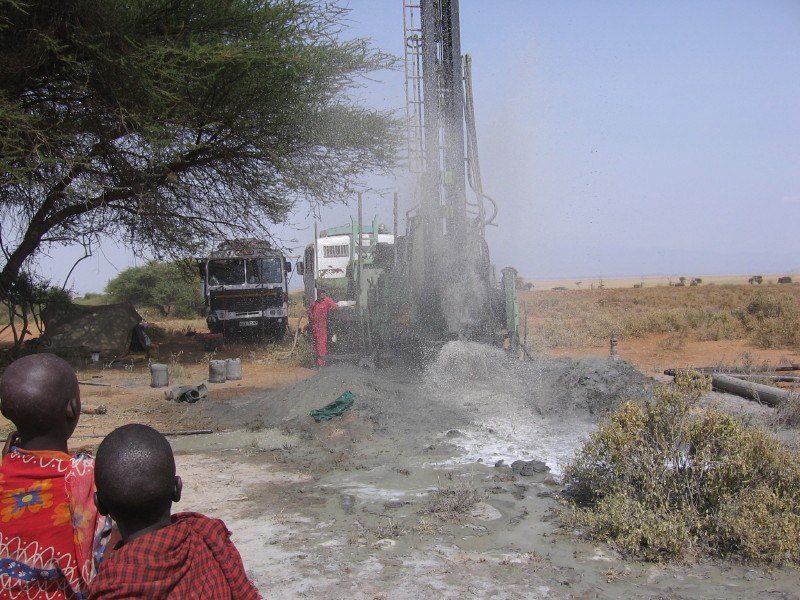 Drilling on the well begins. (Photo by Joyce Tannian, courtesy of Water is Life - Kenya.)
The women of the Kajiado District of Kenya walk, on average, eight hours carrying 45 pounds of water every day. This is for their families to drink and for cooking, to water crops and nourish livestock. They are the backbone of their communities, doing whatever it takes to sustain their families. When families have access to water for themselves and their animals, they're more productive and healthier.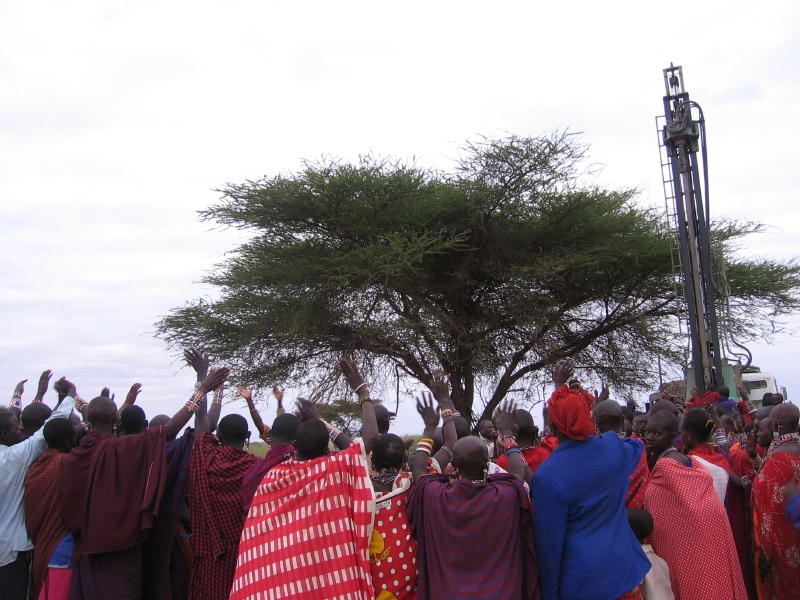 Celebrating the successful well. (Photo by Joyce Tannian, courtesy of Water is Life - Kenya.)

Working to help these Kenyan women is what drives Tannian to take her message of "Water is Life" to places as varied as cultural events in Nairobi to classrooms in Atlanta, benefit concerts in New York City, Rotary Club meetings across the U.S., and most recently to Washington, D.C., where she met with the Ground Water & Drinking Water Division of the U.S. Environmental Protection Agency.
In 2008, The Newark Post revered Tannian as "A Benevolent Army of One" -- a deserved and fitting title -- and in 2010, Joyce Tannian was nominated for the prestigious national Jefferson Award.
To learn more about Water is Life - Kenya, click here.

Note: I was introduced to Joyce Tannian by her sister, Monica, CEO of Milk Money Consulting and a co-founder of Sustenance Group. I have had the pleasure of hearing Joyce speak on several occasions and hope to one day witness her work in Kenya firsthand.
REAL LIFE. REAL NEWS. REAL VOICES.
Help us tell more of the stories that matter from voices that too often remain unheard.