Here's a quick look at a couple of lively and friendly London bar-restaurants within spitting distance of Covent Garden and the West End theater district. Jackie and I visited them for light suppers in the late evening, one after the opera and one after a play, but they're also nice, fuss-free options for pre-theater dining -- or indeed for lunch or dinner at regular meal times -- so long as you don't expect a side order of tranquility with your food.
Opera Tavern is just down the street from the Royal Opera House, but we went there after a play at The Old Vic across the river near Waterloo Station. On my gravely flawed mental map of London, that didn't seem very nearby, but to our surprise we walked there in less than 20 minutes at strolling pace and would have been there in a flash had we hopped into a cab. The food at this two-year-old restaurant is -- I won't say a mash-up of Spanish and Italian small dishes, but it draws on both traditions, plus a dose of creativity and London trend-spotting. There's an upstairs and a downstairs; the friend who sent us here advised us to ask for a downstairs table, which affords a view of the happy scene at the bar and of a small open kitchen containing a Spanish ham on a carving cradle and a charcoal grill - it's always fun to watch fire, isn't it? (There's another basement kitchen from which many of the non-grilled dishes ascend in a dumbwaiter.) It is a busy place, quite noisy but not irritatingly so; all is very amiable, including the informal and able service.
I got a mild case of brain overload from the menu; it is divided into eight sections (plus dessert) and is printed on both sides of the paper. So, if you're not determined to study it carefully and if you're eager to eat, you will make hasty decisions. That's not such a bad thing, but it can leave the nagging feeling that you're missing the one dish that would have made your day.
So, after ordering glasses of good wine from an interesting list, we picked more or less at random, apart from one thing that we'd been instructed to order: a small but thick burger made of Ibérico pork and foie gras, which was about as exciting as a hamburger can be. Juicy, porky meat perfectly seasoned and charcoal grilled, with the edgy richness of foie gras (or actually its fat, where all the goodness lies), was garnished with two kinds of onions, lettuce and a side of pickled hot chilies. The balance was optimal, and after my first bite I ordered another one, my mouth still full. I just couldn't resist.
Nothing else reached that height of deliciousness, but not many things on this Earth could. A Scotch egg with morcilla (blood sausage) in the meat stuffing was fun; the morcilla mixture wasn't of deep flavor, but the accompanying pepper relish and garlic mayonnaise made it an entirely satisfying dish. On the other hand, we ordered two one-piece plates of a Cornish scallop with squash puree and smoked caper butter; one was fine, the other was smaller and seriously overcooked. For both, the squash was cold (not intentionally, I think) and the smoke and caper flavors so subtle as to be undetectable.
Dessert was a wonderful surprise: It was dulce de leche panna cotta with apple, chestnut crumble and yogurt sorbet (talk of a mash-up!). I am not sure why we ordered it; we certainly never imagined that it would be such a harmonious concoction with such appealing contrasts of flavor and texture.
In part because of its good location, but also because of that pork burger, we shall be back on our next trip to explore another section or two of that complicated menu.
You'd never know it when you walk past, but The Ape & Bird Public House, which opened in late 2013, is a vast place. There's a ground-floor bar/dining room, another ground-floor pub, a second dining room one flight up, and a bar with sofas in the basement. (To get to the lone set of toilets, downstairs, you'll need to pick your way through all four rooms, which is not what I call convenient.) Even at 10:40 on a rainy night, most of these spaces were heaving with customers, mainly happily drinking and yelling to be heard over the loud music. But, as I'd been told when I phoned earlier in the day, by that hour the upstairs dining room was emptying as the kitchen's closing time approached, and we were taken to a table immediately (reservations are accepted only at lunchtime). It wasn't exactly silent upstairs either, but it wasn't nearly as noisy and we were able to discuss the opera without too much "WHAT DID YOU SAY??".
For the most part, the frequently changing menu covers the expected London ground, with (when we were there) deviled kidneys, crab on toast, mutton mince (ground meat and gravy with dumplings), sausages, roasts and the obligatory variation on a Scotch egg, this one made with pig's foot meat rather than ordinary sausage meat. It was the eve of Burns Night, so Jackie ordered the festive special: haggis, mashed yellow turnips (rutabaga) and mashed potatoes. The haggis was highly and interestingly seasoned -- and not in a goofy way (a strange version we ate elsewhere had curry powder in it), and the oats retained the chewiness that makes for good eating. The turnips were particularly well prepared: not over-mashed, with just the right amount of texture. To my surprise, I found myself ordering another burger -- a cheeseburger -- and I'm glad I did: it was well seared, juicy and messy to the point where I had to resort to a knife and fork after a while. (If I'd seen this post on Huffington Post Taste, I probably wouldn't have humiliated myself in that way.)
I can't call The Ape & Bird unique in its approach, but it is certainly a place to visit either for a drink (they serve good beer) or for a fairly quick bite.
Opera Tavern. 23 Catherine Street, London WC2B 5JS; +44 (0)20 7836 3680; info@operatavern.co.uk; http://www.operatavern.co.uk/. Lunch and dinner Monday to Friday; all day Saturday; lunch only Sunday. Snacks, charcuterie platters and small dishes range from £3 to £12 ($5 to $20).
The Ape & Bird Public House. 142 Shaftesbury Avenue, London WC2H 8HJ; +44 (0)20 7836 3119; http://www.apeandbird.com/; open every day from 10 a.m. to late dinner (from noon on Sunday). Full dinner around £30 ($50) per person, plus drinks.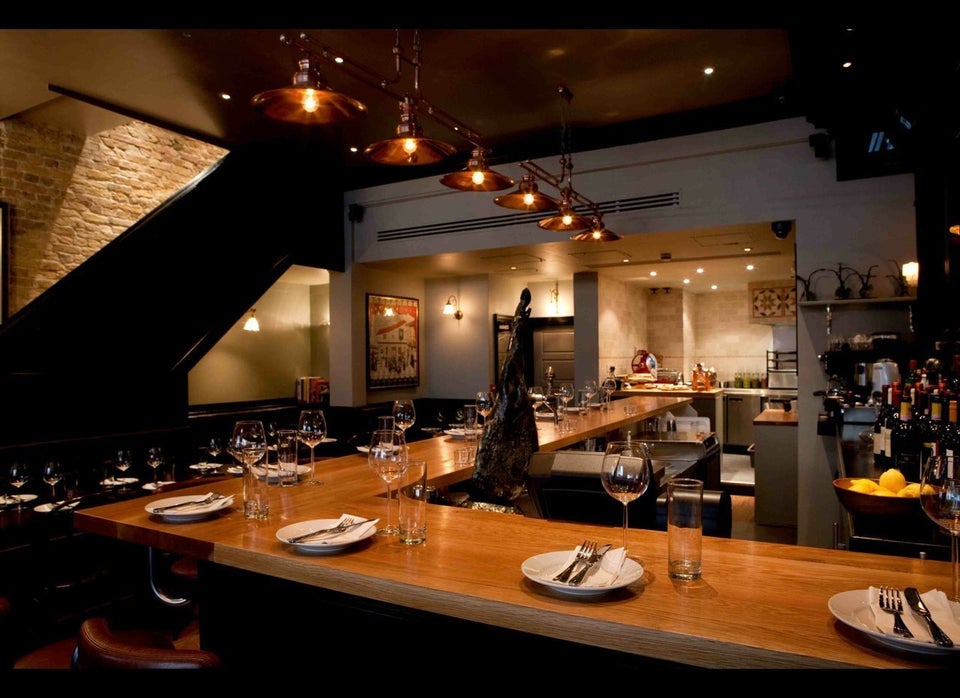 Opera Tavern and The Ape & Bird in London