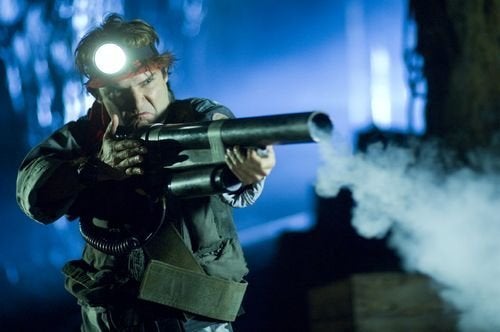 Feldman, the star of such 80's staples as "Stand By Me" and "The Lost Boys," has been touring with his very serious independent film, "Operation Belvis Bash," a war epic in which a number of entertainers, including his "outrageous 'Jewtastic' comedian,' Samuel Stilman, travel to Afghanistan to try to liberate Kabul through the power of mediocre at best rock 'n roll. He had just gotten out of a screening of his film, which is currently on tour in Texas, when he got the news of Bin Laden's death.
"I was in New York on September 11, 2001, with Michael Jackson, and then, nearly ten years later, I walk out of the premiere of my latest film, which I had postponed to be able to attend Corey Haim's 'Decisions' premiere and memorial, to learn that Osama Bin Laden [sic] had been killed by a special operation, just like in the film we'd just screened." Feldman said in a statement (via Movieline). "The timing is simply unbelievable, and whether life imitates art, or art imitates life, now is a time for all Americans to express their gratitude to the brave men and women who serve our country and helped make this happen."
That's right: there's a chance, according to Feldman, that the Navy was modeling its mission after his film's plot. After all, with a cast that includes Daniel Baldwin, Frank Stallone, a former WWF wrestler and the guy who played the Soup Nazi, there's a lot of inspiration to be had.
WATCH
:
Calling all HuffPost superfans!
Sign up for membership to become a founding member and help shape HuffPost's next chapter