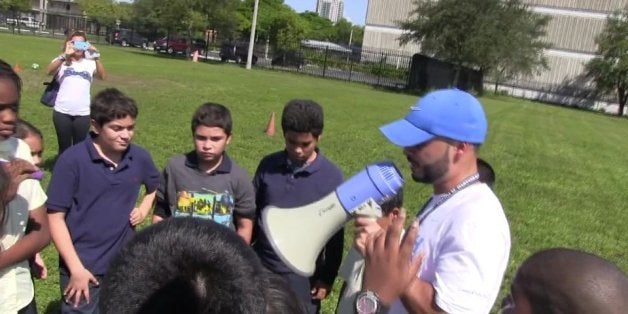 When Kleiton Almeida walked into Miami's Eneida M. Hartner Elementary School a little over a year ago, he brought his experience serving in the Middle East and Africa with him.
For the Navy veteran, working at the school was an opportunity he earned through Operation Coach, an initiative started by Up2Us Sports, a non-profit founded in 2010 that aims to use sports to help at-risk youth and foster child development, while helping vets re-enter the workforce and life at home.
"I wanted to make an impact," Almeida told The Huffington Post. "Show them that there's more to life than what they have going on in their lives right now. That they have the power to change thcaat, to make a better life for themselves."
c
A spin-off of Up2Us Sports' Coach Across America, Operation Coach launched last year. Like Teach For America and City Year, the program places people throughout the United States to commit a year of service coaching to promote sports-based youth development at schools or after-school and community programs.
Up2Us Sports founder and CEO Paul Caccamo only needs to point to the obvious to highlight the program's effectiveness. On one hand, he says, it's the "perfect re-entry program" for returning veterans where the "language of corporate job fairs" doesn't speak to them, "but language of sports can."
On the other, veterans themselves are an "exceptional talent source for coaching," especially when dealing with at-risk youth "because they understand violence, they understand trauma and they understand what an inner city kid is going through," he said.
Almeida, 31, returned from deployment in 2008 and enrolled at Florida International University in 2009 (where he graduated in 2013, majoring in physical education). He first saw the listing of Operation Coach through the school's veterans affairs office. He knew he wanted to coach and the program afforded the opportunity to reach out to kids who were struggling. During his own placement, he was able to lead an after-school sports program while gaining professional experience teaching some of the physical education classes.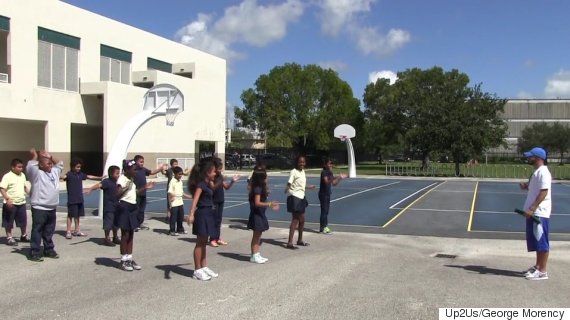 Almeida coaching his students at a Miami elementary school. (Credit: Up2Us Sports/George Morency)
Almeida was part of a group of eight veterans who took part in the first year of Operation Coach, which finished in February. Advancing through three rounds of interviews last spring, after being selected from a pool of 120 applicants, the veterans were paired with host programs in the Miami area to work with youth in lower-income neighborhoods that are often overlooked. After attending one of Up2Us Sports's four-day training conferences in August, the veterans began their six-month placements.
"At first, it wasn't easy because I came with a military background, so discipline is a must, a big-thing for me," Almeida said, noting student behavior was an issue at the elementary school where he was placed. "So the principal, before I came in and started, he spoke to me about it and he asked me to do my best, to bring some kind of discipline, try to maintain and make sure the kids [had] a good environment to go to school."
It's that sense of discipline that led Caccamo to develop the idea for Operation Coach to bring these two communities together. That, and a very serendipitous beer he bought for another veteran he met while in New Orleans, who told Caccamo that after more than 20 interviews, he still struggled to find a job.
"We have all these veterans coming home and as I talked to him I realized, he gets it. Teamwork is critical. Leadership skills. Discipline," Caccamo said of his meeting in New Orleans. "You think about the culture of our military and the culture of sport and there's so many things in terms of the values that are translatable from one to the other."
"I was never able to hire that kid, I never saw him again, I feel so bad, but I never forgot him," he added.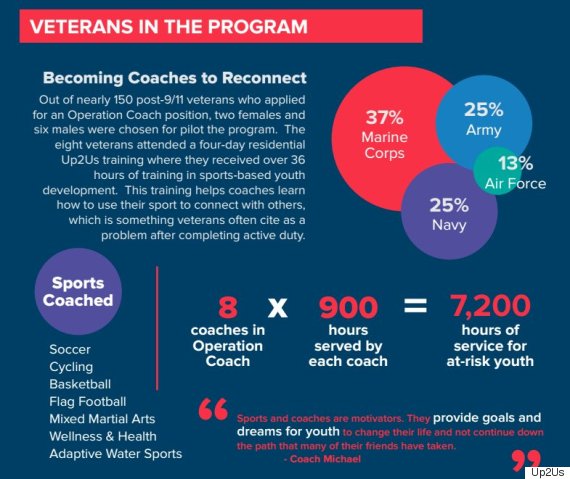 Source: Up2Us Sports
Caccamo needed a partner to get Operation Coach of the ground. Since Up2Us Sports had already been "very active in Miami," he turned to the Heat, the city's NBA franchise, for additional support.
"We have often had a communication with the Heat we just didn't seem to find the Bingo! point," Caccamo said of finding a project of which to partner with the team.
It was a near-flawless pairing. Florida has one of the highest populations of veterans, and the NBA team has a military appreciation program, first started in 2006.
"[It] made sense because here we take it a step further, and actually fund the program that helps transition veterans back into civilian life into coaching and sports, which is all what we're about," said Steve Stowe, the executive director of the Miami Heat Charitable Fund.
However, it costs $19,500 for each veteran in the program, which includes a $15,000 wage, $3,000 education award upon completion and $1,500 for training. Another $5,500 goes toward administrative and program costs. Caccamo urges other teams and sports to get involved, noting that the first five years after a veteran returns home are critical.
"If they don't get integrated, then we're going to see another generation of military leaders who are left behind and it's the biggest insult that this country can do with the military," he said.
He continued, "What we need to do is get as many sports teams to say you've got a tool right in front of you: your sport and its impact on your community. Work with Operation Coach to hire veterans."
"So there's a lot to be said about veterans using the power of sport and play to address the trauma issues that children face growing up in poor and sometimes very violent neighborhoods," Caccamo said. "This works. This stops violence. And these are the leaders who can do it."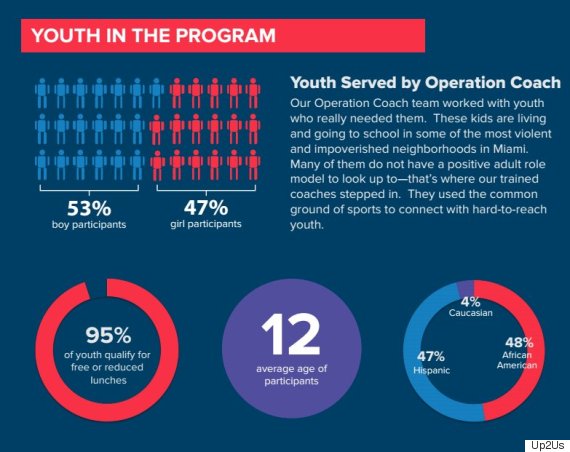 Source: Up2Us Sports
After finishing the program, seven of the eight veterans felt that they had a stronger connection to the community, whereas only three felt that way at the start.
Up2Us Sports added that six of those veterans, including Almeida, are still working in sports-based youth development, while two went on to pursue advanced education. While only eight spots will be available again this year, they hope additional funding will allow them to extend Operation Coach to more veterans. In the meantime, Up2Us Sports is doing more outreach for veterans to participate in Coach Across America.
Almeida, who ended his fellowship in January with an offer to work full-time as a physical education instructor at a Miami charter school and will be honored as Coach of the Year at Up2Us Sports's gala in June, also spoke of the changes he saw in his students.
"The disciplinary issues that they had weren't there anymore, they were doing well academically, they were caring more about school, they were working well with others -- there were no fights, there was none of that," Almeida (known as "Coach Klei" to his students) said.
"Just seeing that change in the kids and seeing them carry on through what I was trying to teach them," he said, "it's an indescribable feeling, I guess."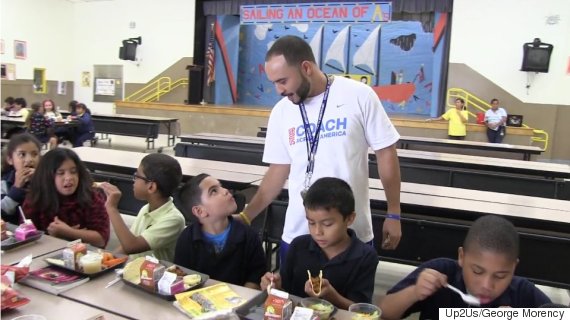 Almeida coaching his students at a Miami elementary school. (Credit: Up2Us Sports/George Morency
Popular in the Community