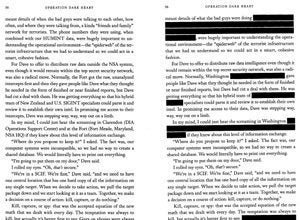 This story has been updated
Is actor Ned Beatty's name a national security secret?
That's one of the questions raised by a side-by-side comparison of the censored and uncensored versions of a controversial new memoir recounting a former Army intelligence officer's time on the frontlines of the war in Afghanistan.
Almost 10,000 copies of "Operation Dark Heart," by Lt. Col. Anthony Shaffer (ret.) were recently destroyed after being purchased for $47,000 by the Defense Department, which contended that the uncensored version threatened national security and put U.S. soldiers in danger. Overall, government agencies spent almost $9 billion in 2009 to maintain the secrets on the books.
The most common redaction in the entire book is Shaffer's cover name, "Christopher Stryker," and other popular redactions are references to the National Security Agency, the abbreviation SIGINT (signals intelligence) and comments like "Guys on phones were always great sources of intel," notes Aftergood.
He also reports that only about 10% of the redacted passages, such as the identity of the CIA station chief in Kabul and a physical description of that station, have "some conceivable security sensitivity."
Among the more unnecessary redactions: the name of "Deliverance" star Ned Beatty -- "which is not properly classified in any known universe" -- but is blacked out on page 15 of the book. Overall, the national security classification exemplified in the new book "does not exactly command respect," writes Aftergood.
Though Army reviewers signed off on the book in January, other military agencies had major objections, reported the New York Times earlier this month:
But when the Defense Intelligence Agency saw the manuscript in July and showed it to other spy agencies, reviewers identified more than 200 passages suspected of containing classified information, setting off a scramble by Pentagon officials to stop the book's distribution.

Aftergood's Secrecy News blog posts side-by-side comparisons here.
Popular in the Community