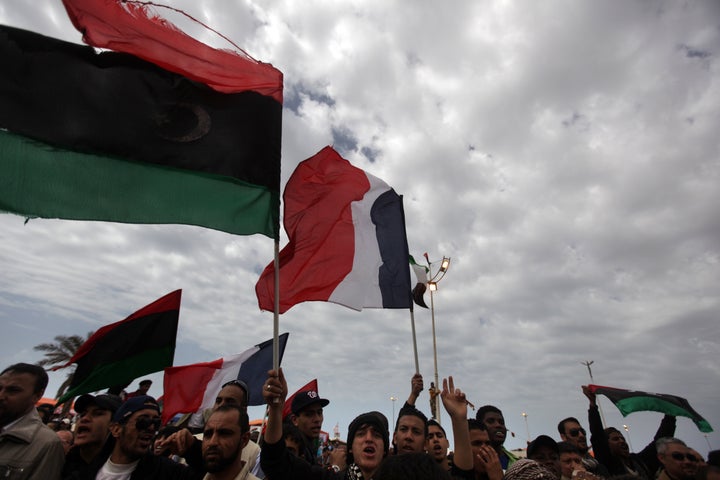 The U.S. military attacked Moammar Gadhafi's air defenses Saturday with strikes along the Libyan coast that were launched by Navy vessels in the Mediterranean.
A senior military official said the assault would unfold in stages and target air defense installations around Tripoli, the capital, and a coastal area south of Benghazi. That's the rebel stronghold under attack by Moammar Gadhafi's forces.
Complete details were not immediately available.
The official spoke on condition of anonymity in order to discuss sensitive military operations.
Hours after Secretary of State Hillary Rodham Clinton attended an international conference in Paris that endorsed military action against Gadhafi, the U.S. kicked off its attacks on Libyan air defense missile and radar sites along the Mediterranean coast to protect no-fly zone pilots from the threat of getting shot down.
A U.S. official, speaking on condition of anonymity in order to discuss sensitive military operations, said the Obama administration intended to limit its involvement -- at least in the initial stages -- to helping protect French and other air missions.
At a news conference in Paris, Clinton said Gadhafi had left the world no choice but to intervene urgently and forcefully to protect further loss of civilian life.
"We have every reason to fear that left unchecked Gadhafi would commit unspeakable atrocities," she told reporters.
Clinton said there was no evidence that Gadhafi's forces were respecting an alleged cease-fire they proclaimed and the time for action was now.
"Our assessment is that the aggressive action by Gadhafi's forces continues in many parts of the country," she said. "We have seen no real effort on the part of the Gadhafi forces to abide by a cease-fire."
President Barack Obama announced on Friday that he had given the go-ahead for U.S. forces to participate in operations designed to enforce the provisions of a U.N. Security Council resolution demanding that Gadhafi cease firing on civilians. At the outset of a visit to Brazil on Saturday, he spoke briefly about Libya, noting the Paris talks.
"Our consensus was strong and our resolve is clear," Obama said. "The people of Libya must be protected and in the absence of an immediate end to the violence against civilians our coalition is prepared to act and to act with urgency."
Among the U.S. Navy ships in the Mediterranean were two guided-missile destroyers, the USS Barry and USS Stout, as well as two amphibious warships, the USS Kearsarge and USS Ponce, and a command-and-control ship, the USS Mount Whitney. The submarine USS Providence was also in the Mediterranean.
Popular in the Community