Background: Raised by a Marine, I have been acutely aware of the meaning of service my entire life. Engrained from day one was the notion that tradition, honor, duty, and patriotism matter and that as an American citizen, I should find ways to honor and support those who serve our country. These principles were further reinforced by my Dad's best friend in the Corps, Captain John 'Giddy-Up' Bunch. Years ago Captain Bunch started a small non-profit in Southwest Florida called Operation Open Arms (OOA), initially to provide free fishing charters to vets on leave from active duty. The effort has since expanded ten-fold, received national media attention, and found unique ways of engaging entire communities to support vets and their families from full service vacations and weddings to PTSD treatment all free of charge. Operation Open Arms is entirely volunteer and speaks to the power of the American community....when we come together for a cause, as the Marines would say 'We get-er done'. With this one tireless Marine leading the charge and now shifting the focus of the effort to addressing the alarming rise in PTSD, this Veteran's Day I wanted to sit down with Captain Bunch and ask him to reflect on the lessons learned and where OOA goes from here.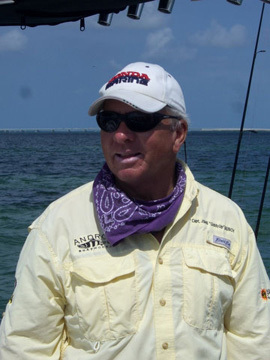 It's been nine years since you founded Operation Open Arms -- the initial effort focused on providing free services, from fishing charters to weddings, for active duty service men and women on leave. By all accounts the effort has been an incredible success, impacting over 2,628 lives since its inception, with recognition in national news media and support from a growing number of senior leadership in the US government and private sector. What has been the greatest takeaway from your work on this effort?
Captain Bunch: Excellent question and believe or not one which has never been asked. My best answer would be follows. Operation Open Arms has afforded me and 227 "Sponsors" who love our country the opportunity to serve again or serve for the first time. Operation Open Arms is beautifully unique as a fishing guide can be a "Sponsor." A golf professional can be a "Sponsor." And the owner of a hotel can be a "Sponsor." We, the "Sponsors" of Our Troops, collectively lift the financial burden associated with combat leave vacations, weddings, and PTSD Mental Health Care needs.
What has been the greatest challenge in continuing this work over the years?
Thank you for the greatest belly laugh ever. The greatest challenge has been in...Not quitting. Life is a series of great tests or so it seems to me. On countless occasions, especially Operation Open Arms weddings, I prayed when it was not my nature to do so. How do you communicate the difficulty of planning 79 weddings for total strangers. And becoming an Ordained Minister as to wear all possible hats? My real job is a professional fishing guide and outdoor writer. The greatest challenge has to be juggling all the balls and not making any errors. This might be weird but an Angel has been sitting on my shoulder since April 19, 2005. Everything just gets done.
The focus in the past year of OOA has shifted from service provision to addressing PTSD. Why did this shift occur and what is OOA doing differently to help address this growing problem among vets?
In 2009, the Department of Defense identified PTSD as a bigger adversary than Al Qaeda or The Taliban. Our Troops were taking their own lives in far more numbers than our enemy. In other words, our worst enemy had become ourselves. This was a wake-up call for me to go out into our community and recruit the best mental health care specialists in Southwest Florida. They had to work for free even though billing Tri-Care was available to them. They would often say "So, tell me again why there will be no insurance reimbursement and why we must see Our Troops on the same day even if it means staying after work?" Let's just say my sales skills are considerable post IBM and they bought off on it hook, line, and sinker. Our PTSD Mental Health Experts are licensed in the states where they practice.
What has been the greatest takeaway from your work on this effort?
The difference that one community and each American can make when we come together to give back and support those who are defending our freedoms abroad. Within OOA, no one is paid a salary. We are 100 percent volunteer. That we've been able to continue and expand our work over these many years is incredible.
As a former US Marine who lives by the Code of the Corps to this day, what would you want every American to think about on this coming Veteran's Day and how can each of us make a difference in thanking and supporting those who protect our values and freedoms abroad?
As you know, there are no former or ex-Marines! "Once a Marine, always a Marine." With this said, if a magic wand were made available to me by the Angel who sits on my shoulder it would be this. Find a way to serve your country in some meaningful way. If you do this the following promise is guaranteed by my Angel. Your life will have true meaning and you will forever understand the difference you made. Oh, and one last thing. A silly smile will come over your face which will be impossible in this life and probably the next to wipe off. Helping/serving is the secret to a life of happiness. Life is not about a pronoun with one letter.
Related
Popular in the Community