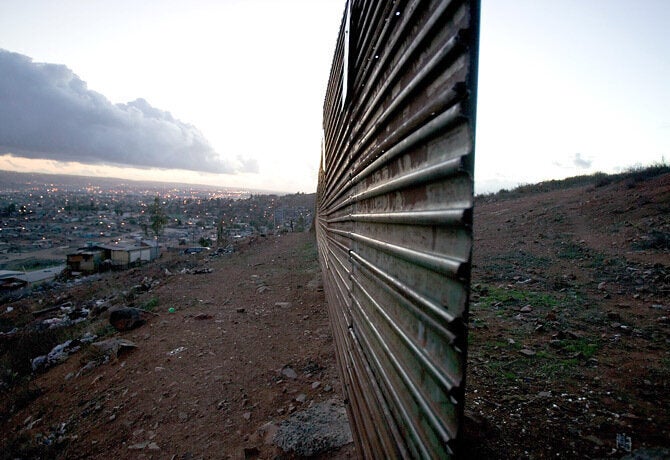 Could the nation's undocumented immigrants please stand up? The government will be happy to deport you.
In a move that speaks to the bind policymakers find themselves in these days on the issue of immigration -- jostled between the complexity of the issue, its deep politicization and the lack of vision Washington leaders have brought to the topic in the post 9/11 era -- the Immigration and Customs Enforcement Agency (ICE) will encourage the nation's roughly 12 million undocumented immigrants to simply volunteer to turn themselves into immigration authorities for deportation in the coming months.
ICE Director Julie Myers leaked the new federal effort on Univision this past Sunday at the end of an interview with Jorge Ramos, the anchor of the popular public affairs show "Al Punto" and in advance of an anticipated formal announcement next week.
Entitled "Operation Scheduled Departure," the still-unannounced program would allow undocumented immigrants without criminal records to turn themselves in at Immigration and Customs Enforcement offices nationwide. In exchange for "self-deporting," the immigrants would be processed and get a few weeks to pack their belongings and get their affairs in order before leaving the country -- without being put in a detention facility.
The program does not provide any other incentive for undocumented immigrants to volunteer to leave the country through the program.
What's interesting is Myers' announcement of the program on national television to only Univisión. There have been no other announcements about the program to the mainstream media from Immigration and Customs Enforcement, the enforcement arm of the Department of Homeland Security responsible for deporting undocumented immigrants.
In her interview with Ramos, Myers noted that ICE deported approximately 274,000 undocumented immigrants last year, an agency record.
Myers' announcement comes on the heels of a wave of controversial immigration raids nationwide, and is reportedly in response to comments from immigrants in deportation proceedings who said they would prefer to "self-deport" rather than be confined in federal detention centers. A national debate on federal deportation policies was sparked in particular by a May 2008 raid in Postville, Iowa, which was the largest single immigration enforcement action in the nation's history and rounded up nearly 400 undocumented meatpacking plant workers. Testimony from Erik Camayd-Freixas, a federally appointed interpreter for many of the immigrants and a Florida International professor, sparked questions about immigrants' due process in the proceedings.
Immigrant rights and immigrant restrictionist groups alike scoffed at the plan's impracticality, noting that many undocumented immigrants have family roots in the U.S., including children who are American citizens.
"Just when you thought the Bush Administration would ride quietly into the sunset, along comes another harebrained scheme that can't have been carefully thought out. We are not going to deport our way out of our current immigration mess, nor is it likely that most or even many of the estimated 12 million undocumented immigrants here will choose to leave on their own," said Ali Noorani, Executive Director of the National Immigration Forum in a press release.
Related
Popular in the Community