Most of us still remember Operation "Just Cause," the December 1989 invasion of Panama ordered by President George H. W. Bush.
Of course we remember Operations Desert Shield and Desert Storm, Operation Enduring Freedom and Operation Iraqi Freedom and we know the name given the most recent military actions against ISIL in Iraq and Syria, Operation Inherent Resolve.
However, how many of us would still remember the name for the military invasion of Panama, if the name had been "Operation Blue Spoon"?
That is the name originally proposed for that operation until one general asked another general, "Do you want your grandchildren to say you were in Blue Spoon?"
The history, the "science," of naming military operations -- whether combat, peacekeeping, humanitarian or relief -- is fascinating, but that is for another day.
The purpose of this lengthy introduction -- hopefully an attention getter - - is to share a very unusual and commendable "quasi-military" operation with readers.
The name is "Operation Shower" and it does not involve a shower of military projectiles.
It is, strictly speaking, not even a military operation, albeit it is totally focused on the military -- military moms-to-be, that is.
Operation Shower is a nonprofit organization geared toward "celebrating, honoring and showing love to military families," especially helping expectant mothers whose spouses are deployed away from home.
One of the ways, as the organization puts it, is by "hosting awesome baby showers" to ease the stress of deployments and separations.
One such awesome baby shower was held this weekend in Ponte Vedra Beach, Fla.
Marine Corps Sgt. Maj. Bryan B. Battaglia, senior enlisted advisor to the chairman of the Joint Chiefs of Staff, attended the shower where 40 mothers were honored and treated to various gifts and where Battaglia lauded the organization that has helped more than 2,500 military families since 2010.
Referring to the members, partners and supporters of Operation Shower (the PGA Tour, The Players Championship and fellow nonprofit initiative "Birdies for the Brave"), Battaglia said, "How we all enjoy being in the presence of champions -- those who make a significant sacrifice to make a positive difference...I think the room is filled with champions today."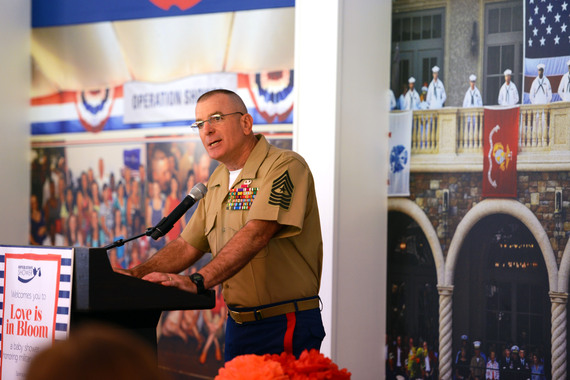 Marine Corps Sgt. Maj. Bryan B. Battaglia speaks to military mothers during an Operation Shower baby shower in Ponte Vedra Beach, Fla., May 3, 2015. DoD photo by Army Sgt. 1st Class Tyrone C. Marshall Jr.
Singling out LeAnn Morrissey, founder of Operation Shower -- also the "Chief Shower Officer," a title Morrissey gave herself -- Battaglia added:
LeAnn, we wouldn't be here today if it weren't for you to bring such a vision and idea to a reality.

Over the years, you've given so much to our military moms-to-be. [You] give, give and give more, never asking for anything in return. You're really the reason that brings us here today to spend time with this other special group of champions: our military spouses and moms-to-be.
The sergeant major addressed and praised military spouses for overcoming the hardships they face as their spouses are away defending the country.
"Ladies, you take on a magnificent responsibility," Battaglia said, "and I just want you to know that while raising a family in the military has so many great experiences and memories, the hardships that you endure ... while your spouse serves in uniform doesn't go unnoticed.

"You are, at times, placed in some not-so-ideal conditions," he continued, "[with] children moving from school to school, the family relocating to a new city, the separation month after month."

Calling military families "the heart and soul of our armed forces," Battaglia told a brief story of a father who was a special operations service member and was often gone for long periods, missing out on time with his daughter.

The sergeant major said that while the story is an extreme example, it helps to illustrate some of the sacrifices that military families endure.

Battaglia told the expectant mothers that the nation is proud of them and their families, and he thanked the nonprofit organizations willing to serve the families in times of need.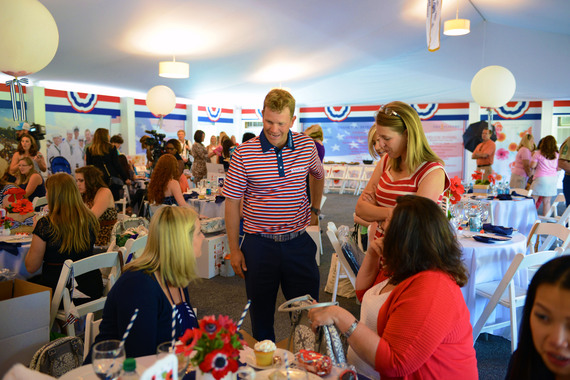 Billy Hurley, center, a PGA golfer, and his wife, Heather, right, talk to military mothers during the Operation Shower baby shower in Ponte Vedra Beach, Fla. Hurley, a former Navy officer, is the only military veteran currently on the PGA tour. DoD photo by Army Sgt. 1st Class Tyrone C. Marshall Jr.
Learn more about this unique "Operation" here and please click here to see the ways you can donate to or support this commendable "Operation," an operation with a name -- unlike "Blue Spoon" -- not so easy to forget.
Also, please watch the video below:
Lead photo: Military moms and moms-to-be being fêted at THE PLAYERS Championship in Ponte Vedra, FL. May 4, 2015. Photo by Chris Condon.
Calling all HuffPost superfans!
Sign up for membership to become a founding member and help shape HuffPost's next chapter