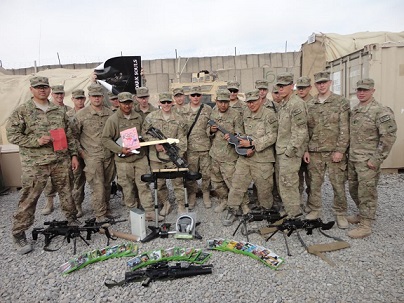 At E3 2013 in Los Angeles, I had the pleasure of meeting a veteran with a noble cause. Stephen Machuga is the founder of Operation Supply Drop, a nonprofit organization dedicated to ensuring troopers abroad can feel some of the comforts of home. Namely, video games.
Video games have been shown to help relieve stress, and provide soldiers with a sense of escape from the day-to-day hazards and stresses of deployment. Fascinated by this idea, I sat down with Mr. Machuga for an interview to learn more about Operation Supply Drop and how it's benefiting our troops. What follows are my interview questions along with his answers.
Q: So what exactly is Operation Supply Drop?
A: OSD is a 501(c)(3) founded in 2010 to send video game care packages to both soldiers deployed overseas as well as recovering in military hospitals. Originally founded to send luxury care packages to deserving units overseas, video gaming has been scientifically proven to help fight post-traumatic stress disorder (PTSD) in combat troops as well as fight deployment depression in an effort to counter the staggering number of soldier suicides. The charity has raised over $300,000 in two and a half years of existence and helped approximately 1350 soldiers.
Q: What is your mission, and how does the charity work?
A: Fairly easily: a trooper deployed to a combat zone or military hospital hears about us and he sends us a wish list of games and gear he'd like us to send him. We prioritize the package request by the proximity of the soldier to the "front lines": a request from a squad who are sitting safely in Kuwait are ranked much lower than a wish list from an infantryman stationed in Kandahar. Then, we spend the next 4-5 weeks raising donations to fill up a package full of video games and gear to send to him; on average, an OSD package has an Amazon value of almost $2300. We just ask the trooper to send a few pictures back of the package when it arrives and showing off all the great stuff we sent him.
Q: How did you come up with the idea to create the charity?
A: Having been deployed multiple times with the military, we saw a variety of care packages sent to us from well-intentioned but misguided civilians. You remember those canned food drives you would have in 5th grade where everyone would bring in their dented cans of Lima beans? Kind of similar. I once got a care package for my platoon filled with third-hand harlequin romance novels from a library apparently clearing out their stock. We did end up getting some use out of them by using them for target practice on the confiscated arms firing range. As an avid gamer, I spent a lot of my down time trying to forget how many more months I had left by playing video games and I know a lot of my men also did the same thing, so it just made sense.
Q: What events are going on right now?
A: We're just wrapping up our 4th of July game package drive, which when it's over, we will immediately start the ball rolling for our annual "8-Bit Salute to Veterans" event for Veterans Day in November, our big annual event to fund all our Holiday care packages. Another major push going on right now is taking OSD from a war charity to peace charity. With the end of formal combat operations in Afghanistan in FY 2015, OSD is working with some of the military hospitals in the area to take care of the men and women who were injured in the line of duty.
Q: What are your long-term goals, and where do you see the charity going from here?
A: We've hit a ceiling for as far as one guy can take things in his spare time. I'm currently in the process of working with non-profit mentors here in Washington DC to hammer out a strategic plan to turn Operation Supply Drop from a part time hobby into something I can pay the mortgage with; I want nothing more than to spend the rest of my days putting smiles on soldiers' faces through getting these game packages. We've also been reaching out for some larger names in the games industry to join our board. People love what we're doing as we've got a unique angle to how we do business, but we just need one or two big names within the industry to get behind the OSD mission to help really start opening doors for us.
Q: If people want to donate or are interested in receiving a care package for their military unit, what do they need to do?
A: Folks interested in donating can contact us at donations@operationsupplydrop.org and we'll be happy to help out as best we can.
Calling all HuffPost superfans!
Sign up for membership to become a founding member and help shape HuffPost's next chapter