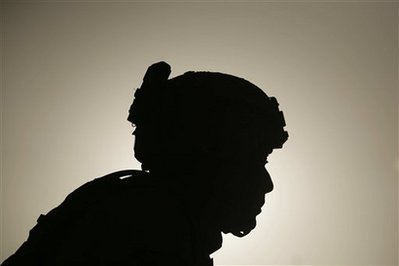 The fourth day on the USO tour brings us to the northern city of Mosul. Steve Berry, Andy Harp, David Morrell, Douglas Preston, and James Rollins are there on behalf of International Thriller Writers. See Day 1, Day 2, and Day 3 on HuffPost. Here's what happened on Day 4:

Douglas Preston:
The day started with another ride on a C-130 transport plane, which included a rapid descent (3,200 feet per minute) that brought our stomachs into our throats. Steve Berry described the experience "like
being on the Tower of Terror at Disneyworld... only real."
Our first stop was at the local dining hall and a meet-and-greet that lasted two hours. Soldiers were delighted to talk to us about books they were reading. The USO created 8 X11 glossy color sheets that
include our photographs and book titles. We sign these and pass them out. David Morrell signs his copies as "the father of Rambo." So Steve Berry, feeling left out, has started signing his cards as "the
poor cousin of Rambo."
Next we visited the motor pool and donned eighty-plus pounds of body armor used by the troops during missions "beyond the wire" (outside the base). We also got to climb all over their armored vehicles called MRAPs (Mine Resistant Armored Personnel carriers), which were described to us as dump trucks with armor and turrets. The vehicles and armor were necessary because we learned that Mosul is "the last bastion of the bad guys."
One of the missions for such vehicles is to clear the roads of IEDs. Our next stop brought us to the team who dispose of such devices, called the EOD, the Explosive Ordnance Division. There we saw
demonstrations of their robots and their state-of-the-art body armor. James Rollins asked if they ever battled their robots against each other, as in Robot Wars. The answer was given with a sly wink: "Only
when the sergeant isn't around."
Our luxurious accommodations here are in what are called Compact Housing Units -- otherwise known as shipping containers, which are made amazingly livable with air conditioning, bunk beds, lockers, and nightstands. The bathrooms are outside behind blast walls (in the middle of the night, a flashlight will be required).
Our full day ended with another meet-and greet at another immense dining facility about the size of a supermarket, followed by a visit to the personnel on the airport's flight line. As always, we learn a great deal from all of the amazing and dedicated people we meet. More to come tomorrow when we hope that our plane's takeoff will be less dramatic than the tactical descent we experienced this morning, although for some perverted reason Andy Harp and David Morrell, both pilots, found the G-forces amusing.
A final comment. Happy Birthday to the United States Marine Corps. They were founded 235 years ago today.
Popular in the Community