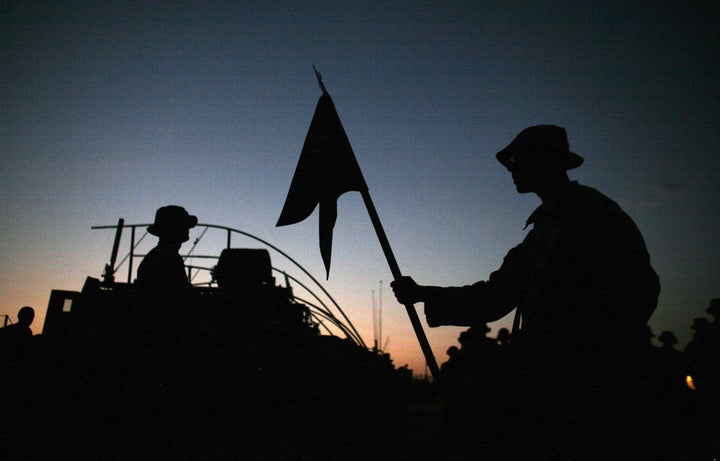 This is the third report about Operation Thriller, the USO's first authors' tour to a region of conflict. The tour consists of five members of the International Thriller Writers organization: Steve Berry, Andy Harp, David Morrell, Douglas Preston, and James Rollins. Day 1, Day 2, and Day 4 are also available.
Today we flew on a C-130 transport plane from Kuwait's military air base to Sather Air Force Base in Baghdad. Typical of the military ("hurry up and wait"), we arrived at the Kuwait air base at 8:30am and departed at 1:45pm. Traveling in a C-130 is a world-class experience, like being in a giant flying warehouse. The pilot invited David Morrell (a private pilot himself) and Douglas Preston to ride upstairs on the flight deck while Andy Harp, James Rollins and I slept below in the cargo section. (Who had more fun?) Although huge, the plane was expertly piloted by a young crew who gave us a smooth ride, a sudden steep descent into Baghdad, and a perfect landing. We wore flak jackets and helmets for the landing and exit, which was a new experience for us all. The day ended at the base dining hall, where for nearly two hours we chatted with soldiers about books and writing. The food there was exceptional, especially the curry thanks to a multitude of chefs from India. Jim Rollins ran into a former veterinary school classmate who is working in the Army's veterinary corps. One of his challenges is dealing with the large rabid dog population in Iraq.
This dispatch is being written from Saddam's former hunting lodge, a vulgar monstrosity with faux marble floors, plastic chandeliers, and tacky gilded furniture, which has been turned into the premier visitor's barracks in Iraq. Some of the vases came from women seeking Saddam's favors, with the date and time of a proposed tryst written on the bottom. All five of us are bunking in the lodge's former library, where we're going to tell ghost stories and cook smores.
After dinner we participated in a quaint local custom on the pavilion of the hunting lodge, which overlooks an artificial lake and several other large palaces. A sign announces the "Baghdad Golf and Country Club," taking as its symbol a golf club crossed with a assault rifle. The custom is to drive golf balls from the pillared pavilion into the lake. As I gracefully arced a shot 220 yards to palm treed island, the distant boom of a mortar reminded us of where we were.
While visiting with soldiers we learned a military tradition called the "challenge coin" -- specially minted coins that various units and command levels give to visitors. We have each received several so far.
Related
Popular in the Community