During a recent special session of Pine Ridge Indian Reservation's Shannon County Commission, images of another encounter slipped across the action. Both were quick clashes in the Northern Plains, and each was framed by a document. In 1876, Sioux bands were hunting in the Territory of Montana, as their 1868 treaty ensured they could do.
In 2010, the approximately 8,000 Oglala registered voters residing in Pine Ridge's Shannon County could anticipate the fall election, knowing a U.S. Department of Justice compact had clarified their voting rights. The April 2010 document laid down rules for equal enfranchisement and orderly elections, requiring poll workers to provide bilingual ballots when needed and to refrain from making "inappropriate comments" to Native American voters, among many provisions.
There were two rivers. Back in the day, it was the Little Bighorn. On Sept. 24, the Fall River burbled past the Hot Springs, South Dakota, courthouse where chairperson Connie Whirlwind Horse called to order the five-member commission. One agenda item was an emergency. A political spat with off-reservation Fall River County had become a crisis three weeks earlier, when five Fall River officials who handle outsourced government services for Shannon County, including elections, threatened to quit their reservation duties just ahead of South Dakota's early-voting period. It looked like Shannon County might not vote early, or at all. (For background, see an earlier blog post.)
Newspapers offered breathless coverage. In 1876, a Kansas paper warned of "untamed savages," while a recent Rapid City Journal headline proclaimed, "Shannon County running amok."
Each day, history's spotlight picked out individuals. In 1876, one man it lit upon was Lt. Col. George Armstrong Custer. Center stage in 2010 was South Dakota's secretary of state and top election official, Chris Nelson. His measured, hands-off response to the election crisis caused O.J. Semans, Sicangu Lakota head of voting-rights nonprofit, Four Directions, to accuse him of foot-dragging.
Standing in for Custer's troops on Sept. 24 were two commissioners: Deloris Hagman and tribal member Lyla Hutchison, who wanted to limit early voting for Oglalas and wondered if a bona fide Shannon County election would "set a precedent." A tribal member chided them: "Do you want to be known as the people who stopped Shannon County from voting?"
Neither confrontation surprised Lakotas. In 1876, the U.S. Army had been making threatening noises for months, and when Custer finally turned up on June 25th, Sitting Bull, Crazy Horse, and other Lakota leaders had assembled a substantial coalition, including Northern Cheyenne and Arapaho allies.
When Semans walked into the courthouse on September 24, 2010, he'd also had time to plan. Two months earlier, Semans explained, Fall River state's attorney Jim Sword had warned him that if Oglalas asked for convenient, widely popular early voting in addition to Nov. 2 balloting, Sword would quit.
Then Theresa Two Bulls, Oglala Sioux Tribe president, requested exactly that, and Sword made good on his threat, taking four officials with him. Sword told this reporter the April DOJ document was the problem: its rules were "a lawsuit in the making" and "a disincentive for setting up a polling place." Sword added that "a Native American commissioner" said the DOJ agreement was so onerous "she knew how her forefathers felt."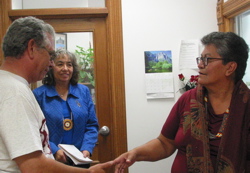 Semans' backup on Sept. 24: President Two Bulls, who made an impassioned declaration of Oglalas' right to vote, ACLU lawyers, and DOJ voting-rights lawyer Sarabeth Donovan, who rose repeatedly during the meeting to explain and facilitate the April agreement's suffrage obligations. (Two Bulls, shown right, with Semans and Gay Kingman, Cheyenne River Sioux, executive director of the Great Plains Tribal Chairman's Association.)
Four Directions' most telling stratagem was donating $5,000 to cover a full-fledged Shannon County election, with 22 days of early voting, a general election day and an on-reservation polling place. Lack of money was a genuine problem. Destitute Shannon County couldn't pay election costs upfront and wait for December reimbursements, as required by South Dakota's Help America Vote Act rules.
The donation eliminated the financial obstacle, and the commission took its own vote, with a majority -- Whirlwind Horse, Wendell William Yellow Bull, and Francis Pumpkin Seed -- supporting the full election, which is now underway.
Attorney Greg Lembrich, Four Directions legal director and a senior associate at the law firm Pillsbury Winthrop Shaw Pittman, wondered how the turmoil might be prevented from recurring. "Four Directions was glad to facilitate this resolution, but equal access to the ballot box shouldn't depend on third-party fundraising or on a county's ability to pay. The days of poll taxes and people paying for the right to vote are gone. The Lakota take this right very seriously."
The clash, now as then, was over -- for the moment.
Photo by Stephanie Woodard.

Popular in the Community