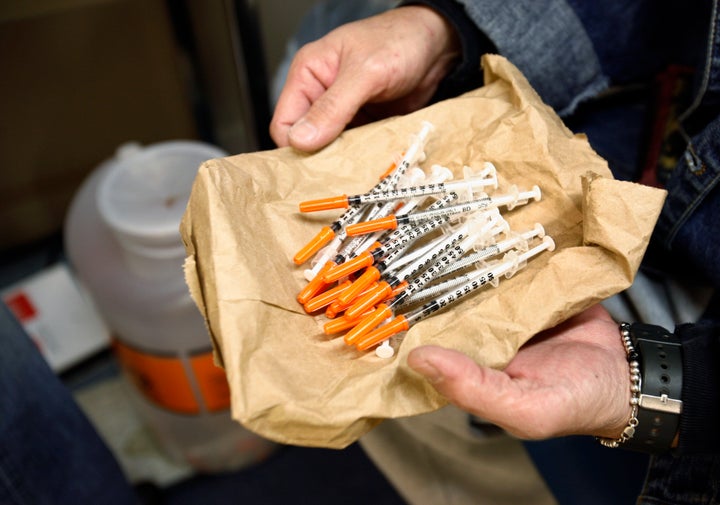 The United States' ongoing opioid epidemic may be undoing the hard-fought public health gains of HIV/AIDS reduction, according to a U.S. Centers of Disease Control and Prevention report published Tuesday.
Black and Latino Americans saw public health gains including decreased drug injection, syringe sharing and drug-related HIV diagnoses, but injection drug use trends among white Americans have public health officials worried.
"Opiates are threatening HIV progress," said CDC direction Dr. Thomas Frieden. "[We] risk stalling or reversing decades of progress."
Annual HIV infections among people who inject drugs have fallen 90 percent since their 1993 peak, but in resource-strapped counties across the country, the prospect of an HIV outbreak is a brutal reality.
According to a July CDC report, 220 counties are highly vulnerable to HIV and hepatitis C outbreaks among injection drug users due to factors like high rates of unemployment, overdose and prescription drug sales. And many of those counties are clustered in Appalachia, an area with notoriously few public health resources available to address a potential infectious disease outbreak.
More widespread implementation of needle exchanges could help change that, according to Surgeon General Dr. Vivek Murthy's November report on addiction. Murthy stressed that because addition is a chronic disease, it needs to be addressed as such, using evidence-based treatments that we know work.
As it stands, one in 10 HIV diagnoses occur in people who inject drugs. Among this group, only a quarter reported getting all of their needles from a sterile source in a 2015 survey.
While critics of syringe exchanges worry that providing needles promotes illegal drug use and crime, the surgeon general's report showed the opposite. Needle exchanges connect drug users with health care, prime them for treatment, reduce the spread infectious disease and aren't shown to increase drug use or criminal activity.
"Safe syringe programs have been an effective strategy at reducing infectious disease transmission ― like reducing HIV and hepatitis C," Murthy previously told HuffPost.
The situation may be especially fraught for white drug injectors, who are also the demographic at the center of the opioid crisis.
In 2015, more than half of new drug injectors were white, compared to 20 percent of new injectors who were black and 20 percent who were Hispanic. White users were more likely to share needles than their black or Hispanic counterparts, and in 2014, more white drug injectors received HIV diagnoses than any other racial group.
Legislative barriers prevent needle exchanges from reaching those who need them most
Despite scientific evidence that needle exchanges reduce infectious disease spread, they're not accessible to all Americans.
Congress has repeatedly lifted and reinstated a ban on federal funding for needle exchanges since the first ban was put in place in 1998. As of December 2015, states and local communities can request federal HIV funds for needle exchanges under certain circumstances, and so far, 15 states have gotten permission from Congress. Still, there remain many communities across the U.S. that need sterile equipment and don't have it.
Dr. Jonathan Mermin, director of the National Center for HIV/AIDS, Viral Hepatitis, STD and TB Prevention, described the nation's needle exchanges as an "uneven patchwork" of clean syringe access, with particular gaps in rural areas where they might be most needed, such as Appalachia and the Ozarks.
Last year's HIV outbreak in Indiana is a glaring example of what can happen in overlooked rural communities that don't have access to clean needles. In 2015, then-Governor Mike Pence waited months to approve a needle exchange program after an HIV outbreak was identified in Scott County. By the time Pence reversed his personal stance against needle exchanges to allow them temporarily, nearly 200 people in the area had contracted HIV. In Pence's case, moralizing addiction led to the worst HIV outbreak in state history, a public health lesson future legislators might do well to heed.
"We have to deal with the problems of the world as they are and not as we wish they would be," Frieden said.