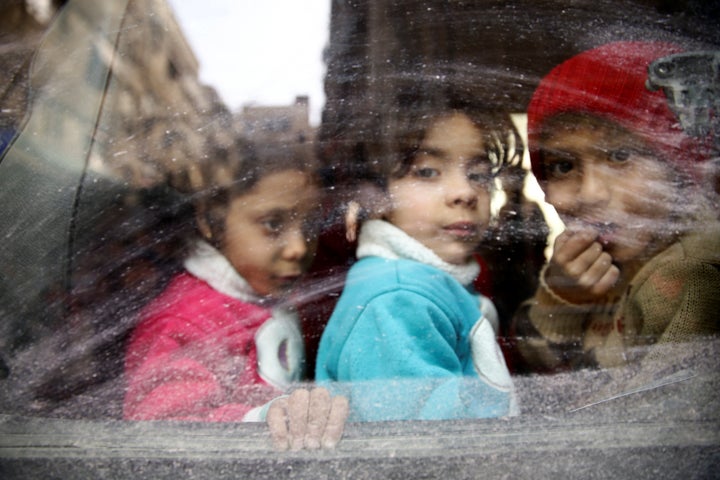 The people of eastern Ghouta are living in their own tombs. That's what it feels like in the small basements where thousands of families shelter, day and night, as bombs and missiles fall outside.
The recent military escalation, as the Syrian government reclaims more and more opposition territory, has paralyzed life here. Our markets and schools are closed, and our homes are destroyed.
The basement shelters are overcrowded, damp and dark, and many have no sanitation or ventilation. Hundreds of children live in these shelters, as well as people with bomb injuries, diabetes, high blood pressure and other illnesses. There is an ever-present threat of disease spreading because of the poor conditions. In one area, we found 1,000 children with lice living in multiple shelters. Others have scabies and skin diseases because they lack of water for washing.
Aid workers like me are trying to deliver things such as bread, blankets and soap to thousands of people, but the bombs rarely stop long enough to make that possible.
And there's no way out of this hell. The crossings in and out of eastern Ghouta are now completely blocked off. There used to be tunnels connecting us to Damascus that allowed people to smuggle basic humanitarian goods like medicine, food and vaccines. The tunnels were a lifeline for many families here. Last year they were destroyed, and now these supplies are extremely scarce.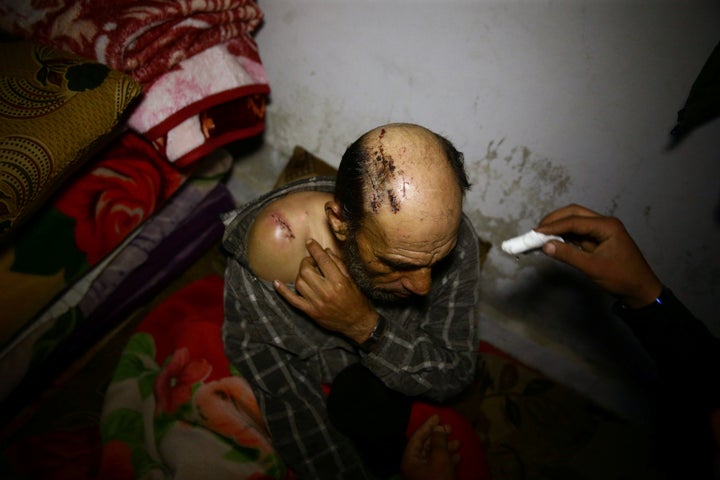 It is impossible to find simple things such as antibiotics, and supplies like surgical gloves, gauze and bandages have to be reused. Children have had limbs amputated because of cluster bombs. Sedatives and anesthetics are in very short supply and have to be rationed, so some operations go ahead without them. Electricity here shut down in 2012, and hospitals can't get fuel for operation rooms and generators because it's prohibited. Non-urgent operations are canceled to save medical supplies for more urgent cases.
There are hundreds of sick people, including children with cancer, who need urgent evacuation. Many have been waiting for months but are not allowed to leave. Some have died waiting, or because their medicine has run out.
When disasters happen in other parts of the world, doctors from outside are deployed to help, but here, there is nothing. The medical staff that remain here are themselves suffering from the shelling and displacement. They are exhausted from carrying out thousands of surgeries in such poor conditions.
"Children have had limbs amputated because of cluster bombs. Sedatives and anesthetics are in very short supply and have to be rationed, so some operations go ahead without them."
Even those who are not critically ill are unhealthy. Because of the siege, food prices are unfathomably high; a loaf of bread that used to cost 20 cents now costs $3. Among children under five, malnutrition is common, as many children eat one meal every two days and regularly go to bed hungry. We have seen a surge in miscarriages, because women don't have enough to eat to sustain a pregnancy.
Most families can't afford the basics, including bread, milk, biscuits and simple items that were readily available before the war. The food crisis has worsened over the winter, and now more than 50 percent of children under five are at risk of malnutrition unless they get care very soon.
When children cannot eat, they cannot learn ― but then, their schools have been shut down, too. Some schools have been targeted and destroyed in direct assaults, and 57,000 students have been forced out of school. Before the war, pupils played basketball and football in the schoolyard, had picnics and visited laboratories for science classes. Now, some of these children have lost limbs and others have lost their lives.
Teachers work with what they have, so that some education can continue. They have been sending messages to pupils via WhatsApp or visiting them at home, so that when the war ends, we do not find ourselves with an uneducated generation.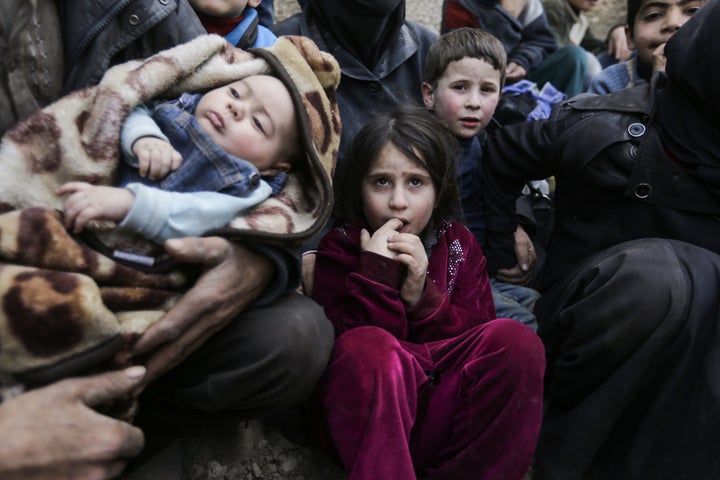 At home, many young children can't sleep. When they see an airplane in the sky, they are terrified. The atmosphere of constant fear ― nonstop airstrikes, cluster bombs, shells and the death and injury of people around us ― causes untold psychological trauma even for grownups. One can only imagine what it does to children.
There are children in eastern Ghouta who have been trapped under the rubble of bombed houses for 12 hours and dragged out close to death, only to find they have lost their father, or their siblings, or one of the friends they used to play with. To cope, some have become introverted and others have become aggressive.
Everybody in eastern Ghouta is drained of energy by years of war, poverty and the loss of everything they once had. In the past few months, as the bombing has escalated, locals expected commitment to international agreements, de-escalation zones and the United Nations Security Council ceasefire resolution, but this has not happened. We urgently need an end to the bombing of civilians, and the access points opened so humanitarian aid can flow freely and people can move around without fear for their lives.
The names of the international agreements that are supposed to help us may change, but nothing on the ground does. The bombing continues despite them.
Time is running out. Either we save the children of eastern Ghouta, or we lose them.
Mounif Ahmed is the pseudonym for a local aid worker with an eastern Ghouta-based NGO that works to provide education and sanitation.
Popular in the Community