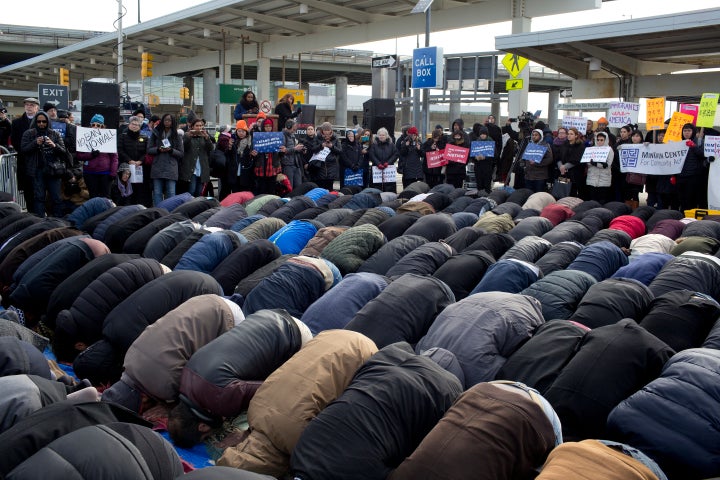 As a newly arrived immigrant from Syria in the late '80s, I took English as a Second Language classes in middle school. One of our teachers, Mrs. Wolf, would often tell us that America is a melting pot of people, where everyone has the same right to live in peace and pursue prosperity and happiness.  
In graduate school, where I studied U.S. foreign policy, a professor stressed that what made the United States more powerful than a rising China was not military or economic might, but its character as a nation. It was, he lectured, the shared commitment to values and ideals that led to our clout.
Then I became a U.S. diplomat, a job in which reverence for and defense of these values were a necessary part of my day-to-day work. In negotiations with foreign counterparts, often representatives of authoritarian regimes, it was clear to all that I was representing not only the American people, but the principles of democracy and liberties that we cherish.    
From awestruck child arriving in this great country to adult who had the privilege of representing it abroad, it was drilled into me, in both words and deeds: America is as much an idea as it is a place.
On the one-year anniversary of President Donald Trump's travel ban ― and the tumultuous, racist, xenophobic leadership we've seen since ― it's clear that this idea, a pluralistic society driven by equality, is under considerable threat.
As an immigrant, former public servant, and now as CEO of Emgage Foundation, a Muslim-American civic education and advocacy organization, I am renewing my commitment to oppose and ultimately reverse the ban, as well as all discriminatory policies that tear at the idea of America. I call on all my fellow Americans to do the same.
When I talk about the idea of America, I am referring to the principle of equal treatment under the law, blind to the color of your skin or religion. Of course, this principle was not universally shared upon our country's founding, and was then applicable only to land-owning white men. Over the course of our history and because of the struggle and sacrifice of the generations that came before us, it has come to be shared by most of us. This is what binds us together ― a shared belief in these ideals.  
On Jan. 27, 2017, Trump issued the first iteration of his travel ban, which barred immigrants and visitors from predominantly Muslim and non-white countries. After three iterations and multiple court battles, it is now the law of the land until further review by the Supreme Court.
This means that thousands of siblings, spouses and other close relatives are prevented from reuniting with brothers and sisters, husbands and wives, and grandchildren. Just last month, the State Department sent denial letters to hundreds of close relatives of U.S. citizens from Yemen. The same is happening to anyone from war-torn Syria, Afghanistan or Somalia, even if they have been languishing in United Nations-administered camps for years and have been thoroughly vetted and found to pose no security threat to us.
A year ago, as advocates rushed to airports and set up pro-bono legal services for those travelers stuck in limbo, some of the president's supporters, including Republican lawmakers, argued that perhaps this was a one-time aberration, a slip-up on behalf of the president and his misguided and politically inexperienced advisers.
Sadly, it was not. It was a harbinger of a year of hateful, racist, and xenophobic rhetoric and actions.
The most recent example is the president's obscene description of Haiti and African countries, which has been rightly and widely condemned. But we shouldn't be surprised by the president's remarks. As a candidate, he said Americans who practice Islam are followers of a religion that inherently "hates us." And he has denigrated African-American football players who kneel in quiet protest against police brutality, calling them "sons of bitches." And, of course, there were his supportive comments to white supremacists and neo-Nazis in the wake of last year's deadly protests in Charlottesville, Virginia.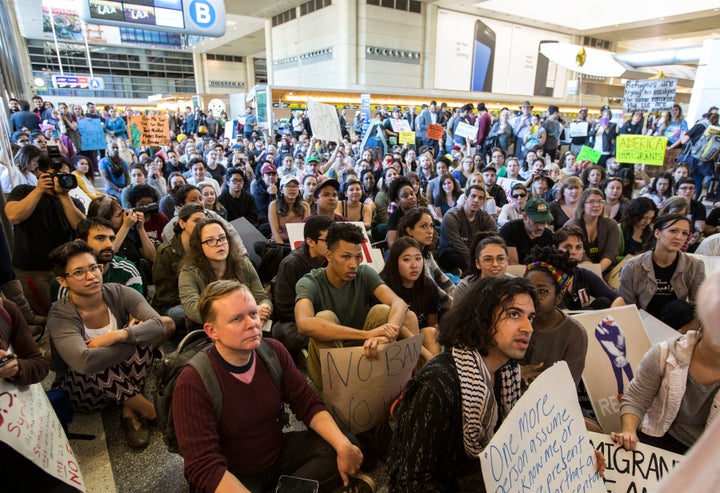 On their own, his words are vile and antithetical to our purported values. But they become far more destructive when these warped words about race and religion get codified into policies. There's the move to curb legal immigration and slash it by half. There's ending temporary protected status for Salvadorians, Haitians and possibly Syrians. And of course, there's his callous inconsistency on the fate of up to 800,000 of our youth who have known no home other than America by ending the Deferred Action for Childhood Arrivals program even though 77 percent of voters, including 66 percent of Republicans, support a path to citizenship for DACA recipients. And, of course, his ugly words became an uglier reality in the Muslim travel ban.
This anniversary, however, is not entirely solemn for me. Despite the grim conditions facing the community, or perhaps because of them, we are seeing an increase in Muslim-American political participation. As Trump turned the 2016 presidential elections into a smear campaign against Muslims, Hispanics and the disabled, our organization tracked a 12 percent increase in registered voter turnout among Muslim Americans when compared with 2012. Since the elections, we have also seen many Muslims, including first-time candidates, run for public office as part of a national wave of minority and women candidates stepping up to keep our country tolerant and inclusive. People like Abdul El-Sayed and Fayrouz Saad in Michigan, Dilara Sayeed in Illinois, and Deedra Abboud in Arizona show how Muslim Americans are responding to the rhetoric and policies of hate and divisiveness.
It's encouraging to see the outpouring of activism. I'm hopeful that the ultimate result of this period will be to inspire a new generation of civic leaders who can push back against actions tearing at the fabric of who we are. At Emgage Foundation, we are focused on increasing the civic participation of Muslim Americans and building and empowering those leaders.
The travel ban was the Trump administration's first major attack on the idea of America. It was not the last, and there will likely be further attempts to limit the admittance of non-Europeans into our country, and to strip minority communities, especially Muslims, of their right to freely practice their religion as enshrined in the Constitution.    
We need more people who are willing to stand up and defend the basic idea of America. It's that idea that drew my parents from Syria and millions of others from around the world. It's that idea that enabled me to rise up in the ranks and hold senior positions in government, not based on my religion or background, but because of my abilities.
As Mrs. Wolf told me and countless other young immigrants, the idea of America is the most important thing we have, and we cannot allow it to slip out of our national consciousness. This is why all of us, but especially those who stand to lose the most in term of their rights and freedoms, must step up, stay engaged and shape the America we all want and deserve.
Wa'el Alzayat is the CEO of Emgage Foundation. He served for nearly a decade as a U.S. diplomat and was senior policy adviser to U.S. Ambassador to the
U.N. Samantha Power.
This piece is part of HuffPost's brand-new Opinion section. For more information on how to pitch us an idea, go here.
Calling all HuffPost superfans!
Sign up for membership to become a founding member and help shape HuffPost's next chapter