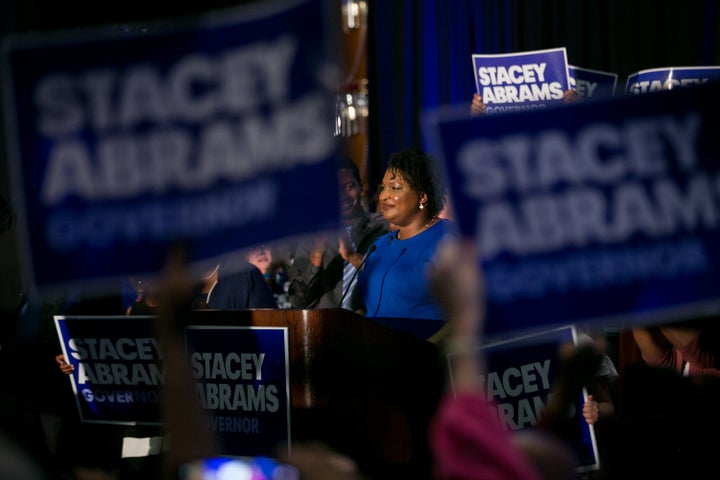 Yet Abrams' win should not be limited only to conversations about historical firsts. The success of Abrams' campaign should be a mandate for the future of Democratic politics and campaigns.
Given the choice between the same failing Democratic playbook of trying to win over moderate conservatives and a bold vision grounded in building a new winning coalition, voters overwhelmingly chose the latter. And by both mobilizing the existing base of the Democratic party and expanding on that coalition by engaging new voters, Abrams reduced the turnout gap between Republican and Democratic voters to just 54,000 votes ― compared to nearly 300,000 the last time both primaries were contested, in 2010.
Sixteen years ago, Republicans dealt a historic blow to Democratic control in Georgia, unseating Sen. Max Cleland and Gov. Roy Barnes, the first time the Democrats had lost that position in more than a century. Since then, Democrats have been trying to win back the voters who left the party in the 1990s. Candidates such as Michelle Nunn and Jason Carter sought to appeal to moderate Republicans in hopes of closing the gap statewide. Yet, there is little to no indication that Republicans are willing to vote Democratic in significant enough numbers to justify continuing to invest in that strategy.
"The approach of trying to create a coalition that is centered around converting Republicans has failed Democrats in the state of Georgia for the last 15 years," Abrams recently told The New York Times.
Repeating the same thing but expecting a different result is madness. Democrats need to build a coalition based on the Georgia we have today, one that has increasingly grown more diverse since that 2002 sea change.
Georgia Democratic Party Chair Dubose Porter laid out the calculus of the state's political landscape in a January 2018 op-ed in The Hill. Reflecting on Doug Jones' win in Alabama, he wrote that "Georgia Democrats can count on a reliable 23 percent of that white vote, even in tough years."
"While Alabama's African American electorate is roughly a quarter of the population," Porter continued, "Georgia's is more than 40 percent and a coalition of African American, Latino, Asian American and Pacific Islander voters comprise 45 percent of our electorate, and is rising."
At a recent meeting, a candidate from a rural county in north Georgia remarked that Republicans in some districts have run unopposed, so voters had no options. Abrams made sure to dedicate staff to engaging in communities where Democratic leaders are scarcely found. She launched her campaign in Albany, signaling to voters she was focused on all of Georgia and not just Atlanta.
At the same time, even though some reports show support for Trump may be "eroding" in the South, relying on Trump being awful is not enough to bring out the voters necessary to win in the state. Abrams' support for Medicare expansion, criminal justice reform, transportation access and public education are clear, popular policies and are reinforced by strong down-ballot candidates across the state. Recent wins by Sheikh Rahman, a state Senate candidate, and Lisa Ring, a candidate for Georgia's 1st Congressional District, are further examples of how this sort of campaign can win.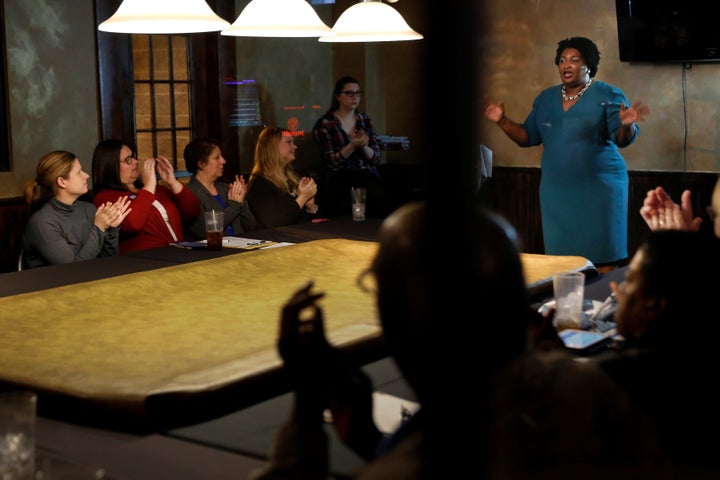 Democratic turnout increased approximately 40 percent from the last contested gubernatorial primary, in 2010. This increase in turnout occurred despite the loss of 241 precincts in Georgia since 2010, a direct result of the Supreme Court's destruction of the Voting Rights Act in Shelby County v. Holder. (In the 2010 primary, there were 2,860 precincts and in 2018 there were only 2,619).
Democrats can no longer afford to simply turn up in particular communities before an election. We live in a post-Shelby world, and the attacks on access to the ballot along with efforts to gerrymander our influence away are on the rise. In addition to embracing bold plans, Abrams is generating the enthusiasm and sense of buy-in necessary to take the governor's mansion back in November.
Expanding the electorate is more than just a witty phrase. Across the board, people want leaders who do more than focus on a single issue, but embrace a comprehensive strategy that addresses the issues affecting our abilities to have successful, thriving communities. A major critique of the Evans campaign was her singular focus on the HOPE scholarship, a merit-based scholarship program available to students with a 3.0 grade point average or above. She tied everything back to HOPE and at times seemed unable to engage on other policy concerns or critiques. Further, her comments referring to the Abrams strategy as "unrealistic" and "unhealthy for democracy" show a clear inability to envision the coalition necessary to win.
Abrams' strategy blows apart the false choice Democrats have made in prior election cycles of choosing between pursuing moderate Republicans or investing in the existing base of voters. Abrams is focused on engaging a multiracial coalition of voters across the state, reflective of the actual voter demographics that make up the Democratic portion of the Georgia electorate. Abrams' support also challenges notions of electability of black candidates. The claim that Evans was "more electable" in a general election, despite losing by double digits in primary polls, was never explained and treated as a given. Abrams is growing the coalition with each passing day and was polling within 5 points of Republican front-runner Casey Cagle even before the primary.
Some may argue that mobilization of first-time voters is difficult and expensive. But it is a needed investment to overcome the conservative stranglehold over many red states. At the very least, it is clear that Democrats need strong candidates, staff and volunteers engaging voters across the country about issues that matter.
Change, like success, is not a destination, it is a journey. Whether a blue wave will sweep across the state in November is yet to be seen. If the goal is to win, we need to look at the landscape with fresh eyes and open to new strategies and possibilities. Just as voting for the first black president was normalized for America, so shall supporting a black woman for governor.
Anoa Changa is an activist and attorney in Atlanta. She hosts "The Way With Anoa" podcast and is co-managing editor of The Progressive Army Blog.
Popular in the Community