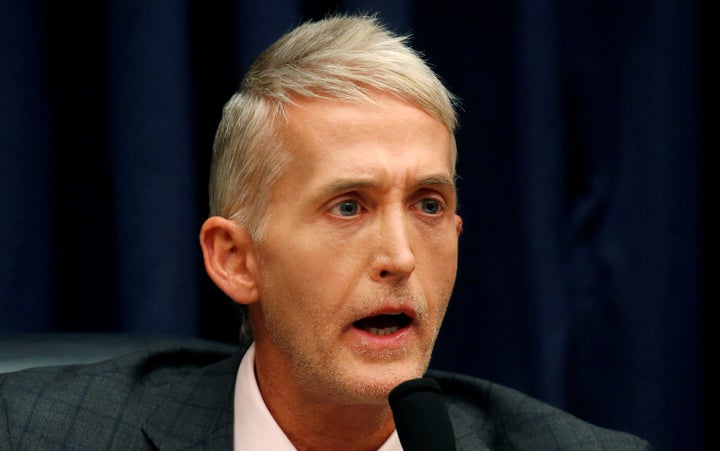 Rep. Will Hurd (R-Texas), a former CIA operative, wrote in The New York Times: "As a member of the House Oversight and Government Reform Committee, I strongly believe in the importance of Congress's oversight responsibilities and will work with my colleagues to ensure that the administration is taking the Russian threat seriously. Without action, we risk losing further credibility in international negotiations with both our friends and foes."
Similarly, Rep. Trey Gowdy (R-S.C.), the chairman of the oversight committee, said on Fox News Sunday that evidence of Russia's attack on the U.S. is overwhelming and that Trump "needs to say that and act like it."
And yet, for all their rhetoric, Politico reports that "senior-level Republican aides and lawmakers" are asking the question, "WHAT THE HELL DO YOU WANT US TO DO?"
With their actions, however, congressional Republicans have proven time and again that the issue isn't a lack of ideas on what to do, but rather an outright refusal to take those actions when given the opportunity. The idea that Republicans in Congress are powerless to act as a check and balance to Trump's dangerous foreign policy is a lie.
The fact is, it took oversight committee Republicans more than a year and a half to hold one hearing about Russian interference in the U.S. election.
Their words are meaningless. Their criticisms of Trump are clearly just for show.
It was just two weeks ago that the Director of National Intelligence Dan Coats sounded the alarm, saying, "We are at a critical point...it was in the months prior to September 2001 when, according to then-CIA Director George Tenet, the system is blinking red. And here we are nearly two decades later, and I'm here to say, the warning lights are blinking red again."
Given their remarks after Trump's performance in Helsinki, you would think that Gowdy and Hurd would be interested in hearing what Coats has to say on the matter. Yet when Democrats moved to have Coats testify before the committee, the Republicans blocked them.
This wasn't an isolated incident.
For the past year, Republicans like Gowdy and Hurd have voted to block all motions and subpoenas related to Russia's interference with U.S. elections and the Trump campaign's potential collusion and cooperation with those attacks.
Congressional Republicans have blocked oversight committee Democrats' subpoena requests to the following entities: to the Department of Homeland Security for documents related to Russian attacks against states before the election; to Steve Bannon to testify on his actions before, during and after the election; to the Trump Organization for documents on foreign payments; to data firms for documents related to their foreign contacts during the election; to Cambridge Analytica for documents related to foreign employees' participation in U.S. elections and to the White House for documents related to former national security adviser Michael Flynn's foreign contacts.
Ranking Member Elijah Cummings (D-Md.) wrote in response to Hurd's op-ed, "I agree with every syllable Chairman Hurd wrote … but it would be much more powerful with action to back it up … We don't need talk. We need action."
Congressional Republicans have shown the American people where they stand. Their words are meaningless. Their criticisms of Trump are clearly just for show. They have refused to exercise their constitutional responsibilities to conduct oversight on behalf of the American people. If Trump is guilty of treason, then make no mistake: Congressional Republicans are complicit.
Kurt Bardella is a HuffPost columnist. He served as a spokesperson and senior adviser for the House Oversight and Government Reform Committee from 2009-2013. Follow him on Twitter: @kurtbardella
Calling all HuffPost superfans!
Sign up for membership to become a founding member and help shape HuffPost's next chapter