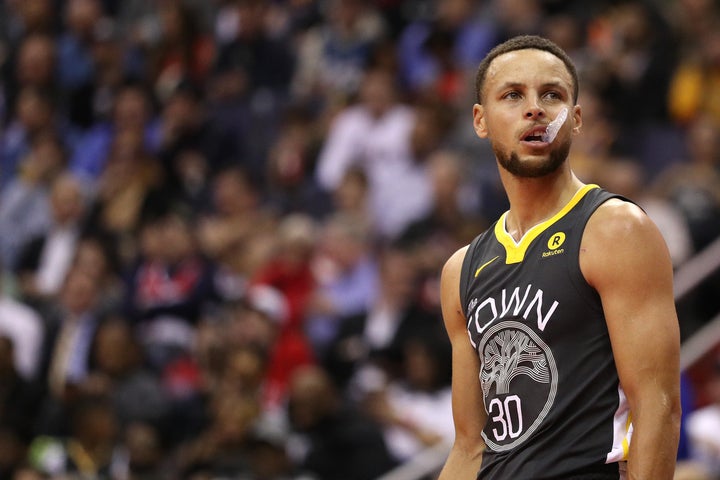 Accepting his Oscar for Best Animated Short Film, the NBA and Los Angeles Lakers legend Kobe Bryant remarked with a chuckle, "as basketball players, we're really supposed to just shut up and dribble, but I'm glad we do a little bit more than that."
He may have retired from basketball, but the "Black Mamba" is still taking shots.
Bryant's jab was a reference to Fox News host Laura Ingraham's infamous comment directed at NBA stars LeBron James and Kevin Durant. During an ESPN interview with Durant, James criticized President Donald Trump's effect on race relations in America and called his comments "laughable and scary." Ingraham responded by instructing the athletes to "keep the political comments to yourselves… shut up and dribble."
Sports have always been political, and Ingraham's remarks were an example of how politics and sports have collided in the age of Trump.
Recently, I had the opportunity to observe another example up close. After the Golden State Warriors won the NBA Finals last summer, the team decided not to participate in the traditional White House visit, citing Trump's divisive rhetoric and actions. In typical Trump fashion, the president of the United States lashed out and rescinded the Warriors' invitation.
Last week, the Warriors played the Washington Wizards in D.C., and instead of visiting the White House, the team spent the day with local Washington students and toured the National Museum of African American History and Culture.
I had the opportunity to spend some time with the team before their game, and it was clear their day at the museum with these kids had made a significant impression on them.
Head coach Steve Kerr called the day "a reminder of how powerful sports can be and how transformative sports can be for change. [The Warriors] understand their impact on communities. They understand their impact on individual connection with people."
"The Warriors could have treated the day like any other road game, but they weren't going to let Trump win or have the last word. They were going to beat him at his own game."
The Warriors could have treated the day like any other road game. They didn't have to come in early to spend time with these kids, but they were determined to use their platform to send a positive message and do some good. They weren't going to let Trump win or have the last word. They were going to beat him at his own game.
Asked about being targeted by the president on Twitter, Warriors star Steph Curry embraced a message of unity and positivity. "The conversation around how sports is kind of mingling in, not just with politics, but just change in society," he said. "Everybody has a voice, and you come to the arena tonight and you'll see people from all walks of life, all different backgrounds, enjoying entertainment and sports on the court, but it brings people together, and I think that's how it's manifested itself in this whole conversation."
I asked Durant what it's like to live at a time when the president of the United States can interject himself into your world with a single tweet to attempt to derail your day. His response illustrated a perspective that Trump or Ingraham simply have no concept of: "Coming from the neighborhoods we come from," Durant said, "you see a lot of stuff that are way worse than a tweet … so you just keep trucking, keep believing in yourself."
Many of these athletes have overcome hardships most of us can't even imagine. Yet faced with a confrontation with the president of the United States that they neither expected nor invited, these men haven't responded in kind. They have every right to be angry, but have exercised restraint and maturity. It is a powerful contrast to how Trump conducts himself day in and day out.
The president has the opportunity to affect more lives in a single day than many of us do in a lifetime. He has a microphone like no other at his disposal. He uses it daily to spread division, chaos and hate. Curry made a very astute observation about the Trump effect: "Rhetoric and hate and kind of just general disdain from the top ― trying to be divisive has had the opposite reaction. Like we always say, just spread love and positivity ― that's been the biggest thing I've noticed in the last year, and that's healthy, and I think that's what we're all trying to accomplish."
Now more than ever, we need politics to collide with sports. We need role models like Curry, Durant and James speaking out. Athletes can inspire people as much off the court as they do on it. Trump, meanwhile, can stick to giving nicknames to members of Congress ― because these guys are way out of his league.
Kurt Bardella is a former spokesman for Reps. Brian Bilbray (R-Calif.), Darrell Issa (R-Calif.), Sen. Olympia Snowe (R-Maine) and the House Oversight and Government Reform Committee.
Popular in the Community