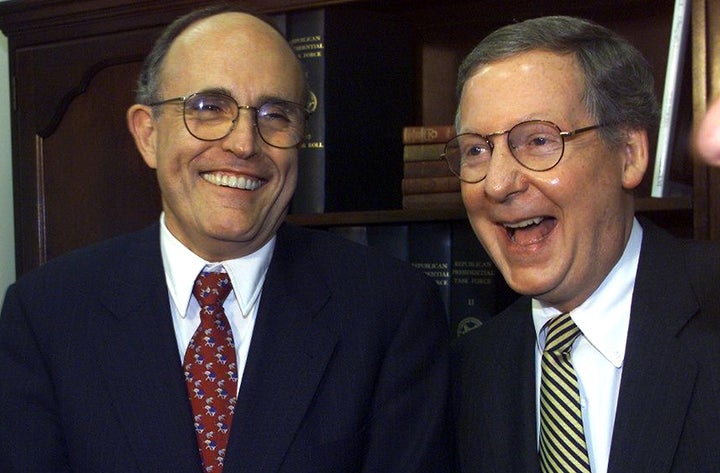 The chief law officer of the land, whose oath of office calls on him to preserve, protect and defend the Constitution, crossed the line and failed to protect the law, and, in fact, attacked the law and the rights of a fellow citizen. Under our Constitution, such acts are high crimes and equal justice requires that he forfeit his office.
Sessions wasn't alone in his belief that obstruction of justice was an impeachable offense. More than 40 Republicans who currently serve in Congress voted to impeach or remove Clinton, including Senate Majority Leader Mitch McConnell, Senate Judiciary Committee Chairman Chuck Grassley, Senate intelligence committee Chairman Richard Burr, Sen. Roy Blunt, House Judiciary Committee Chairman Bob Goodlatte, House Committee on Foreign Affairs Chairman Ed Royce and Rep. Dana Rohrabacher.
At the time, McConnell directly said, "We must decide whether perjury or obstruction of justice are high crimes and misdemeanors. Based on the Constitution, the law, and the clear Senate precedents, I conclude that these offenses are high crimes and misdemeanors."
That brings us to this past Monday when President Donald Trump's lawyer Rudy Giuliani declared on national television that "collusion is not a crime." This is the same legal team that has insisted that it is not possible for the president to have obstructed justice.
In case anyone thought Giuliani was speaking out of turn, the president, channeling his inner-Richard Nixon, doubled down on the rhetoric the following day, tweeting, "Collusion is not a crime, but that doesn't matter because there was No Collusion..."
To date, the investigation being conducted by special counsel Robert Mueller has yielded 187 criminal charges in active indictments; another 23 counts against former Trump deputy campaign manager Rick Gates that were vacated in exchange for his cooperation; and six guilty pleas from five defendants, three of whom worked directly for or as advisers to the Trump campaign.
That's a lot of charges and guilty pleas from an investigation the president keeps calling a "witch hunt." And yet, on Wednesday, the president sounded off again on Twitter, this time seemingly begging Attorney General Jeff Sessions ― the same Jeff Sessions who in 1999 railed against Clinton's "continuous pattern to lie and obstruct justice" ― to "stop this Rigged Witch Hunt right now, before it continues to stain our country any further."
Trump's outbursts seemingly stem from reports that Mueller wants to ask the president specifically about obstruction of justice.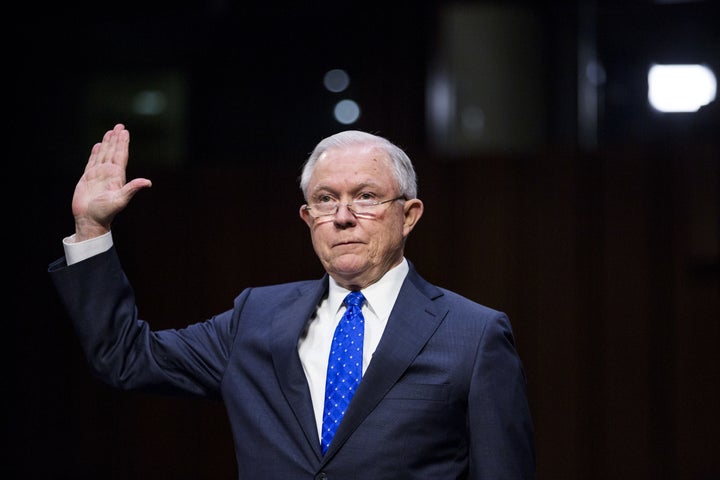 It's not an accident that all of this is unfolding at the same exact time that Trump has ratcheted up his attacks against the free press. On Tuesday, Trump tweeted, "The Fake News Media is going CRAZY! They are totally unhinged…" That same night at a Trump campaign rally in Tampa, the media, specifically CNN's Jim Acosta, was the target of taunts, chants and attacks from the crowd. Trump even tweeted out a video of his supporters jeering Acosta.
Trump's assault on the free press is a deliberate attempt to discredit the messenger and thereby inoculate himself from the Mueller investigation. If Mueller finds that Trump committed obstruction of justice or collusion, the media will obviously report it. At that point, Trump is banking on having eroded the American people's, or at least his devout base's, trust in the media so much that when the bad news comes, they simply won't believe it.
The true test, however, will fall on Republicans in Congress – especially those who voted to impeach Clinton and spoke passionately and directly about obstruction of justice.
[The president's] decisions have led the United States Senate to its own critical crossroads. And now we must choose our path. We can do the right thing. Or we can lower our standards and allow [the president] to cling to public office ― regardless of the consequences to our nation, to our system of justice, and to our future generations...

So what will we do this day? Will we rise above or will we sink below? Will we condone this president's conduct or will we condemn it? Will we change our standards or will we change our president?
Kurt Bardella is a HuffPost columnist. He is a former spokesman and senior adviser for former House Oversight and Government Reform Committee Chairman Darrell Issa (R-Calif.), Sen. Olympia Snowe (R-Maine), Rep. Brian Bilbray (R-Calif.) and Breitbart News. Follow him on Twitter: @kurtbardella
Popular in the Community