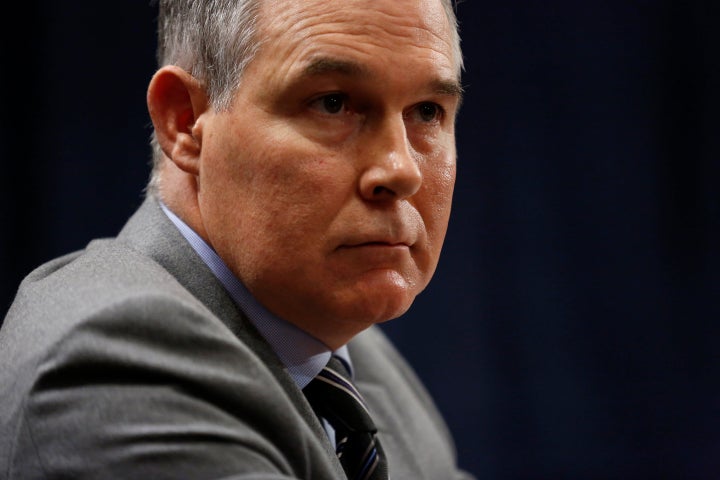 Earlier this month, Environmental Protection Agency Administrator Scott Pruitt denied having any conflicts of interest with Steven Hart, the lobbyist who's home he has been renting a room in for the generous rate of $50 a day. "Mr. Hart has no client that has business before this agency," Pruitt said.
But when taxpayers aren't picking up the bill, Pruitt has flown coach multiple times, even though he is still accompanied by security on those trips.
And now, according to a letter from Congressional Democrats to House oversight committee chair Trey Gowdy that was made public Monday, new documents provided to Congress seem to show how Pruitt's explanations for his so-called sophisticated surveillance precautions don't hold water.
We are far beyond the point where we should be giving Administrator Pruitt the benefit of the doubt.
We learned last week that the Government Accountability Office concluded that the installation of a $43,000 soundproof privacy booth in Pruitt's office violated two laws related to federal government spending and disclosure to Congress.
The EPA's explanation was that the booth "not only enables the administrator to make and receive phone calls to discuss sensitive information, but it also enables him to use this area to make and receive classified telephone calls (up to the top secret level) for the purpose of conducting agency business."
First, it's not even worth pretending that the head of the EPA is having abundant top-secret conversations with the White House.
In the bicameral letter, House and Senate Democrats point out, "Even if the phone booth itself is authorized to receive top secret communications, that would mean classified information is being received in an otherwise not-secured location, preventing the Administrator from discussing it with any other cleared person."
The EPA already has not one, but two Sensitive Compartmented Information Facilities (SCIFs) in its headquarters which are cleared to receive top secret communications.
In other words, Scott Pruitt places so little value on taxpayer money that he's willing to spend $43,000 so that he doesn't have to leave his office to make or receive an occasional phone call ―  even though he would have to leave his office and go to a secured location if he wanted to discuss or take any action on the contents of those calls.
And it's not the only detail about Pruitt's spending on enhanced security measures that has been called into question.
The new documents described in the Democrats' letter also raise legitimate doubts about EPA Senior Special Agent Pasquale "Nino" Perrotta, who is in charge of Pruitt's security detail.
Around March 3, 2017, an electronic sweep of Pruitt's office was conducted under a contract awarded to Edwin Steinmetz, Perrotta's business partner.
How convenient that Perrotta's business partner was awarded a contract to do what he was explicitly told the National Security Council is responsible for doing.
Even worse, the EPA's own Office of Homeland Security determined that Steinmetz's sweep was "very basic and cursory" and "did not employ the equipment, proper certification, or necessary processes to be approved by the USG for certifying a USG facility or space for classified information systems or classified discussion."
These new facts raise a number of very consequential questions for Pruitt. Why were taxpayer dollars used in such an irregular way? Why is it necessary for him to take such extreme and expensive measures in order to keep communications in his office private? Why did the person in charge of his security give a government contract to someone with whom he is in business? Why did the EPA pay for a security sweep that wasn't conducted with the proper equipment or certification? And why are so many of the people who have asked these questions no longer working for EPA?
We are far beyond the point where we should be giving Pruitt the benefit of the doubt. He has presided over the reckless and illegal spending of taxpayer dollars. He is the walking definition of waste, fraud, abuse and mismanagement. He is either a liar or grossly incompetent. There are no other options.
It's time for President Donald Trump to take responsibility for his own cabinet and dismiss Pruitt.
Kurt Bardella is a HuffPost columnist. He is a former spokesman and senior adviser for former House Oversight and Government Reform Committee Chairman Darrell Issa (R-Calif.). Follow him on Twitter at @kurtbardella.
Calling all HuffPost superfans!
Sign up for membership to become a founding member and help shape HuffPost's next chapter