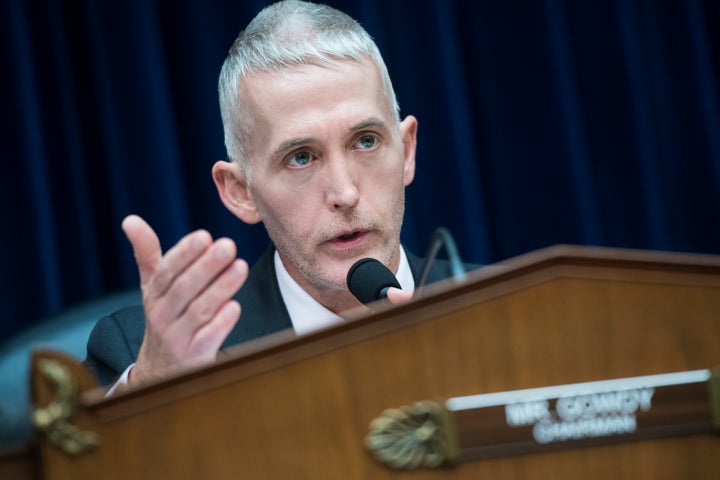 Life in the Donald Trump presidency can feel like dog years. Every week, we are bombarded with developments and unprecedented actions that are almost impossible to keep track of. The urgent tends to crowd out the important.
In recent days, the president has led attacks against the media, his own Justice Department, the FBI, special counsel Robert Mueller's investigation, former Director of National Intelligence James Clapper, former CIA Director John Brennan, Sen. Bob Casey and Amazon's Jeff Bezos. That's not even taking into account other developments this week, like Trump calling off the June 12 summit with North Korea, revelations that Trump lawyer Michael Cohen was secretly paid $400,000 by Ukrainians, Cohen's business partner agreeing to cooperate with investigators as part of a plea deal and congressional Republicans melting-down over immigration.
With all this unfolding in a matter of days, it's understandable that people might have missed what happened at the House Oversight Committee when John M. Gore, the acting head of the Department of Justice's civil rights division, appeared before it.
Back in March, the Trump administration made the unprecedented announcement that for the first time in 70 years, the 2020 census would include a question about citizenship status. As confirmed by Trump's first choice to be census director, Tom Brunnell, the decision was a "political" one having nothing to do with ensuring an accurate counting of numbers but rather a mechanism to suppress minorities and immigrants.
The census may be a coma-inducing subject on the surface ― what could be more boring than the process of counting everyone who lives in the U.S. ― but there's a reason why there is a section in the Constitution devoted to it. A great many matters are determined by this count, including the number of congressional districts, what district you are in and how federal funding is allocated.
A change in how we conduct the census can have significant consequences that can be felt for decades. Given what's at stake, the American people have a fundamental right to know how this decision was made, who was a part of it and what are the long-term implications of executing it.
When asked a series of questions by the panel's ranking Democrat, Rep. Elijah Cummings of Maryland, including whether Gore communicated with Attorney General Jeff Sessions or others about inserting the new citizenship questions, he refused to answer. Mind you, Gore was a witness who was invited by Republican Chairman Trey Gowdy of South Carolina. In fact, the hearing was initially scheduled for May 8 but Gore refused to appear. Democrats on the panel wanted to issue a subpoena motion, but Gowdy assured them that Gore would appear and answer questions and directly said that he would be "happy to issue a subpoena" if Gore didn't want to answer questions.
Given what's at stake, the American people have a fundamental right to know how this decision was made, who was a part of it and what are the long-term implications of executing it.
With Gore stonewalling, Rep. Carolyn Maloney (D-N.Y.) moved to subpoena him to answer those questions. Republicans immediately moved to table the motion and block it, with Gowdy saying, "I cannot make that witness talk. If you can get Jack Bauer to come preside over this hearing, then perhaps he could, but I cannot make someone talk or produce documents." (Gowdy referred to the fictional main character of the TV series 24.)
I worked at the Oversight Committee for four years and I can tell you with 100-percent certainty that Gowdy does have the ability and authority to compel a witness to appear, talk and produce documents. The chairman of this panel has unilateral subpoena and deposition authority. When I worked at the committee, the then-Republican chairman issued more than 100 subpoenas to the Obama administration. Gowdy as chairman has issued a total of zero to the Trump administration.
It's clear that Gowdy has zero interest in doing his job or carrying out the committee's purported mission. As pointed out recently by the Project for Government Oversight (POGO), the chairman has publicly stated that he believes "Congress has proven itself incapable of conducting serious investigations…"  
To state the obvious: Yes, It's near impossible to conduct a serious investigation if the Oversight chairman is not even willing to use his authority to compel witnesses to answer questions.
The only logical conclusion to make here is that Gowdy and his fellow Republicans do not want the public to get answers about the census citizenship question and how it really came to be. Doing so would expose the Trump administration's plans to manipulate the count to silence the voices and votes of minorities and immigrants, an action that could have a far more consequential impact on our democracy than anything Russia did in 2016.
If Gowdy is not willing to do the job required of him in this position, he needs to resign and allow a member who is prepared to conduct independent oversight take the gavel.


Kurt Bardella is a HuffPost columnist. He is a former spokesman and senior adviser for former House Oversight and Government Reform Committee Chairman Darrell Issa (R-Calif.). Follow him on Twitter at @kurtbardella.
REAL LIFE. REAL NEWS. REAL VOICES.
Help us tell more of the stories that matter from voices that too often remain unheard.