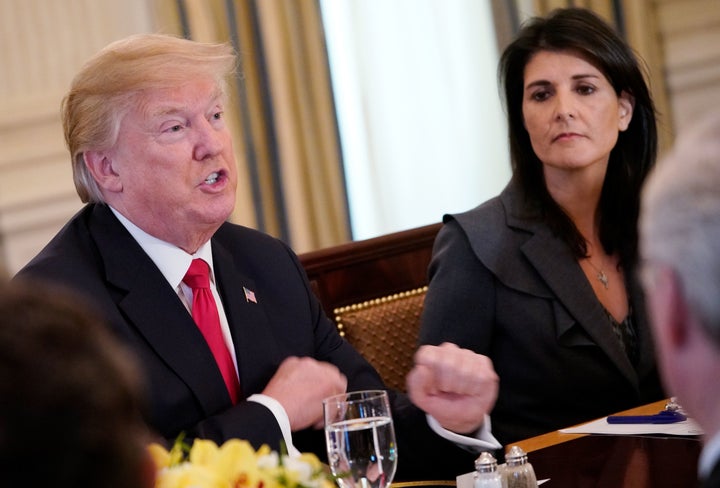 President Donald Trump said Wednesday he would authorize additional sanctions against Russia "as soon as they very much deserve it."
Does anybody know what that even means?
Have you ever heard of the "good cop-bad cop" routine? That sums up Trump's approach to Putin and Russia.
The week began with U.S. ambassador to the United Nations Nikki Haley declaring on national television that "you will see the Russian sanctions will be coming down. Secretary Mnuchin will be announcing those on Monday if he hasn't already."
It's hard to believe that Haley, one of the most important voices on the global stage, would make such a definitive policy statement without receiving a clear message from the president and the White House that sanctions were indeed imminent.
Yet there was the president's favorite new toy, National Economic Council Chairman Larry Kudlow, appearing on national television only two days later to contradict Haley's announcement. Again, it's unlikely that Kudlow would make such a public contradiction without having consulted Trump first. Even more remarkably, Kudlow suggested that Haley was "confused" when she signaled the sanctions.
If you're wondering, those are tire tracks on Nikki Haley's back courtesy of Trump's favorite talking head-turned White House counselor driving the bus over her, backing up, and doing it again.
Kudlow, with Trump's blessing, has taken a megaphone and declared our ambassador to the United Nations no longer speaks competently for the United States. It doesn't matter that Kudlow reportedly apologized after the fact to Haley for his attack. The damage has been done.
The reality that both Trump's own advisers and the world must accept is that there is no coherent foreign policy or strategy guiding Trump's approach to Russia.
In the wake of devastating chemical attacks in Syria, Trump tweeted, "President Putin, Russia and Iran are responsible for backing Animal Assad. Big price to pay... "
You would think that, given the president's decision to launch a massive round of airstrikes against Assad as punishment for those chemical attacks, Russia's role effectively aiding in the deployment of chemical weapons would be enough to "very much deserve" sanctions.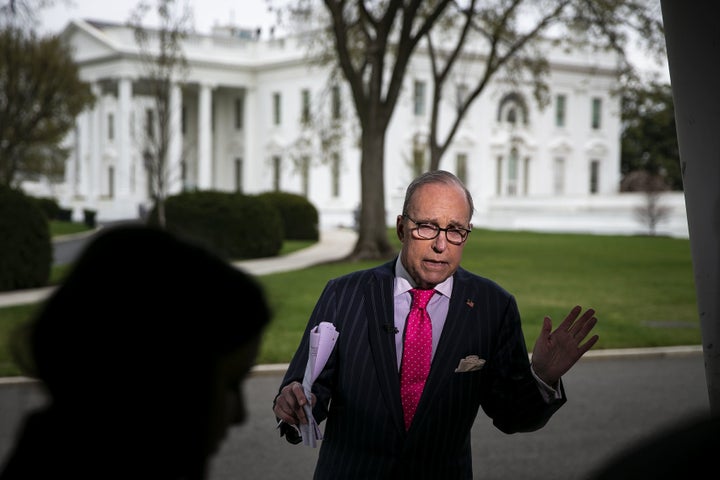 In the same breath, Trump played good cop by complaining that "our relationship with Russia is worse now than it has ever been, and that includes the Cold War. There is no reason for this. Russia needs us to help with their economy, something that would be very easy to do and we need all nations to work together. Stop the arms race?"
On one hand, big, bad Trump says there is a "big price to pay" for aligning with Assad. On the other, he is practically begging Putin to "stop the arms race" and offering to help rebuild their economy. He even went as far as to blame "the bad blood with Russia" on the "Fake & Corrupt Russia Investigation..."
On Monday, Trump returned to the role of "bad cop," tweeting "Russia and China are playing the Currency Devaluation game as the U.S. keeps raising interest rates. Not acceptable!"
But as the week progressed and Trump's team went to work undermining Haley, it was clear that the president had decided Russia and Putin had not yet met the threshold for deserving sanctions. When push comes to shove, Trump will do the least amount possible to hold Russia accountable. He will talk a big game. He will pretend to play the "bad cop." But, ultimately, his actions will underwhelm when compared with his rhetoric.
Whether it's Putin's irrefutable efforts to interfere in our democratic process or his ongoing support of a bloodthirsty tyrant, Trump has made it very clear that the United States has no intention of taking any meaningful measure that would give Putin any pause.
As long as Trump remains in office, Vladimir Putin has nothing to fear from the United States.
Kurt Bardella is a HuffPost columnist. He is a former spokesman and senior adviser for former House Oversight and Government Reform Committee Chairman Darrell Issa (R-Calif.). Follow him on Twitter at @kurtbardella.
Calling all HuffPost superfans!
Sign up for membership to become a founding member and help shape HuffPost's next chapter