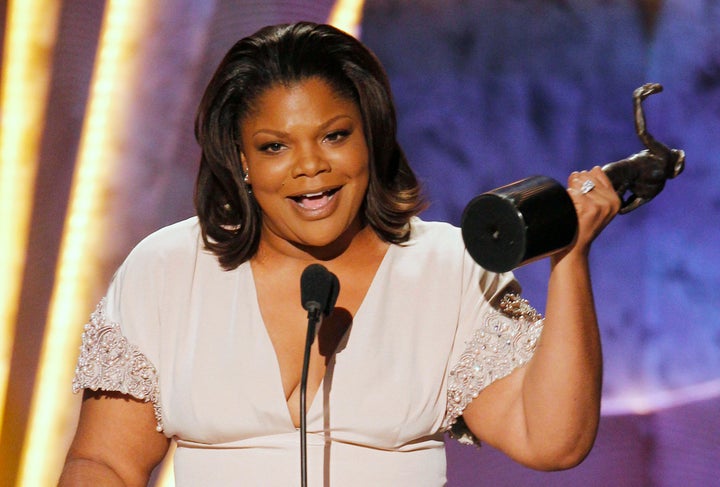 Five to seven days a week, I walk into rooms with my head down, fumbling through the pages of my notebook, trying to make sure my phone has enough charge to record what I am about to say before I step onto a stage with a spotlight in my face and single mic stand in front of me. This is my life's passion: To be a professional stand-up comic, to be able to share my stories with people and to make them laugh. When people see me ― middle-brown, fat, femme presenting ― they have often likened my comedy to that of Mo'Nique, the Oscar-winning, Queen Of Comedy from Maryland, to which most fat, black girl comedy is compared.
Certainly, as an up-and-coming comic in the beginning of my career, there could be worse comparisons. Mo'Nique's resume is legendary, and she bulldozed the way for funny black girls like me. However, after the former "The Parkers" star asked that we (specifically people of color) boycott Netflix because the streaming service reportedly offered her a only $500,000 for a comedy special, my immediate thought was, "I'm not doing that. Doesn't she know "Luke Cage" has a second season coming?!" According to Mo, she feels she is being discriminated against by Netflix on the basis of gender and race, because it has handed out multi-million dollar deals to some of the other famous comedians (namely Chris Rock, Dave Chappelle and Amy Schumer), while she was offered much, much less.
"Paying black women less than a man or a white woman to do the the same job is as American as apple pie."
To some, Mo'nique is not a shining example of wage inequality in the realm of comedy. There are way too many factors to counter why she, specifically, was offered the $500K, and why that may have been on the mark. She has fewer than a million followers on all her social media platforms combined, lessening her social capital bargaining chip. She has no widely accepted crossover stand-up, and by herself, she has not sold out a major, large seated venue. She also has a reputation for being difficult to work with. It's hard for people to rally behind her idea that she deserves double-digit millions for a comedy special.
However, we do not need her to be perfect to say that she is correct about systematic inequality. After fellow comedian Wanda Sykes came out in support of her, pointing to the $250,000 Netflix offered her, we can see what the company thinks about black woman comics and their artistic worth. And Netflix isn't alone in failing to see value in black women.
Paying black women less than a man or a white woman to do the the same job is as American as apple pie with that nasty, yellow cheese on top. Golden Globe-winning Tracee Ellis Ross and Oscar-nominated Taraji P. Henson have been making high-grossing content in Hollywood for a long time. Yet both have come forward with accusations of pay disparities compared with their male and white co-stars.
"I need black, fat, differently abled, queer, ALL women to get paid their artistic worth."
The entertainment industry continuously fails to see the value in black entertainers and their black audiences. The film "Girls Trip" grossed a record-breaking $140 million in 2017, thanks largely to theaters packed with black women anxious to see themselves and their humor represented on screen. Yet the film and its breakout star, comedian Tiffany Haddish, was snubbed this awards season. Her co-star, actress Jada Pinkett Smith, was very vocal about her belief that Hollywood systematically shuts out women of color.
Championing other black actresses and their causes, amplifying their voices, validating their concerns, holding space for them and giving them what's theirs is something we should all do. Indeed, Mo'Nique used her identity as a fat, black femme to champion other black women and became a big star. Some would say that star is no longer as bright as it used to be in the industry. Fair enough, but the worth of someone's art should not decrease so much so that their pay gap is so wide we could march an inclusive women's protest right through it.
I need black, fat, differently abled, queer, natural, relaxed, Christian, atheist, ALL women to get paid their artistic worth. I need them to be able to negotiate the deals that Hollywood is clearly able to pay them, and to be able to live off the fruits of their hard labor. All the funny black, fat, femmes of the future will be thankful for this current dialogue, and having doors opened for us so we can create our own paths and cultivate the kind of legacy that will allow us to demand our proper pay when it's our turn.
Liz Barlow is a stand-up comic, actress and writer from Virginia.
Related