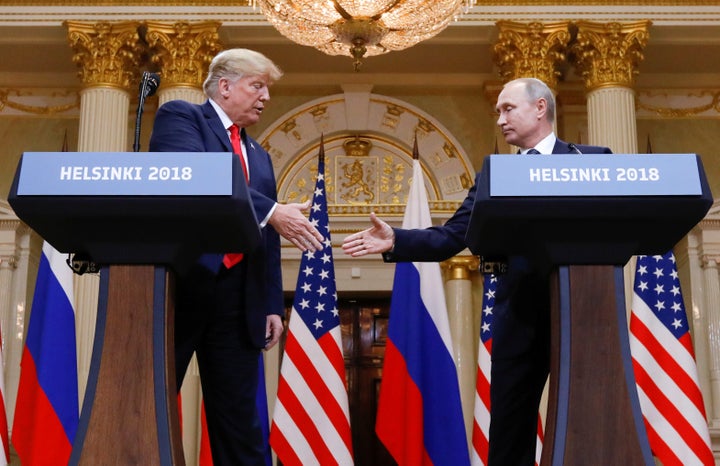 Another day, another article about how Trump voters still support Trump.
In Helsinki this week, President Donald Trump refused to criticize Russian President Vladimir Putin for election tampering, condemned his own intelligence services and incoherently rambled (yet again) about defeating Democratic rival Hillary Clinton.
The performance was seen by most pundits and political commentators as an embarrassing disaster. But "at a bar in central Pennsylvania, voters wondered if election meddling was really so terrible," Matt Flegenheimer reported in The New York Times. Conservatives love Trump; they will never abandon him, stories like that in the Times suggest. Trump is something different, a new political phenomenon: the first president in history who is immune to scandal and voter anger.
These kinds of articles make Trump look invulnerable, which makes him more difficult to resist. Instead, we need coverage that emphasizes Trump's real unpopularity and weakness. Opposition to Trump, even among Republicans, matters — and acknowledging that it matters is important if Trump and his agenda are going to be defeated.
"These kinds of articles make Trump look invulnerable, which makes him more difficult to resist."
Acknowledging the importance of Republican Trump criticism can be understandably difficult for people on the left, since that criticism has generally stopped short of action. Sen. Bob Corker (R-Tenn.) has criticized Trump for his policies on tariffs; House Speaker Paul Ryan (R-Wis.) has criticized Trump for his nightmarish policy of separating children from their parents at the border; Sen. Jeff Flake of Arizona said in May, "Our presidency has been debased." But neither Corker, nor Ryan, nor Flake nor mavericky Sen. John McCain has moved to, for example, push through legislation protecting special counsel Robert Mueller's probe, or to force the release of Trump's tax returns, which might expose his financial ties to Russia. As Vox editor Matthew Yglesias wrote on Twitter, "The question isn't what McCain, Flake, and Corker will say it's what will they do and the answer is 'nothing.'"
Yglesias and others are especially reluctant to praise what Republicans say because the press seems so eager to whitewash the GOP's moral culpability. Take Tuesday's Axios piece, in which various Trump officials and administration alumni express horror at Trump from behind the cover of anonymity. "Need a shower," one former White House official texted to the reporters — but that desire for coming clean doesn't extend to criticizing Trump in public. The anonymous showerer gets to claim to be a good and serious person while still default supporting evil and dangerous policies.
The obsession with validating Republican moral stature is also at the heart of another Trump analysis genre: the "This is it″ story. After this transgression, after crossing this red line, pundits assure us, Trump will finally be done in. "This really is the end of Donald Trump," the Independent declared confidently after the "grab 'em by the pussy" tape. "Time for Republicans to Leap from the Boat," David Frum said hopefully, following the both-sides-ing of neo-Nazis in Charlottesville, Virginia. And after Helsinki, The New York Times quoted Corker in its headline: "The Dam Has Broken."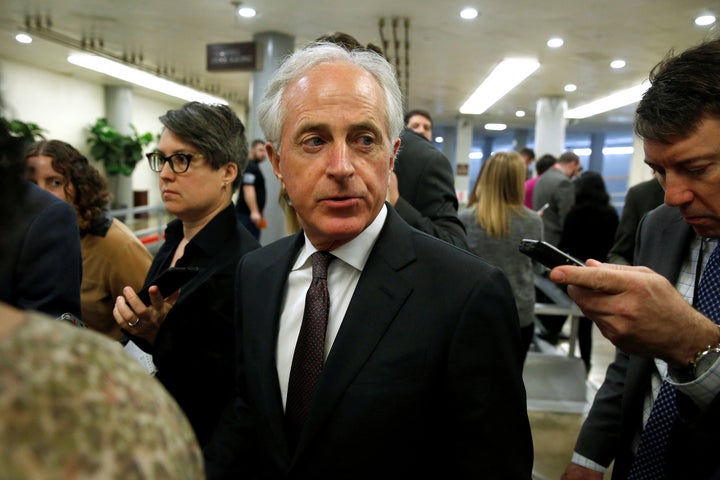 These triumphant proclamations don't finish Trump off; if anything, they add to his aura of undefeatability. After all, if bragging about sexual assault, praising neo-Nazis and siding with Putin over his own intelligence agencies won't stop Trump, what will?
The press, then, loves to present a populace that will never abandon Trump and a GOP forever about to find a spine and denounce the interloper. The left is correct to scoff at this wishful thinking — but the alternative narrative shouldn't be, "Trump faces no GOP opposition." That tack simply reiterates the false notion that Trump is invulnerable. Rather, the left would do better to highlight the fact that opposition to Trump from Republicans has been, not courageous, but ongoing — and deceptively effective.
True, Trump won the presidency in an Electoral College victory. But since then, his approval numbers have been dreadful. For the bulk of his presidency, he's been the least popular president in history (as of June 18, Jimmy Carter and Harry Truman had both managed to slip below him, according to FiveThirtyEight). And his disapproval rate is unparalleled; he has been the most disliked president in history on every single day of his term so far.
When Republicans in power criticize Trump in harsh terms, they're reflecting the president's weakness. Unusually large numbers of people hate him, and he is unusually unpopular with Republicans in Congress. It's not normal for a president to come under fire from his own party members as Trump has come under fire from Republican members of Congress. No Democratic senator accused Barack Obama of having "no principles and beliefs."
"When Republicans in power criticize Trump in harsh terms, they're reflecting the president's weakness."
People like Ryan, Flake and Corker aren't just following the country. They're also, to some degree, pushing it along. Conservative senators are, predictably, reluctant to vote against a conservative agenda they agree with.
But some have come out against Trump in other ways. Flake contributed $100 to Democrat Doug Jones' Senate campaign in Alabama last year — a step that is virtually unheard of. Senators never endorse the opposing party in a Senate race, let alone offer them material support. In doing this, Flake was also telling other Republicans that it was acceptable, even admirable, to vote against the president and his preferred Senate nominee, accused child sexual abuser Roy Moore.
Flake's contribution alone didn't tip the balance in the race, of course. But it was important enough, and unusual enough, for Jones to highlight it in a tweet. Jones' successful race benefited from suburban crossover votes in Republican-leaning suburbs; Flake's $100 became a useful part of his message to those voters. Jones didn't stand up and say, "Jeff Flake isn't opposing the president in a meaningful way." Instead, he took the opportunity to show that Republicans were divided. And he won.
The catastrophic GOP loss in deep red Alabama wasn't an aberration. Republicans have struggled in other races, too. The media love a good "Democrats in disarray" narrative, but the fact is, it's Republicans who are feuding about, and disheartened because of, a hateful and hated president. Actions are better than words — but in politics, words do matter.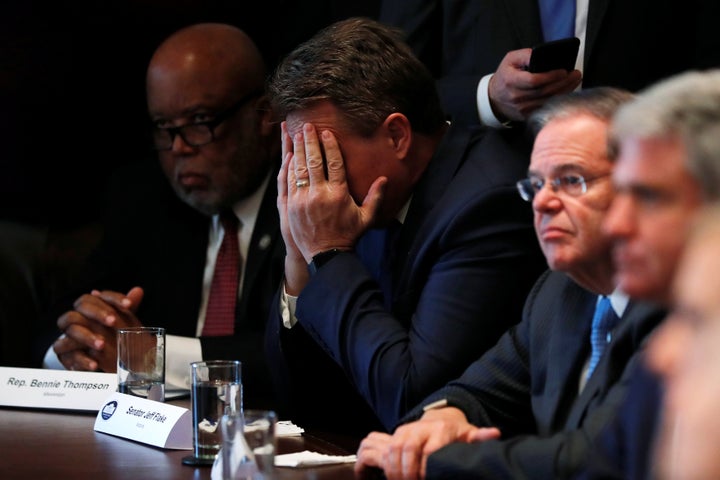 Political science research on presidential approval isn't conclusive, but there's a good bit of evidence that elite signals, and media framing of those signals, affects people's support for the president. In a study of presidential approval, Matthew C. Wossner notes that "in the aftermath of a major political event (such as a scandal), citizens look to elite rhetoric as a barometer of issue importance." Other studies have also identified a correlation between elite opinion and presidential approval. Research in the Trump era is ongoing, and it's possible that the effect is diminished now, but we know that elites have spoken out against Trump in unusual ways and that his approval ratings are unusually low.
Evidence like this led political scientist Jonathan Bernstein last year to urge the left to amplify Republican criticisms of Trump. Members of Congress, political leaders and the media provide partisan cues to the public about what matters, or whether, LOL, nothing does. Democrats and the left can help to erode support for Trump by highlighting Republican criticism, as Doug Jones did.
Of course, the left doesn't need to treat Paul Ryan and his ilk as moral heroes for mouthing vague protests. There's every reason to push Republicans to take action and to mock them when they don't. Public outcry can sometimes shift politicians, but the GOP is not suddenly going to grow a conscience, and we shouldn't pretend that they will.
But neither should we embrace a narrative of Trump's invulnerability. Trump is a weak president, and the reaction to the Helsinki summit demonstrates that weakness. Republican politicians attacking Trump, even if just in words, both reflect the president's low popularity and help to stop it from creeping upward. And that makes Republicans easier to beat at the ballot box.

Noah Berlatsky is the author most recently of Nazi Dreams: Films About Fascism.
Popular in the Community