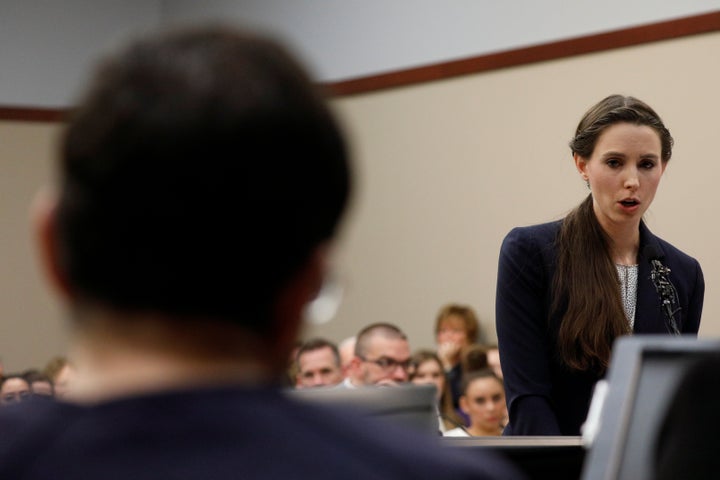 Last month the nation watched, transfixed, as more than a hundred women stood before a Michigan courtroom to describe how Larry Nassar altered their lives with his abuse. They were heard and heeded. The judge listened, the media listened, the world listened, and those girls and women were told that their suffering mattered. Many women who are sexually abused get their day in court, but on a different side of the judge ― when they're defendants in a criminal case. And their abuse, it seems, counts for little.
A staggering number of incarcerated women are victims of childhood sexual abuse. Studies suggest that between 47 and 82 percent of women have endured that crime. Other studies say 94 percent of incarcerated women have been victimized sexually, some as children, others as adults.
Because women have long been lumped in with male prisoners in correctional and prosecutorial planning for years, it's only recently that researchers culled data that show what's really happening to incarcerated women. Last year, the Prison Policy Initiative painted the first landscape of female incarceration. What they found was disturbing.
Jail, as opposed to prison, has become a correctional catch basin for women: Sixty percent of women in jail are unsentenced, left behind bars because they are unable to afford bond. The remaining 40 percent of female jail detainees are sentenced but have not been moved to a prison because they are low-risk inmates. In 2016, the Vera Institute of Justice conducted surveys of that jail population and found that 86 percent of them reported being sexually violated before being incarcerated.
The United States has made a practice of locking up victims.
In other words, the United States has made a practice of locking up victims. The blame for that practice can be laid at the feet of the burgeoning opioid crisis; the war on drugs, which has a disparate effect on women; and our widespread insistence on ignoring girls when they report sexual abuse.  
The Campaign for Trauma-Informed Policy and Practice has detailed the connection between opioid addictions and childhood sexual abuse. Victims of childhood trauma are more likely to report debilitating physical pain and be prescribed pain medication, and 80 percent of people seeking treatment for opioid addiction have experienced at least one form of childhood trauma, including sexual abuse. Childhood sexual abuse, particularly among women, is "highly correlated" with opioid abuse. Women are increasingly likely to turn to opioids for relief from pain, be it physical, psychic or both. Between 2002 and 2013, heroin use among women doubled.
During roughly that same time, between 1989 and 2009, drug possession arrests among women tripled (for men, they doubled). Women who are imprisoned for heroin possession are not a danger to the community; that's why they're allowed to stay in jails rather than in higher-security prisons. Eighty-two percent of women in state prisons have been convicted of nonviolent offenses.
Women in state prisons are more likely to be incarcerated for a drug or property offense (like theft) than men are. According to The Sentencing Project, 24 percent of women in state facilities have been convicted of a drug offense, compared to 15 percent of male prisoners. When it comes to property crimes, 28 percent of incarcerated women have been convicted, compared to 19 percent among incarcerated men.
The failed war on drugs has targeted women at the very moment that illegal drugs are more widely available to women who are seeking relief from profound suffering.
We have the beginnings of a tailor-made solution to this problem before us right now. Unlike past reforms, which used a one-policy-fits-all-genders mode, the Dignity for Incarcerated Women Act seeks to address the unique needs of this swelling population. Introduced last summer by Senators Cory Booker (D-N.J.) and Elizabeth Warren (D-Mass.) and co-sponsored by Sens. Kamala Harris (D-Calif.) and Dick Durbin (D-Ill.), the bill recognizes the history of sexual abuse shared by so many women behind bars.
The Dignity Act insists that incarcerated women be viewed through a lens of trauma; for example, it bans cross-gender strip searches and other re-traumatizing security measures and mandates that inmates who menstruate receive sufficient feminine hygiene products. Even though it hasn't been scheduled for a hearing, the Dignity Act has already had demonstrable impact: within a month of its introduction, the Federal Bureau of Prisons issued a memo promising to provide adequate and free menstrual supplies. While the Dignity Act and all of its state-level progeny are revolutionary legislation and deserve a hearing and a yea vote, these laws do little to prevent the fact that the women it's trying to dignify probably shouldn't be incarcerated in the first place.
An even better approach to justice reform laws is to treat women in the justice system with a filter of trauma — rather than a lens. This means pulling out female arrestees who have been abused before they reach a correctional facility and referring them to appropriate treatment. In addition to respecting victims' experiences, such a shift in practice would slow the out-of-control rate of growth of the female incarcerated population.
Many people will balk at such a solution because it doesn't roar with accountability for offenders; female arrestees broke the law, after all, some in very serious ways. But the fever for accountability ― the fever that spiked as Nassar's victims described their suffering with such eloquence and rage ― needs to be brought down. One way to do that is to recognize that our thirst for justice in an extreme case like the Nassar scandal is at odds with how we treat many victims of child sex abuse.
Our sympathy for sexual abuse victims, while we're in the throes of punishing their abusers, is righteous. But it seems to fade away when they self-medicate because the pain of their victimization is too much to bear. It disappears when victims respond to their pain in ways that are less socially acceptable than testifying at their abuser's sentencing. All victims of sexual abuse deserve our compassion ― and they need help, not punishment.
Chandra Bozelko is the author of Up the River: An Anthology and writes the award-winning blog Prison Diaries. She is a 2018 JustLeadership USA "Leading with Conviction" Fellow.
Calling all HuffPost superfans!
Sign up for membership to become a founding member and help shape HuffPost's next chapter