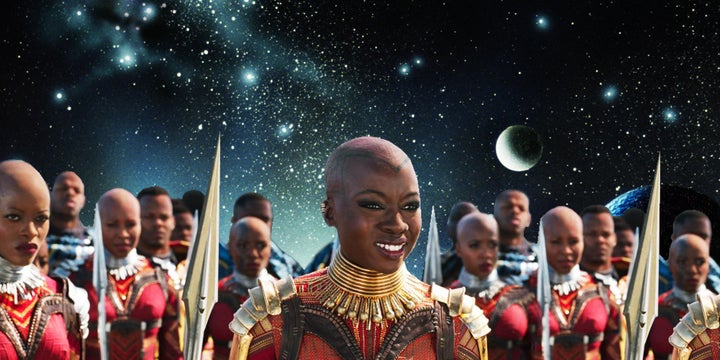 Many of us blerds (black nerds, to you) who have read the Black Panther comics never thought the day would come when we would finally see this story adapted for the big screen. With the movie's already profound effect on pop culture, it is provoking deeper discussions around reimagined worlds with black politicians, spiritual leaders and monarchs at the helm. We're hearing the word "Afrofuturism" a lot.
But what exactly is Afrofuturism?
Afrofuturism is the reimagining of a future filled with arts, science and technology seen through a black lens. The term was conceived a quarter-century ago by white author Mark Dery in his essay "Black to the Future," which looks at speculative fiction within the African diaspora. The essay rests on a series of interviews with black content creators.
Dery laid out the questions driving the philosophy of Afrofuturism:
Can a community whose past has been deliberately rubbed out, and whose energies have subsequently been consumed by the search for legible traces of its history, imagine possible futures? Furthermore, isn't the unreal estate of the future already owned by the technocrats, futurologists, streamliners, and set designers ― white to a man ― who have engineered our collective fantasies?
What makes Afrofuturism significantly different from standard science fiction is that it's steeped in ancient African traditions and black identity. A narrative that simply features a black character in a futuristic world is not enough. To be Afrofuturism, it must be rooted in and unapologetically celebrate the uniqueness and innovation of black culture.
The biggest proponent of this cultural movement, even before it had its name, was musician Sun Ra, who infused elements of space and jazz fusion in his work as a musical artist. Prolific science fiction author Octavia E. Butler explored black women protagonists in novels like Fledging, Dawn, Parable of the Sower and Lilith's Brood, set in the context of futuristic technology and interactions with the supernatural. In the contemporary music world, singers like Erykah Badu, with her eccentric and experimental imagery in videos and album covers, promote the intersection of art and futurism. Artists like Janelle Monae, with her android alter-ego and electronica sounds, and films like "Brown Girl Begins," a post-apocalyptic tale set in 2049 and directed by Sharon Lewis, pay a huge homage to Afrofuturism.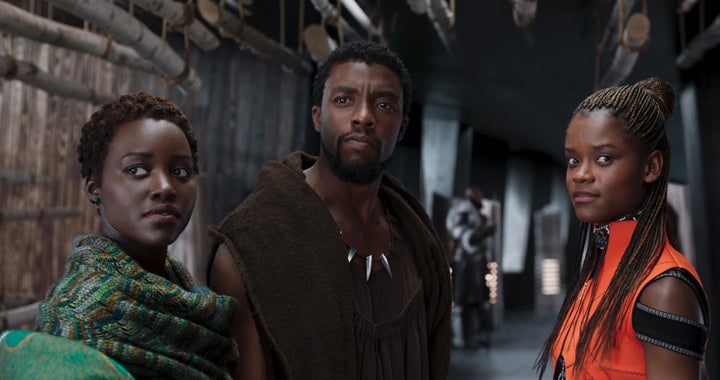 Then there's "Black Panther." The film wears themes of Afrofuturism proudly on its sleeve. Tech genius Princess Shuri is not only the smartest person in the fictional world, but she's responsible for the creation and maintenance of sophisticated gadgets for her brother T'Challa, a.k.a. Black Panther.
A prosperous alternative afro future can be seen in their fictional East African home of Wakanda, a small country the size of New Jersey that has never been colonized and is steeped in its blackness. It's a utopian society that also boasts one of the world's richest resources, vibranium. Because white supremacy never intruded on Wakandan culture and its people, ancient African traditions remain common practice there.
But this movie is more than just a glorious film ― it's the expression of a movement.
"Black Panther is a superhero who is for us by us. We can claim him."
Africans and African-Americans have full autonomy as Afrofuturists. A community of people can take a piece of visual art or notes from a song and develop an entire universe and say, "This is ours." And that's what this film represents to so many excited fans. Black Panther is a superhero who is for us by us. We can claim him.
In addition to the predominantly black cast filled with Hollywood stars and starlets, "Black Panther" also had a black production team spearheading the shaping of this story. The writer, filmmaker and executive producer are African-American. Production designer Hannah Beachler, who was influenced by Afrofuturistic architecture and Afropunk aesthetics, helped lay the groundwork for this world. The African regalia and elaborate costumes by famed wardrobe designer Ruth E. Carter created a Wakandan couture that would give New York Fashion Week a run for its money ― just look at her use of kimoyo beads as both a fashion accessory and a communication device.
This intersection of sci-fi and African pride is what we've come to know as Afrofuturism. For many of us in the blerd community, the film with its love for technology, science, visual art and music (if you haven't checked out the "Black Panther" album, you should make it a priority) is what we've been hungry for.
I hope, for all of our sakes, that this is also just the beginning. I hope that "Black Panther" can prove that stories permeated in blackness have crossover appeal. I hope we get more and more stories of black people who have agency, who are free and subservient to no one. Black people deserve to see themselves leading the way in real or abstract futures.
Jamie Broadnax is the editor-in-chief and creator of the online community for black women called Black Girl Nerds.
Related